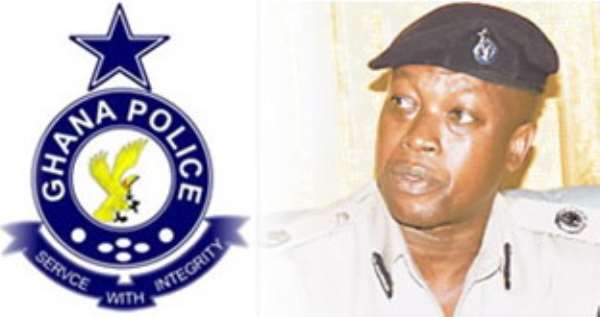 Last week, the Justice Georgina Wood Commission played a recorded
conversation at a meeting arranged at the residence of Police Director of
Operations, ACO Kofi Boakye with some gentlemen now described as
'drug barons.'
The meeting as has been explained to the commission and confirmed by
the police took place after due notification to some senior officers in the
service and followed the raiding of a vessel used in importing substances
suspected to be cocaine.
The police administration has defended ACP Boakye's action explaining
that it is not uncommon and unusual for police officers to engage in such
acts including meetings to get information.
Below your authoritative and cleanest newspaper the dailyEXPRESS
brings you a transcript of the said meeting, translated from Twi to
English.
If you have any reactions, kindly email:[email protected]
KB: Do we have brandy?
AL: Whisky would be ok.
KB: There is a Black Label
KB: All is well here, last time I heard you and Tagor or have gone for
some goods but later I heard that it's Tagor who is buying the
goods. He went and told them that he was going to bring money to
make the purchase. They told Tagor that they are keeping one
that he can collect when he brings the money then he will get it. ...
When you came you told me that you have heard that Tagor says
you Alhaji and I have gone for the goods and I told you that how
can I and you do business?
KB: I later got a call from Joe Bosby
AL: Correction… I said Joe Bosby told me that Tagor told him that you
and I have gone for the goods on the vessel.
KB: Ok then I did not understand you. We were therefore conducting
investigations. Three days ago I got a call from (OHENE)
chief/King that they have information that some Columbians have
come to town and that the goods belong the Columbians and that
there were two Columbians who were on the ship before the goods
were taken. It is suspected that the two Columbians have been
killed and dumped into the sea. These are some Columbians in
Abidjan who have arrived. And the Nigerian guy who brought the
business has also started talking in Abidjan. Yaw Billa has also
said somewhere that they have received goods.
I wouldn't hide anything from you. The whole thing is that we are
brothers and that's why we sitting here. When you Alhaji came to
my office I asked about all this. You swore to me but whenever
Alhaji swears I know he is lying.
KB: Don't you have the black one, yeas this is Johnnie Walker. Drink
this one Soya Fresh.
KA: Is this the one you have? No black one?
KB: Kwabena will you take Cognac
AL: Oh Big man I am joking
KB: I mean Kwabena not you. I know an Alhaji does not drink.
KA: Alhaji haven't I taken Vodka with you before.
AL: You convinced me to drink it
KA: I like that
KB: As for Johnny Walker if you get a good one that's fine but as for
this one it's not a good one
KB: The reason why I called you all today is that the general consensus
is and he has shown me it was the two of you who hatched the
plan. It is only the two of you who know the plan. As to how you…
AL: What plan are you referring to?
KB: The way you ...... ok tell your own story, I want you to explain the
step you took. You know I cannot explain it well as Issa is also
here.
KB: Tell all you know.
KA: Issa cannot say I have done any business with him
KB: Explain to him all the steps that you took, you know what I'm
referring to?
TG: The Nigerian came to see me. I concluded all the arrangement.
KA: Who did you meet with the Nigerian?
TG: I met him with a man in Dansoman. We met again on another day
where they asked for the details?
KB: Who needed the details?
TA: The Nigerians
KA: It is like buying a car; you need the papers to know that it's the
exact.
KB: Oh to know that it is the right ship.
TA: And the cost involved... when we met again...
KB: Is it the Nigerian? Listen to what we are discussing. It is the truth
I want.
TA: I don't know how this matter came out. When this issue came out,
that same week I met him in Alhaji's house. I was informed by a
friend that the Nigerian and his wife visited Alhaji. I heard this
very late.
He accused me that we are doing the business with him. I have an
Uncle who has returned from the US. Since we did that business he
traveled outside so I told him that I will investigate because I don't
know about the business. I communicated with my uncle about the
business and no one knows that I do business with my uncle.
Before that I was in Kumasi when I heard something about the
ship. I am only assuming, so I concluded that if the ship has
caught fire then the Nigerian has given the business to Alhaji,
because Alhaji and I wanted to buy and use the ship for business.
When I heard this I assumed that it was that ship which has been
used for the business. That is what my mind tells me. We were all
planning to use the ship for business.
KB: All this is speculation, its no fact. Allow him to finish his narration.
Tagor you continue
TG: To my knowledge, the Nigerian, since the guy hinted that he has
passed behind me, that's what I know.
KB: You suspected Issah.
TG: It's not the suspicion. All the time the Nigerian goes to Issa
AL: Every bad thing is connected to Issa
KB: Kwabena what is your side of the story
KA: My side is what Tagor has narrated but there are bits and pieces
that my investigation brought out. It was confirmed that there are
two Columbians who are coming down. But the problem is that
there were two Columbians also on the vessel. When the people
went and received the goods from. They were the people they saw
before they released the goods.
KB: Were the Columbians the ones who gave the password? Who
knows the password? So whoever was to receive the goods must
have the password. How could the receiver know the password?
Was it not you who gave the business to Issa?
AL: No, no he has not introduced any business to me. The Nigerian
has been my friend for a long time. It was through me that
Nigerian (Paul) got to know Tagor.
Tagor went into business with Paul and later wanted to arrest him.
You even beat up his friend. I came and told you that Paul is my
friend so forget it. By that time I had done some business with
Tagor and he had cheated me which I have not complained about.
Paul is my friend, and he comes to my house all the time. Even
three days ago Paul was in my house.
KA: Did Paul not come to your house three days ago?
AL: Paul came to my house before he left for Guinea.
KA: No Paul is in Abidjan not Guinea
AL: Paul left the day Kofi Sika left. Paul told he was going to Guinea.
Every weekend a lot of people come to my house. Tagor has not
brought any business to me. I called Tagor about a boat who's
owner is saddled with debt. He wants us to repair the boat and use
it for business. I gave you the bill for the repair. You told me you
were going to see your people, you never came back.
The boy has been coming to me in Tema all the time. It's his boat
which is in futile and I forgot about the boat.
KB: I am in this case because my name has crop up but I know nothing
about these goods. Alhaji once called me about a case I never
understood. About five days ago he told me that his friends has
informed him that there is some business in town and that if I
know where the goods are I should come and seize it so that he
can also get his share as a mediator.
AL: Kofi later Tagor comes to me every weekend. Some of your boys
went to arrest some 800 in a hotel at Abelenkpe. I did not want to
inform you because I know you will take it up. Then Kofi Sika
called me that the goods are for Paul.
KB: Which boys are you referring to?
AL: The boys are from Central Police Station.
KB: You should have to brief me well.
AL: So I went to see the boys.
KA: Is it 800kg or 800g
AL: Is 800g.
KA: Don't be acting manly, only 800g
KB: You are too known
AL: When you go and do your dirty deals then you blame it on me you
are destroying my name. This is what I have. Paul said he
couldn't go so I drove there with Kofi Sika and called Oppong who
said if the goods are mine them I should find something for the
boys. They had also arrested Paul's driver. After that I called Paul
that he should pay me for the work that I did. Paul brought me
$500 on Sunday. Today is Monday when we met on Sunday at my
house Tagor came there with Asantehene's Secretary,
TG: Owusu
AL: And we all ate together including Paul. That concluded it.
Later I heard that a boat had been arrested and one Alhaji Adda a
forex Bureau operator at Dansoman called one.
KB: The one you say it's his driver
AL: No, The Alhaji is related to me because he is married to my cousin.
The Sinaris are my cousins
KA: That is Nora
AL: Paa called me and said Alhaji where are you? And that he wanted
to meet me. I met Paa and Adda at Dzorwulu Shell. They told me
their boat carrying their goods is the boat that has been seized by
the Narcotics people and said they found 30kgs on the vessel.
That he asked that if I could see the Narcotic guys if they can
release the 30kgs for them. I further asked if the good were for
them.
KB: Receives phone call
AL: I asked if the goods were for them. I said so Paa you have such
business and you haven't informed me. I told Paa that I heard that
something like that has happened in Tema. I do not even know the
boat because I even don't go to the fishing harbour. Paa told me
that the boat is called BENJAMIN.
I told them that the people who seized the drugs, if it were the
Ghana Police I could talk to them but those Narcotics people at
Ministries, it is difficult to talk to them. Then he told me that the
owners (white guys) He called the white owners of the goods in my
presence and spoke to them in Arabic and told me that they are
Lebanese. We parted company and went our separate ways.
I told them to ask them to show us where the goods are. But Adda
said he is sure some of the goods are on the boat. Adda promised
to call and show me where the good were but he did not call back.
From there I called Tagor and told him that there was some
business in town and we didn't know. Tagor promised to find out
who is involved. Tagor called later and said do I know that Joe
Bosby is spreading rumors that Tagor, Issa and Kofi Boakye were
the ones behind business.
I told them that it was Narcotic, National security, Navy and Air
force who seized the vessel. Rumors started spreading that the
goods where with me.
KB: From here I am going to report to National Security. As for
Narcotics Control Board whether they like it or not there would be
a shake up there.
AL: Kofi Boakye called me
KB: Yes I called you
AL: And he spoke about the Narcotics People and said that the
Narcotics people should be careful. He even mentioned Ben's and
others names and said that Ben has done this and that and that he
should be very careful. I told Kofi Boakye that Ben has done
nothing and that Ben is like brother to me.
KB: Yea, Yea
AL: He said he has information and that Ben knows this and he has
done that. I said that I know nothing about that and that I heard
Ben has even traveled.
KB: Yes, you said it.
AL: When I came out from there (KB's office), I met Tagor. Then I told
the big man that if Tagor comes out I will see him. When I got
down then I got a phone call that it is JBK who is spreading rumors
that we went to do that thing. I denied even doing that. That I did
not have the big man's number but it was Moro or Yaw Billa who
gave it to me. And I called the big man to tell him that he should
call JBK and others to stop tarnishing my name that I went with
the narcotics People to the boat. And I said a boat which is on the
sea
KB: When you came to my office the first day what did I ask you?
AL: You asked me that they say I and Tagor….
KB: Apart from that, did I say that you and some people went on the
boat?
AL: Yes, you said that I went with some people on a boat to search it
and took the goods? Then I said no way
KB: I asked you because I have that information
AL: After that you asked me to tell truth in God's name and if Tagor
knows anything about. Answer yourself, what my response was
KB: What Issa said was that he believes that Tagor does not know
anything about it. Listen… that is what he said. And I said I have
information that it was Tagor who bought the goods and he left
one box
AL: That Tagor was going to buy
KB: that is why when I called Tagor, he cut the conversation and we
went to his house. It is not that it has been reported that he has
done something. That is my information and Issa too I don't
believe him. And as he is here, he is my brother but I don't believe
him
AL: Why is it that you don't believe me?
KB: It's because you are a business man.
AL: You get wrong information all the time. I am not that business
man as you people think. The last you made a comment in your
office. You have a wrong picture about me. The way I am with you
people always try to give false information about me
KB: Oh Alhaji, Alhaji is my brother but I don't trust him
AL: It is the same way I also don't trust you.
KB: Me, as a Policeman you don't have to trust me. You do so at your
own risk.
AL: Me, I cannot trust you
AL: But me I will defend you if I know the truth about you. Its like
Ben, he is my brother. I know that he has not even taken one thing.
KB: You Alhaji but I give you goods to sell for me. If I have goods
worth one Billion, I would have stopped this business so we will
stop worrying. I have been telling you this everyday
TG: Alhaji, now the thing has been put on me and on commander.
KB: That is why I called you here
KA: Your name is not there
AL: Your name is not there, but is it my name that has reach there?
KB: He is talking about the Columbians
KA: Your name is not there, it is this person whose name is there
KB: And you your name, so that me…..
AL: No its Tagor
KB: It would have been a third world War
KA: Your name is not there, it is this person
KB: Look if they know my name nobody can do anything to me.
TG: Right now Adda is claming ownership of the goods.
AL: No Adda told me he knows who the goods belong to. They came
to find out if there is a way the Narcotics guys can be spoken to so
they can get the 3okg.
KB: Then it means that the 1700kgs is with Adda.
AL: I don't know about that.
KB: Alhaji listen, no one would transport 30kgs all the way to Ghana. I
think that the goods are with Adda
KA: The goods is 1800kgs, it's the truth
TG: We need to invite Adda.
AL: Why do we have to invite Adda, he would say that I have reported
him. Before we invite Adda we have to know why we are inviting
him so that we don't look stupid before him. It will just be hear say
KB: Look when it becomes critical we will arrest Adda. Me myself, I
will arrest him. Once my name has been mentioned I must get to
the bottom of this matter. I have told the Inspector General of
Police. The other day it was Otumfuo who gave me the line.
Otumfuo realized that my eyes are red. The IGP told him, if you
know where the information came from that my name has come up
in this matter and that I was asked to come. Once my name has
been mentioned I have to clear my name but to clear my name, I
have to know where the goods are.
AL: Kofi before you say all these things remember that it was Narcotics
Board who conducted the operation where did they get their
information? You are a Police officer you can get if from them.
KB: Alhaji the reason why I called here is that you are my brother, I will
never deny you. Me, I will never deny you.
KA: But he is a professional man.
KB: I got to know you in 1994 during Kanka's funeral. That very night
we had dinner together and as at that time I knew nothing about
you but you have been very nice to me and me too I have been nice
to you. There has been so many cases that you have intervene
which I have let go. As for me if my name is mentioned in a case
because as for me I'm thinking about myself. I do not even know
why my name has come in and Joe Bosby claimed it is Tagor who
is spreading the rumors.
AL: There is a war between them because they are accusing each other.
They should find a solution to the problem. Joe Bosby says it is
you, you also claim it is Joe Bosby
TG: Joe Bosby told me personally
KB: I went to the funeral, the one that you said you will be attending,
where Kwabena Acheampong told me Bonsu has informed him
that I have not been friendly to him. That it was JBK who told
him.
XXX: Voice not audible… we have to protect ourselves.
AL: How can we protect ourselves? Call a spade a spade
KB: the issue is that the three of us our names have been mentioned.
You have friends but I don't have. I can always come to you. You
need to find the one who has custody of the goods. I am doing
what I can. Now the onus is on you, you and you to find out where
the goods are. Now you are talking about Narcotics Control board
I will go there and talk to Akuoko and explain matters to him
about all that I know. I wouldn't have bothered if my name had not
been mentioned. When the Columbians and Venezuelans brought
some goods to Ghana and you bought houses at Airport, Manet
and Sakumono, I monitored the vessel from Togo before we
arrested the wife of the Venezuelan on the boat and that
information was kept amongst us. They were later arrested by
Apeatu. As for me my reputation is at stake.
AL: The reputation of all of us is at stake. I don't do business with any
body.
KB: You are a private man but I am a Public Officer because if
someone says I, Director of Operation is involved that's bad. The
two of you will agree that I have no knowledge of this matter. So I
was surprised when Alhaji called me about this fact that there are
some goods in town and that I should do the operation, so that
they can get something from it. It was then that I have information
from Tema. I even called Alhaji
AL: About the burning of the boat.
KB: I even called you that the boat was burning.
AL: I don't even know the boat, Benjamin. My name is being thrown
around too much and I know nothing about this business.
KB: Issa to be honest a BNI man or something told me. I have that
information. I heard that you Issa had gone onto the boat with
some people so when he came I asked him if he was the one who
went on to the boat with the Narcotic people. I also told him that it
was Tagor who was to buy the goods that is missing when the time
comes we will know the truth.
Right now my main aim is to protect the IGP. You know that in
spite of our differences in the past Alhaji… you know that first
when I get angry with IGP I call you. What did you say Yaw Billa
told you?
TG: He said that the thing is "cooked" and he knows where the goods
are and that the sheriff cripple has taken his share and gone.
AL: You see let me tell you brothers all today you are all small boys in
the business. I'm 53 years and have worked all my life. Every bad
thing is associated with Issa. The cripple Yaw Billa is referring to
is Sheriff. The owner of the boat is Mr. Dawson, the son of the
owner of TTV Limited. Sheriff hired the vessel for this trip. He
himself has a boat called CHECK 1. So when this happened Sheriff
run away and the Narcotics people have picked his driver and wife.
If you say that Sheriff has taken his share and run away, people say
things they don't know. You know that Yaw Billa talks a lot
I did business with you Tagor you cheated me I didn't complain. I
am not a small boy. The big man is here and he can judge for us.
I introduced business partners to you even though you also have
partners you work with. About 200kgs of goods then came into
your custody. You kept the goods in your warehouse. Within three
or four days you claimed that thieves have broken into your
warehouse and stolen the goods. Not knowing that you did that
job with your driver. You told the Columbian I Issa stole the
goods. So they came here to kill me. When they came they
realized that you lied.
KB: So Columbians can come into the country to kill people.
AL: Let me continue. You later told me that the culprit was an Ashanti
boy who lives opposite your house the boy had escaped. I told the
Columbians that I was not responsible for the 200kg but you
(Tagor) told me that it was the boy. The Columbians went looking
for the boy and found him that they were going to do business with
them. The Columbians reminded me to confirm the identity of the
boy. I called you Tagor that I have seen the boy you should come
so that we arrest the boy. You didn't come. I later got to know
that you did that job with your driver. This stupid boy who can't
buy "Opel" has bought two houses. He has a house from Chris
Asher who sells tanks at Katamanto. How did this boy get money
to buy a house of $140,000 he bought another one in Tema and
opened a communication centre? What are you people talking
about, don't annoy me. You did that business with that guy when
my goods came I gave everybody some, ask Yaw Billa.
From then I have never dealt in drugs again. I called you Tagor as
my junior and complained that I was not happy about what you did
to me. At least you should give me some money out of that deal.
Up till now you haven't. I bought a car from you Tagor at $10,000 a
passat car for my wife which got burnt the next day.
TG: Did I sell a car to you.
AL: You asked Yaw Deuteh to give the car to me. I gave it back to Yaw
Deuteh to repair it. After the repairs he refused to release the car to
me which I paid him. I called you Tagor that Yaw Deuteh is
refusing to release the car to me you didn't say anything. As I
speak the car is still with Yaw Deuteh.
I therefore stayed away from all of you. I only came back when I
heard that the Columbians wanted to hurt you. I came in to
protect you. I met one of them in London and pleaded with them
to forget about the whole thing. They told me that even your driver
has bought a house. On my return from London I went to Chris
Asher at Katamanto who confirmed that your driver has bought a
house from him at $140,000. How can a driver buy a house at
$140,000? You should stop what you are doing. Let my name rest.
You are killing my name.
There was a time Joe Bosby and the rest were saying I was working
with Ben. What has Ben done? I don't do any business with Ben.
Ben is my brother and he will always be my brother. If anybody is
saying anything they should know what they say.
TG: I am happy that you have raised this matter because you are my
friend. The goods that got missing was not for you but for me and
my uncle.
AL: Then why did the one who broke into your warehouse make me an
armed robber.
TG: That's why you say Yaw Bella talks too much.
AL: Its not that Yaw Billa talks, you know you that you did it.
TG: I am explaining it to you. You have said your part. Listen to me
the goods is not for you so let me explain something to you. We
bought some goods from you.
First of all I didn't know you were introduced to one by Yaw Billa
that you are a strong man. I called you and said you could arrange
something from some Columbians. In the first place the people
brought many and I matched them because I didn't know them.
So I didn't want to put too much in it.
KB: Was it three tons?
AL: Leave him to speak. We are talking about that 100kgs so stop the
story you are narrating.
KA: The 800kg is past so leave that one.
TG: No I still want to explain it to Alhaji because you have all listened
to him. When they came I matched them because it.
TG: When they came they said we should buy 100 kgs and credit
another 100kgs. I again matched then on another 100kgs but Alhaji
didn't know that. I went to Alhaji and told him that I want to
credit 100kg and that he should also credit some so that we can sell
but he said he cannot afford.
AL that 100kg you didn't give me a pesewa.
TG: Oh Alhaji you are ungrateful on that same business I dashed you
$40,000 ask Yaw Billa have you forgotten.
AL: TAgor speak the truth because you are a Youngman in the
business.
TG: If you do that then I will know that you are not a Goodman.
AL: Yes am not a Goodman because you use my name for the business.
TG: What the 200kg we credited 100kg and bought 100kg. In all this
you Alhaji didn't want to credit because you know I can pay when
it goes bad. That's why you gave it to me.
After credit we realized that the thing was not going as the way was
not clear.
Alhaji came and said the Columbians were worrying you and so
anytime he called me he wanted to see the goods and I also didn't
want you to know where I keep the goods. Anytime he called me I
met him at a place with my driver and show the goods to him that
the goods are still here and we will return it for safe keeping. I
didn't know if Alhaji had someone following us or not.
I am a businessman and I have the right to suspect you on
anything that happens. I showed the goods to you two times.
The goods were supposed to leave the next day but because of the
pressure from Alhaji, I arranged for him to be paid in Holland for
what we credited. It was this that the goods left the next day. I
didn't understand the whole thing. I balanced the whole thing
with my......................
AL: As far you Tagor you think you are a smart cockroach. Don't think
you know too much.
TG: Let me explain it to him.
KB: your driver bought two houses?
AL: It is more than two houses $140000 for one and you are telling me
that you gave $40,000. Can you give me $40,000? You gave your
driver $1 million. Look Tema is a small place it will come out.
TG: Let me tell you so that you can ask Charles.
AL: How can I ask Charles? Charles doesn't know how your driver
bought the house. They were all shocked when the driver bought
the house. Everybody knows you took the goods so stop what you
are doing.
TG: Listen let me explain
KA: That is your personal business.
AL: Everywhere you use my name you do your bad dirty things and you
use my name. So everybody says Issa is bad.
KB: I want you people to explain thing to me.
AL: He (Tagor) told Joe Bosby about you (kofi) and Joe Bosby said he
Tagor said it. So we don't know who is speaking the truth between
Joe Bosby and TAgor. I Alhaji have never mentioned your name
(Kofi Boakye) to anyone
KB: Kwabena for me I don't really mind but those who enjoy
something are ones to pay for it in times of trouble.
TG: We did some business with Mama Tess. We were sending some
goods. I and my driver were sending the goods to......................
AL: What are you talking about?
TG: Alhaji it is true, you don't know
AL: Tagor you have taken and sold the goods for yourself.
TG: Alhaji the goods are not for you.
AL: The good were not for you it was for the people (Columbians)
TG: I am so angry with you
AL: The goods were for the white people if you are angry, are you the
one feeding me? Tagor enough is enough. Stop using my name.
TG: I am not feeding you. Ask those behind don't talk like that Alhaji
listen.
AL: It pains me that you did that
KB: Alhaji has told me about this all the time
AL: Yes I have told you
TG: you can ask Yaw Deuteh.
TG: When we "cut" goods............... how did he buy his house? Wofa it
was not the goods for London. You won't get anything if you
"cut" London goods. The one for America, you can cut and get 20
and each 60,000 (US$60,000) so if I give my driver
40.............................
AL: can you help me? Tagor I made money before you
TG: yes I respect that it is business you brought to me. You are my big
brother.
AL: You stole somebody's goods and you use my name as the one who
did it.
TG: Don't say I stole the goods. I told you why I said that I suspected
you.
AL: You suspected me? While you know I don't have the goods.
KB: listen suspicion is no basis
TG: I have accepted that I mentioned your name. I have accepted that
look at how you are.....................
KB: look you people have wasted my day.
TG: I didn't know that, that is how you think
AL: How do you suspect me when you stole the goods and sold it with
your driver? You also broke the locks to the warehouse what are
you telling me.
TG: Ah Kwabena when I have a 100kgs in my house and I want to steal
it I would have hidden it somewhere else without involving my
driver.
AL: nobody should use my name again when you people get up you say
Alhaji is doing business with the Narcotic people.
Ben is like my brother and I don't talk business with him and I
want to get that thing straight to every quarters. The Police
Headquarters people I want them to know that Ben is my brother
and he doesn't do any business with me and I will go to him
everyday when I have to go to him he is my brother.
KB: Now you should all stop this quarrel. I thought that we had
straight facts indicating that Issa and his people have gone for the
goods. It seems all the stories are mere speculation. The issue of
Yaw Billa said this or that. I am happy that the two of you (Alhaji
and TAgor) and you Kwabena know that I know nothing about the
missing goods. You people should therefore carry this message
back to your people.
For me I know that I can eat (get money) from you. I beg you
people you can say that you have sold your goods and given me
10,000 but I don't do business with you. If I say I will arrest you, I
can do that. Look the whole Ghana it's only one person I have
arrested since I came even that one I arrested him because he was
a bluff. I arrested him and he brought Okudzeto to solve the
problem. He went and came and I arrested him. H e was bluffing.
It was Yaw Billa who came to his rescue. So I told him to look for
something for the boys.
At that time Issa and Yaw Billa were not on talking terms. Since I
came to this it's only one person I have arrested because I know if I
arrest the person and collect money he will say it so I don't arrest.
However if I am there and you give me something like say take
1000. For example I was there one day when Issa came here and
gave me Euro 500. That was a lucky day for me. Do you remember
it on that day Barry White and friends were here?
AL: Yes it was Barry White and Chief
KB: So the work I do is different from yours but we meet what you have
said I have heard but take my name out of this problem.
AL: Do you know something three days ago I understand that at
Boomerang it was being rumored that Alhaji has received goods
1800kgs and they were calculating that if I sell it at $10,000 each I
will make $18m.
It was there when Lama came to my house and said congrats. He
was followed by Yaw Billa, Mora and others. So far me any bad
thing in Ghana is always associated with me.
KB: Oh the two bad alhaji's in Ghana are the two of you.
AL: Infact I have never stolen anything from somebody neither have I
hit someone before in my life. So when people talk about I am seen
as the worse person. Joe Bosby and the rest always say Issa
(Alhaji) is an informant
KB: They also say Issa is my informant. Issa has not allowed chop from
Informant.
AL: When Kamel was arrested fingers were pointed at me. Between
God and man the secret is out that I don't know anything about his
arrest.
KB: Right now when you came I told you (Tagor) that Issa said you
were one of the people bringing the goods.
AL: At the meeting at Crystal Royale Yaw Billa told me that you, Peter
and Paul had meeting at Crystal Royale hotel. If you want I will
call Yaw Billa. I am too much mature and I don't talk just like that
so you had a meeting with Tagor at the hotel about this business.
I am telling Peter and Paul do not know anything about this
business. I can swear to that Peter said he had a meeting with you
on some vessel. When they arrested him the money he had to pay I
gave him $5000 to add to his money. I spoke to Tagor about the
vessel because I wanted him to support. I want this to materialize
if it does I will tell you.
Yaw Billa told me that indeed you had such a meeting at which
you Tagor was holding the vessels name and every information
about the vessel so he is sure that the goods are in your custody.
When Yaw Billa and JBK meet I don't go there because they are all
my small boys.
The distance between us is too far. They have all work under me
before. Look some Nigerians transferred money to JBK $480,000
to my account at Barclays Bank. When the money came I
withdraw all the money for JBK, he gave Moro a percentage. What
was left was $120,000. I was arrested by BNI when I went to
withdraw my share. The BNI picked me for money transfer so I
told it wasn't me and I took them to JBK and he in turn took them
to the Nigerians. Till today I didn't benefit from that money I still
go to court. Moro, Yaw Billa and others benefited but not me
KB: Do you remember I called you on that case as soon as I heard it.
AL: My accounts and assets have been frozen and I still go to court.
JBK's account was also frozen.
KB: There is nothing in JBK's account.
AL: My $196,000 is locked up because I can't operate my accounts. Am
I stupid anybody get arrested and Issa is blamed for giving the
information. I was blamed for Kamel's arrest it later turned out
that the white guy who was arrested (Kevin German) it was one of
his two wives who told the Police that her husband has brought
something home.
Kamel was not arrested initially for six weeks when I heard rumors
I called Kamel if Kofi you will remember. He said he doesn't know
anything. I called Iddi and Kamels father too. Six weeks later
Garman's wife Ayesha came to talk to me and called Kamel in my
presence that Kamel should give $20,000 to Addo Attuah.
I went to Addo Attuah who told me that Garman had told him in
confidence that some of the goods are with Kamel and that if he
does not give the $20,000 he will mention Kamels name. I went to
Kamel he denied it Addo Attuah is my witness. When Ayesha told
her husband (German) then he mentioned Kamel's name and he
was arrested by Narcotics.
People started saying I had betrayed Kamel because he is richer
than me. How can Kamel be richer than me? I have ten houses in
Tema can be richer than me. I have eight kids and five grand
children they are joking with me. It hurts me when people tarnish
my name that Alhaji/Issa is bad. I don't know what I have done.
Nobody can say Alhaji did this or that. This is nonsense.
When Kofi Boakye invited me to his meeting I told him that I have
no matter with anyone. This Ben matter that you raise I told you
that Ben doesn't do any business with me.
KB: In fact one thing he said was you don't know anything about this
business. When you came I told you. I thank you all for coming
that you now know that I don't know anything about this it is my
nana that came in that I don't understand. It's been quite a long
time I saw Alhaji. If I don't call him, he won't come. These days I
call him when I have complaints.
AL: When I come to you people think that I come with information.
KB: You remember I fought with you over a case that when you get
money you don't give some to chop.
AL: Yes it involved $2m people thought that I had taken that money.
KB: Joe Donkor went to collect $100,000 to give to Police men while I
didn't know anything about that.
AL: When Kofi Boakye was looking for him to arrest he came and told
Kofi that I called him and told him that Kofi Boakye was looking
for him.
KB: Me too I am tired and don't have money eh! Kwabena
Acheampong, right now Alhaji I thank you for coming.
AL: So now you understand the issues. I know nothing about this.
KB: Yes I have understood the ball is now in the court of you two.
(Alhaji and Tagor)
AL: The Columbians are coming. They know the one they did
business with. That person should also know who he went with to
collect the goods. The Columbians are coming let us have a
meeting with them. At the end of the day your life is at stake it is
good to meet them. They will call the person they had the business
with.
KB: I think that the person behind the business collected the goods.
AL: Exactly. So the Columbians where are they now, Abidjan. If they
are in Abidjan lets meet them.
KB: Let's find out who they did the business with. I understand that
those who collected the goods have made part payment.
TG: By this evening I will know
AL: I have been calling you and you don't pick my calls.
TG: No no no
AL: Is it because you are angry with me. Tagor I have been calling you
since Sunday.
TG: Is it with the blocked line
AL: No with my ............. you know what I mean. We have to find out
the solution to this problem.
TG: Give me your number Alhaji
AL: xxxxxxxx. The thing is in town
TG: Tonight we will find out.
KA: Aeh: Tagor I have told you that there is nothing that Alhaji would
not tell me because we are not friends but brothers.
TG: You see how Commander (KB) was saying he was also called that
Alhaji went onto the boat. The whole thing was confusing
AL: No I didn't go onto the boat, I don't even know the boat. You all
have to be one.
TG: Yes we have to be one. We know that we can find where the thing
is.
AL: We know we can find it give me time this evening lets meet we will
find an amicable solution to this. If we know where the thing is
then we can strategize. Now everybody is saying whatever he
likes. If you know the boat, the Columbians are in Abidjan lets
know when they are coming they know when they are coming they
should come immediately.
TG: The office people
AL: In Columbia?
TG: we have spent a great deal of money on this business
AL: So we should take it serious. That day I called you and you didn't
pick my call
TG: Yaw Billa called me and you ask Kwabena Acheampong I put him
on the speaker phone and asked where I was because that you
Alhaji have requested I come with him to see you.
AL: Me?
TG: You ask Kwabena Acheampong
AL: People involve me and I don't know why you say that the Narcotic
guys went with 15kgs, what are they talking about?
KA: Right now Tagor because of me he got angry.
AL: If am angry with him it is in my heart and I have said my peace. If
am dead won't you come.
TG: Yes I like it. Oh I will come
KA: The two of you should work together so that we find ways and
means of solving this problem.
TG: It was Joe Bosby who gave an idea of what was going on. You see
we are not on good terms but the way he called me and I know that
I have nothing to do with their coming. So if you have done that
and I don't know then
AL: Then I am hiding something from you. Joe Bosby knows
something about it. So if I call you pick my calls
KA: You have made Alhaji to board a plane to Ghana for nothing. All
that you said was nonsense.
AL: By this time Opanyin (Kofi Boakye) what is the end story? Let me
and find where the goods are
KB: The two of you should me
AL: Somebody knows where the thing is and does not say it someone
else would come and chop
KB: Right now it is cooperation.
IM: You two should be one and keep your mouth shut.
KB: If you had not mentioned Bonsu's name I wouldn't have talked
about Joe Bosby. I told you Joe Bosby said you were destroying
my name in Kumasi.
AL: May be the thing is with Joe Bosby and his people. We shall see.
KB: This thing cannot get missing. It is in town.
AL: The thing is too many one person can not chop all
KB: Somebody came to tell me that the thing is with Tagor and he has
started distributing it. People came started collecting 10kgs, 20kgs,
30kgs etc.
AL: What time are we meeting?
KB: Oh I have left everything to you two.
KB: My information is from the Columbians
AL: That's why we have to sit down
TG: By the end of the day are you going into this without getting
anything?
KB: All that I can do for you is that when the Columbians get naughty I
can sort them out
KA: You cannot do that without getting anything?
KB: Well, that depends on you guys
Police Office = You people should find something for him
AL: Of course I am ready. 7 o'clock lets meet and have the meeting.
What pains me is that Joe Bosby is trying to destroy Ben's name.
Ben is a northern brother like the way I am with IGP and Kofi. I
will not allow anybody to destroy your name.
Ben has not done anything he is a man who is too straight. People
think he is doing business. They are saying that he took some
to...........??? Canada.
TG: if not a competition
KA: Right now we have tone down on all angles. The main problem is
for the Columbians to tell us who they are dealing with.
AL: The cripple (Sherrif) is out because he has run away.
KA: He was the one they wanted the boat from.
AL: The way things are going I am some it will be with Ada's people
TG: Who rented the boat from Sherrif that is paramount
KA: If you Alhaji has sent from the boat the name of real person behind
should be known. If Adda knows something then.
TG: The Nigerian may also know something
AL: You mean Peter and Paul. No' Paul does not know anything.
KA: Yesterday when I spoke to the woman she said Paul does not know
about it. Don't let us stand here and discuss this lets go and meet
later.