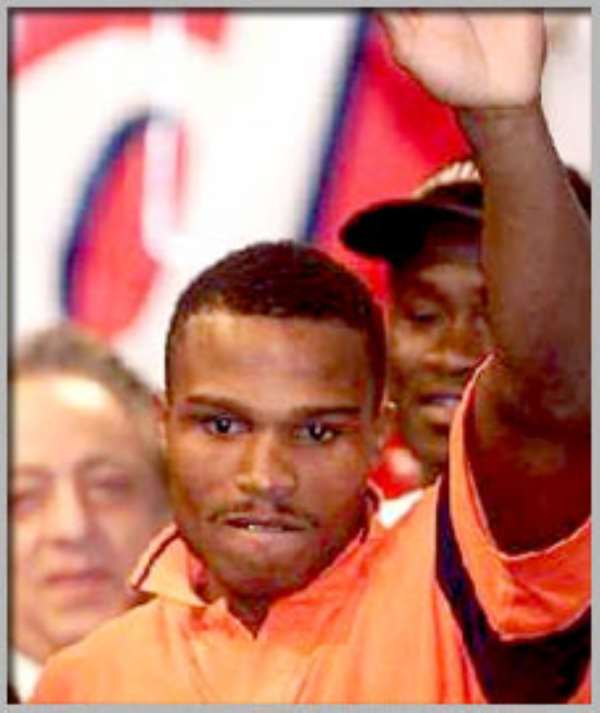 NEW YORK -- Ike Quartey didn't need to be outside in the Manhattan night getting held up by muggers to feel as though he was robbed on Saturday night. He only had to listen to the scorecards that were read after his junior middleweight fight with fellow former welterweight champ Vernon Forrest at the Madison Square Garden Theater.
Forrest scored a stunning - and unpopular - unanimous decision over Quartey on Saturday night before a crowd of 3,012. The 36-year-old Quartey, a loser of narrow verdicts to Oscar De La Hoya and Fernando Vargas before a frustration-induced half-decade exile from the ring that ended with three successful comeback bouts in 2005, was the clear winner in the fight, but the judges suprised all the audience by giving the decision to their fellow countryman Forrest.
After the judges' scores were announced, Quartey came over to the ring ropes and held his arm out and asked, "Why?" and the crowd roared its disapproval. "That's a disgrace," screamed Lou DiBella, Quartey's promoter. Judges Melvina Lathan and Steve Weisfeld scored it 95-94 and judge Tony Paolillo scored it 96-93 for Forrest. The New York Daily News scored it 95-94 for Quartey. ESPN.com scored it 95-94 for Quartey, as did most ringside media and HBO unofficial judge Harold Lederman. "I thought I did enough to earn the decision," said Forrest. "It was a hard-fought decision." As for the booing, Forrest said, "It was an African crowd.
They were cheering for their guy." Quartey said he was very disappointed at the loss, because he had a similar experience against Oscar De La Hoya, in which he lost a split decision. "You saw what happened with the fight," Quartey said. "I don't know why it keeps happening. I don't know what happened." Quartey and Forrest had each fought twice since ending long layoffs.
Quartey had been away from boxing for five years conducting business in Accra, Ghana. Forrest had taken off two years off with a torn rotator cuff, which required two surgeries to repair. Both Quartey and Forrest did enough Saturday night to show that they are still legitimate challengers for the 154-pound title. In the first round, Forrest (38-2, 28 KOs) was able to use his reach advantage to keep Quartey (37-3-1, 31 KOs) at a distance. But the jab was not enough to dissuade Quartey from advancing. And Quartey seemed intent on walking right through Forrest, using his powerful jab to push forward. Forrest did manage to sneak in a strong right uppercut in the second round that shook Quartey. But it was only a temporary slowdown to a speeding locomotive.
In the eighth round Forrest picked up his assault to Quartey's body in an effort to try to slow him down. The round before, Quartey's corner could be heard asking him how his ribs felt. Referee Arthur Mercante took a point away from Forrest for a low blow in the ninth round. It could have meant the difference between winning and losing; as it turned out, Forrest had just enough to pull out the controversial decision. Like one commentator said, "The judges may have been soccer fans who wanted to revenge Ghana's defeat of USA at the world cup in Germany"