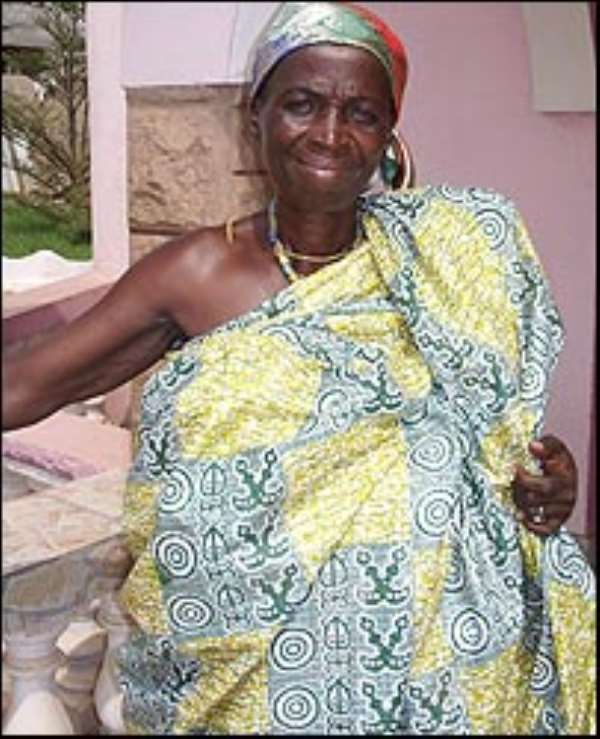 Nana Akua Ageiwaah is an Ashanti queen mother and a Catholic
Throughout Ghana, spiritual leaders are merging adopted Christian practices with their own ethnic group's traditional customs.
Ghanaian culture, like so many other African cultures, thrives on its fusion of traditional and modern spiritual heritage.
Traditional rulers such as queen mothers and chiefs are both the spiritual and the practical leaders of a community, serving as father and mother to the society, and guiding and nurturing individuals.
Nana Akua Ageiwaah is an Ashanti queen mother. She is also a staunch Catholic and she proudly attends the first mass every morning.
As a Catholic, she views Christ as the most important of her ancestors but insists she "cannot forget traditional ancestors," mindful that many of her ancestors have made sacrifices for the good of the community.
One morning after mass, Nana Ageiwaah travelled to the village of Bekwai Dominase near Ghana's second city, Kumasi, to meet her chief and elders.
Libation and prayer
She stood outside the stool room in her chief's whitewashed courtroom and poured a drink offering, or libation, and said a prayer to the dead queen mothers of the community.
Clothed in an ornate, silky, white and green traditional wrap, Nana quietly but fervently pleaded to her foremothers for blessings on the community, especially the women and young girls.
Her prayers were punctuated by the splashing sound of her pouring the schnapps brought for the occasion, onto the courtyard floor.
Nana's chief, Nana Ntim, followed suit.
But there was a distinction between his prayer and that of Nana Ageiwaah - the chief aggressively prayed for judgement on those who would oppose the good of the people of Bekwai Dominasi, while Nana Ageiwaah refused to curse during her prayer.
She explained that when she became a queen mother she was a Christian and as she became closer to God she realised she had to reform the practice of cursing, because she felt it did not tie in with the Christian teachings of loving enemies.
She has adopted a Christian model within an Ashanti custom.
Painful compromise
But the merging of the two traditions is not always smoothly carried out.
Ewe Christian Chief Togbe Kwaku Adjiman IV lives in the village of Battor, in the west of Ghana close to the Togolese border.
He was a Methodist when he was called to be chief of his village.
"At first I thought of running away because I knew this role would compromise my Christian faith, but in the end I had no choice. If I didn't accept the role I would never visit my village and people again," he said.
As a chief he has to perform certain Ewe rituals which involve drinking blood out of a skull, and as he said: "If you're a true Christian nothing, absolutely nothing will induce you to do that."
Yet each Sunday and several times during the week Chief Togbe Kwaku Adjiman IV attends the Brotherhood Church a few minutes walk from his compound. He's an honoured guest and sits with the priest.
Here he feels he can proudly feel both chief and Christian following a life of painful compromise.
Facing criticism
A growing number of chiefs and queen mothers are Christians.
At a meeting of Christian chiefs and queen mothers they encouraged one another to live out the Christian way of life within their traditional roles and settings.
Many had faced criticism from other Christians who believed they could not carry out the various sacrifices or drink offerings to ancestors required of them - traditional spiritual customs which imply a belief in the spiritual power of the dead to change life for the living and which some Christians view as idolatrous.
This has left many converts to Christianity faced with a dilemma.
Or do they embrace the Christian way and forsake all else, even if this means ignoring the religious heritage that has been the spiritual legacy of their forefathers for centuries?