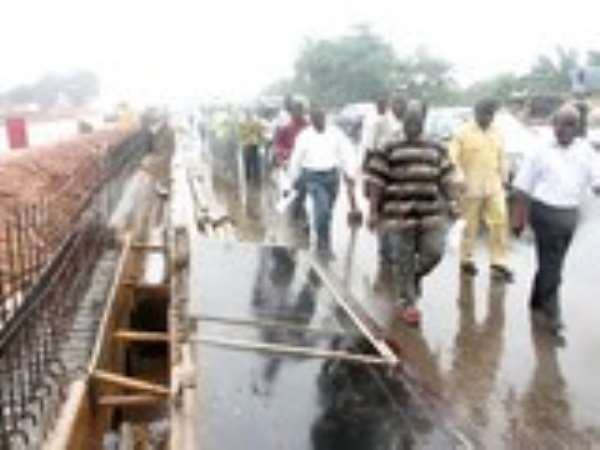 The Minister On Inspection
THE Government has paid ¢12.2 billion as compensation for property destroyed in the construction of the Mallam to Kasoa road project.
An additional ¢2.3 billion is expected to be paid upon the approval of the Land Valuation Board, Transportation Minister Richard Anane told the Times on Wednesday, when he inspected progress of work on the Mallam-Kasoa and Ankamu Junction to Yamoransa road projects.
He said government ensured prompt payment of the compensation between 2004 and 2006, to avoid delay of the project.
The project, which commenced in February 2004, is now about 88 per cent complete and according to Dr Anane, it will be completed in December.
Dr Anane also disclosed that plans are underway to ensure an upward review of the road tolls in order to raise more revenue to maintain the roads adding that additional toll booths will be constructed on newly constructed ones.
"Currently what is being charged is not commensurate with huge investments made in the road sector hence the need to review the toll fees," he said. He appealed to motorists to co-operate with the contractor to avoid disruption of work.
Briefing the media, Joseph N. Okyere, Director of Comptran Engineering Limited, Consultants for the project, said the original scope of the work has been increased to include a three lane dual carriageway for the first 6.5 kilometers from Mallam-Dunkonaa and provision of storm drain along the Dunkonaa-Bortianor street.
The variation he said had caused some delay in the execution of the project and so was the spillage of excess water from the Densu River, during the construction of the Kasoa Bridge.
Mr. Okyere expressed concern about the removal of diversion signs on the road by some motorists and urged them to desist from the practice.
The minister also inspected progress of work on the Ankamu-Yamoransa road which is about 58 percent complete.
The World Bank/Ghana Government funded project, commenced in February 2004 and is expected to be completed by the end of this year.