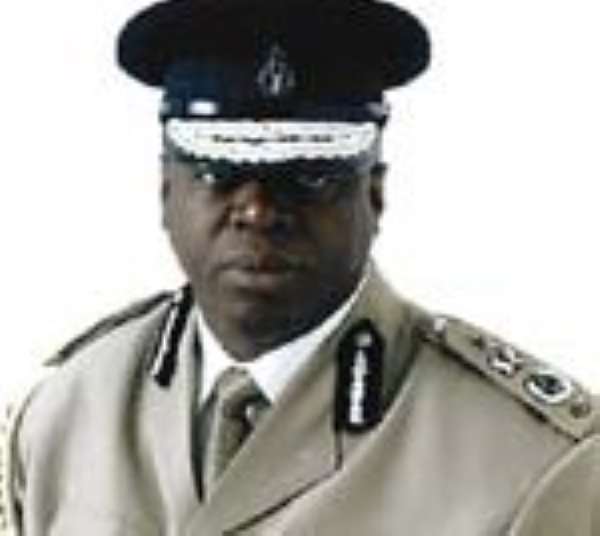 Inspector General of Police Patrick Acheampong says the cocaine scandal in which top police officers have been named as accomplices will not compel him to resign.
He told journalists today that stories in the media implicating the police in the scandal will be proven as fabrications once the Justice Georgina Woode Committee probing named witnesses and police officers.
The IGP answered questions from a packed auditorium of journalists as his senior officers looked on today ahead of a two-day regional commanders' conference.
The Head of the Police Service said the police administration is resolved to perform its constitutional duties, despite the barrage of criticism it is presently facing.
The service is under pressure from revelations at the Justice Georgina Wood Committee. The committee is investigating allegations of police complicity in the disappearance of confiscated narcotics.
Some media reports have also questioned why top officers are remaining in their office after bribery accusations. IGP Acheampong, who has also been mentioned in connection with the narcotics case, said the service would overcome its challenges.
"The Head of this, the Deputy Inspector General of Police, the Headquaters management board, our youth commanders, and I, with men dedicated, involved and focused to perform our constitutional duties in the best interest of mother Ghana. Many organisations have gone through crisis and challenges at one time or the other, but the fire and stability and the strength of an organisation is able to come through the crisis successfully, and I know that the police, if strong enough, can stand these challenges."
Mr. Acheampong said he was confident that doubts about the service would soon be cleared.
"It is our belief that at the end of all the deliberations of the committee, you would probably discover that some, or most, of the stories that have appeared are fabrications and the committee will lay bare the truth for Ghanaians to judge for themselves," he said.
Minister of the Interior Albert Kan Dapaah praised the administration for maintaining law and order. He also cautioned the public against stereotyping the entire force as corrupt, saying that any individual officer found culpable will be dealt with.
"Today even if we are giving a very hard knock on narcotics, don't let us forget that it was the Police that master minded the feature of the East Legon cocaine from the Venezulans. Again, it was this same Police force who planned the Prampram cocaine. There have been many such daring arrests and these by the Police Narcotics Unit. I think we should cheer up. As an institution, we've had our fair share of challenges, but at the same time, we've not done too badly", he said