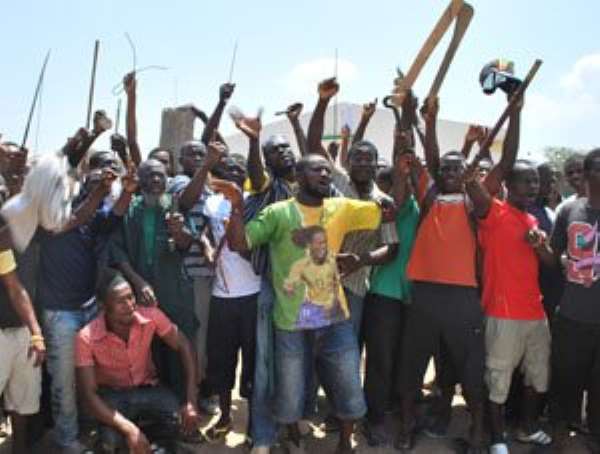 The People's Democratic League (PDL) deeply condemns in no uncertain terms the eruption of violence and hostilities in the Sierra Leonean northern town of Makeni, and regrets the tragic loss of lives, the destruction of property, the disruption of services of vital public installations and services and installing fear and anxiety on the general public.
It is tragic that Sierra Leoneans should be killed by fellow Sierra Leoneans in such a ruthless manner. While we send our condolences to the bereaved families, we want to dissociate ourselves and our party, the People's Democratic League (PDL) from such barbaric and inhumane acts. The violence in the Makeni town city occurred on Sunday 19th July 2020.
During this period that the world is battling to save lives against the devastating effect of the COVID-19 virus pandemic, it is quite tragic and irresponsible that in this life-threatening atmosphere, Sierra Leone is gradually drifting to a state of anarchy. We, members and supporters of the People's Democratic League (PDL) cannot afford to remain comfortable and silent as other Sierra Leoneans perish in the manipulative mechanism of mischief-makers, whose stock in trade is to spread rumors, mislead people and incite ethnic hatreds in the country.
The PDL wants to warn all those behind the orgy of violence in Sierra Leone that nowhere in the world their actions have ever solved problems. We therefore urge Sierra Leoneans to remain calm and law-abiding. The destruction of lives and property is not in the very best interest of any communities in Sierra Leone.
The violence in Sierra Leone could be averted if our politicians placed national interests above immorality. The opposition should have a focus, not to spend all their resources to win the 2023 elections, but to work towards getting rid of the decadent system or status quo, which is so corrupt, violent, intolerance, predatory, tribalistic, rumor-mongering, mischievous, occultist, and character assassinations.
We have time and again condemned violence in its entirety. We stand by this approach and condemn any group, government or opposition involved in violence. We have maintained calm even when brutal injustice was meted on our registration process, to become a full-fledged political party for Sierra Leone. Foreign diplomats in the country and media personnel are witness to the spate of violence in Sierra Leone, whereby certain elements are hell-bent to wreck the country's hard-won peace and democracy.
Incitement to violence is a crime and recipe for escalation of poverty, whether it is practice online or offline. We wonder what manner of insanity and sadism will make some people kill protesters. What is the offense of those protestors? Of what use is their death to their killers? It is just the height of evil and human callousness that must be condemned in its entirety by every sane society or person.
The People's Democratic League (PDL) is worried that like in other parts of the country where killings took place recently, the bloodbath in Makeni town was unnecessary as it marks a worrisome return of Sierra Leone to orgy of violence. We therefore urge all our people as good Sierra Leoneans to take up personal interest in promoting and maintaining peace in their neighbourhood. This is not a time to allow personal, regional or party interest to drive us to desperation. After all, Sierra Leone is bigger than any region, tribe or party.
We acknowledge the leadership of President Julius Maada Bio and his steadfast commitment to take resolute actions to end all unlawful attacks, allegedly perpetrated either by State security forces or violent groups that are linked to the killings of unarmed civilians in the country. While we urge President Bio to call the opposition on the mahogany table, listen to their legitimate concerns, if any, and find a lasting solution to their crisis, we commend the President and Commander-In-Chief for taking bold steps towards establishing an inclusive government and repelling outdated draconian laws that infringe upon the constitutional human rights and democratic freedoms of Sierra Leoneans. This we believe the President is doing, to rekindle the hope of Sierra Leoneans and keeps his words that his New Direction agenda is not a regional or ethnic based government, but a government of all Sierra Leoneans, and for the good and happiness of all Sierra Leoneans.
We believe in this time of the Covid-19 virus pandemic, the government of President Julius Maada Bio cannot do it alone, but needs all Sierra Leoneans on board as well as the international community to ensure a stable political atmosphere, for consolidation of the fragile peace and democracy in the country. The United Nations could play a leading role by establishing an independent body to investigate the violence in the country and take all necessary actions to put a stop to the violence in Sierra Leone.
The People's Democratic League (PDL) maintained that there is a legitimate government in Freetown, democratically-elected by the people of Sierra Leone. Retired General Julius Maada Bio is the constitutional President and Commander-In-Chief of the Armed Forces of the Republic of Sierra Leone. There is a corrupt opposition force; there is an aggrieved opposition force; and there is a restive opposition force. This is the reality in Sierra Leone today, and the United Nations should engage with all stakeholders in the country to find a lasting solution to the current political crisis for supremacy.
The People's Democratic League (PDL) maintained that violence in whatever form or manifestation is a serious human rights violation and an affront to peace and democracy. Hate messages and incitement through the social media and widespread impunity not only encourage further abuses and suffering, they sent the signal that violence is an acceptable norm.
We therefore urge the United Nations to act immediately to help address the spate of violence in Sierra Leone, the proliferation of anti-Sierra Leone's hate messages and incitements in the social media, and to ensure that aggressive rhetoric does not trigger ethnic tensions in the country. We further call on the United Nations to lead efforts aimed at preventing incitement to ethnic hatreds. The United Nations must ensure human rights abuses in Sierra Leone are investigated, and perpetrators held accountable.
Finally, we call on the United Nations to exert pressure to bear on stakeholders and their supporters to avoid all acts that are at variance with peace, political stability and development in Sierra Leone.
Long live Sierra Leone!
Peace with All!!
Sender:
Alimamy Bakarr Sankoh
Leader and National Chairman
People's Democratic League (PDL)
For and on behalf of members and supporters of the People's Democratic League (PDL)