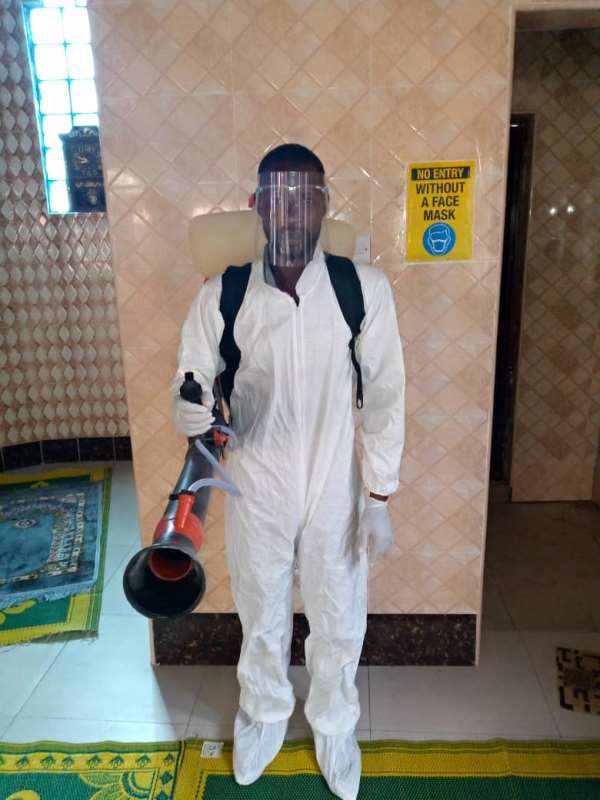 Hon. Razak displaying one of the spraying cans used in the fumigation exercise
The Assemblyman for the Hot Coffee Electoral Area has promised to make the area the best amongst the eleven Electoral Areas within the Ayawaso East Metropolis.
The Assemblyman, hon. Abdul Razak Ismail, made the promise when he led a team to fumigate/disinfect ten different mosques within his Area.
The disinfection exercise, has among other things the objectives to rid the mosques off diseases and viruses especially during this era of Covid-19 pandemic.
It also forms part of the Assemblyman's sanitation and health priorities, which he promised the electorates during his campaign for the newly created Electoral Area's bid.
Hon. Abdul Razak Ismail noted that the fumigation was to also prepare the grounds for the forthcoming Muslims Eidul Adha eid prayers, in response to the National Chief Imam's call for the eid prayers to be observed at homes and within smaller mosques in the respective communities.
Some of the mosques hon. Ismail Abdul Razak and his team fumigated included the Mallam Fofana, Buza 11 , Old Alaska and the Wuro Abdullai Mosques respectively.
Apart from the disinfection, hon. Razak, popularly referred to as Ember, has also distributed nose masks, sanitizers, veronica buckets to people within his electoral area as part of efforts to fight the COVID - 19 pandemic.
The nose masks according to the Assemblyman were mostly distributed to voting registration centers during the ongoing voters registration exercise.
Hon. Razak Ismail has since his assumption into office as the Assemblyman also organised clean up exercises, conducted some drainage works as well as fixing of faulty street lights in the community.
The Assemblyman promised to continue to do the work for which he was given the mandate by the people. He mentioned sanitation, health as well as other social issues that are bedeviling the people as some of the things he will be tackling.
According to the Assemblyman, it is an obligation for all citizens to keep our communities clean and also adhere to the protocols for Covid 19.
He therefore advised the people, particularly the youth to strictly adhere to the advise of health experts. "We must always wear our nose masks, wash our hands with soap under running water and sanitise our hands and other valuables whenever we return home."
He cautioned the youth of the area to desist from engaging in anything that has the tendency of disrupting the peace and stability of the area and Ghana at large.
"As citizens, we must be law abiding, hard working and patriotic and always endeavour to contribute our quota to the socio economic advancement of Ghana.
"We don't have to fight each other just because of politics," hon. Razak added must not divide us but rather unite us as agents for development for the betterment of our communities and Ghana, at large.