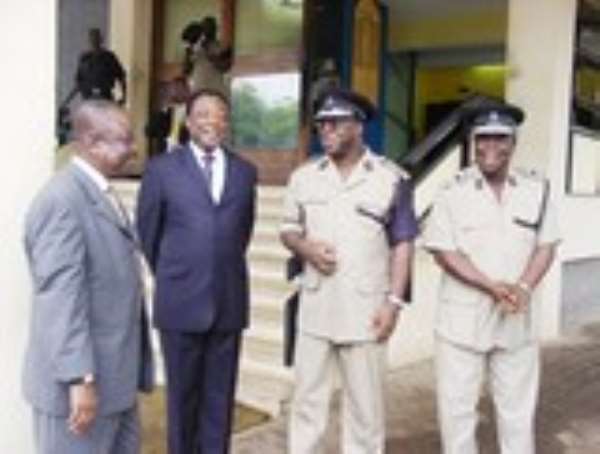 IGP - After The Sitting
The Inspector-General of Police, Patrick K. Acheampong, yesterday dismissed criticisms of association of police officers with people perceived to be of questionable character, saying there is no rule that prescribes the kind of social relationships a police officer should have.
"A police officer who only mingles with angels does not know his work," he told a press conference in Accra.
He was reacting to concerns raised about his relationship with a witness at the committee investigating the missing consignment of cocaine from a shipping vessel at Tema.
The press conference was to enable the IGP to respond to matters affecting general police duties. Prior, to that, a conference of all Regional Commanders and schedule officers at the Police Headquarters to review the performance of the service was opened by the Minister of Interior, Albert Kan Dapaah.
The IGP, who had earlier indicated that he would not answer questions related to the committee and its witnesses, stressed that a police officer worth his salt, should be able to engage all sectors of the society to ensure that he is well-informed and "on top of his job."
He therefore called on the media "to deal with the evidence and not to convict by association."
Issues related to the missing cocaine took the most part of the over four-hour event which was attended by about 70 journalists and representatives from the Commonwealth Human Rights Initiative, a civil society organization.
Mr Acheampong said in spite of what he described as a "daily siege" from the media, the police were committed to getting to the bottom of the cocaine issues.
"He said the Police Service will remain, united, focused and loyal to the constitution and people of Ghana.
He also noted that public criticism of the police service born out of the current developments is unfair to the unsung heroes who have continued to do their best under very trying conditions."
He therefore urged the public to continue to have faith in the service and also acknowledge the contributions of the police in general.
On why some senior police officers whose names came up during the deliberations of the committee investigating the case of the missing cocaine, have not been interdicted, he explained that the grounds of interdiction could not be based on mere allegations.
He added that interdiction can only be considered if it turns out that those officers could influence the course of investigations.
Regarding allegations that favouritism is the hallmark of his administration, Mr Acheampong, said, "I love officers who love to work" and joked, "favourites are only in the house and they are your wife and children."
Earlier, in his address, Mr Kan-Dapaah, expressed concern about the damaging leaks some police service personnel have been giving to sections of the media, without regarding institutional procedures.