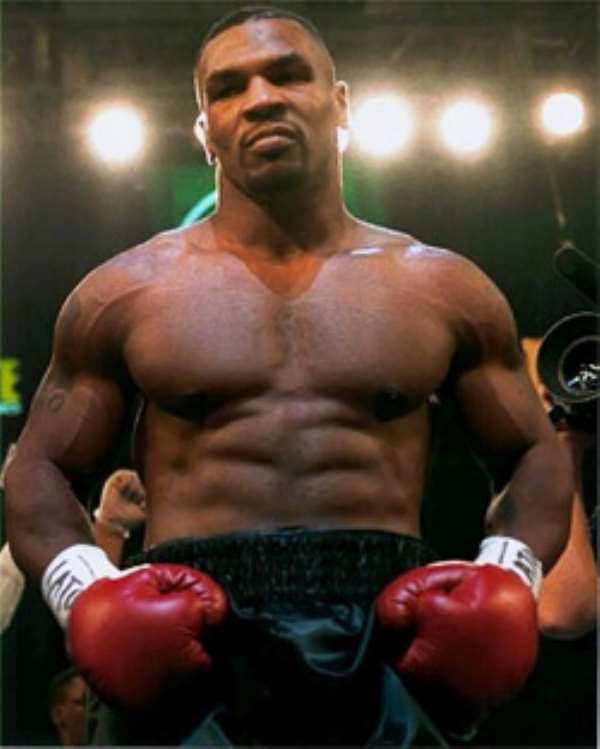 K1 – KOO, have you heard?
K2 – Another bit of fake news? Trump has self-quarantined, has he?
Very close to real news, ain't it? That's what makes fake news so fascinating in the year 2020. When you hear real news, it sounds like fake news and when you hear fake news, it sounds authentic!
Well, the one I am going to relate to you satisfies both criteria! Here – you read it!
It's an article from USA Today, right? [He reads] "Mike Tyson is headed back to the boxing ring. "Tyson announced on 23 July 2020 that he will fight Roy Jones Jr. [on] Sept. 12 [2020]... BLAH! BLAH! in Southern California. The fight will be an eight-round exhibition bout. Tyson, 54, has not fought professionally since June 11, 2005, when he refused to come out for the sixth round against Kevin McBride. In May [2020] he posted on Instagram, a video of a workout in which he looked fit. Roy Jones Jr., 51 and a former heavyweight world champion, last fought on Feb. 8, 2018, when he beat Scott Sigmon. "The [new Tyson] fight ... has been sanctioned by the California State Athletic Commission. Tyson's return to boxing will help launch Tyson's new Legends Only League, which will feature not only boxers, but also baseball, basketball and soccer players.
"Everybody who decides to say they're too old, they're over-the- hill but has it in them, come with us,'' Tyson said. Tyson remains the youngest boxer [ever] to win a heavyweight title. He did it at the age of 20 when he beat Trevor Berbick by second-round TKO in 1986. He was the undisputed heavyweight champion from 1987 to 1990 – the first heavyweight boxer to hold the WBA, WBC and IBF titles simultaneously." END QUOTE
KOO, what if Tyson, who has an unruly temperament, resorts to biting – again! You do remember the time he shocked the world by biting the ear of another fighter during a boxing match?
Do I remember it?
Wasn't that odd? You win the undisputed heavyweight crown at a very you age; you beat everyone in sight in your profession, and yet you are only remembered for biting the ear of another boxer!
But apart from his wife's name, Robin, being that of a boy (usually) was there a possibility that Tyson bit her? Didn't she act in some 'unusually sexy' films?
Maybe that's what Tyson the idea! That ear teleported him back to his bedroom...You know what a punch can do to the human brain!
Do you think....
My friend, stop being the amateur psychiatricyclist. Hey what's the name of the guy whose ear Tyson bit?
Wait! I'll check on my phone!
So what would you do without your phone, huh? Soon, we shall all be suffering from dementia. You want to remember your mother's name, look it up in Google. How can your brain remember that it was put in your head to make you remember such things?
SHUT UP! Google is modern man's unmentionable name. Just as you didn't mention a certain Jewish term of reverence in ancient times.
You mean Google is what it IS?
I am not coming there, my man! Ah, here it is! – The guy whose ear was bitten by Tyson was Evander Holyfield. Here, read the extract for yourself:
(HE READS) "On June 28, 1997, Mike Tyson bit Evander Holyfield's ear in the third round of their heavyweight rematch bout. The attack led to Tyson's disqualification from the match and suspension from boxing. It was the strangest chapter yet in the champion's roller-coaster career. Mike Tyson enjoyed a rapid rise to stardom [and] in 1986, became the youngest heavyweight champion in history by beating Trevor Berbick at just 19 years old. "By 1989, however, Tyson had begun a long downward spiral into sports infamy. His erratic behaviour included marrying and divorcing actress Robin Givens (after being accused by her of domestic violence); firing and suing his manager; and breaking his hand in an early morning street brawl. Unable to keep his focus on boxing, Tyson, once thought unbeatable, lost the heavyweight title after being knocked out by 42-to-1 underdog James "Buster" Douglas on February 11, 1990. "In 1991, Tyson was accused of rape by Desiree Washington, a contestant in a beauty pageant he was judging in Indianapolis, Indiana. He was convicted on February 10, 1992, and served three years and one month in a federal penitentiary. "Once released, Tyson regained his heavyweight belts and then planned a bout with Evander Holyfield, a former heavyweight champion from Georgia. On November 9, 1996, the underdog Holyfield shocked the boxing world by beating Tyson in an 11th round TKO, to win Tyson's WBA title. "[In the 2nd round of the rematch] Holyfield head-butted Tyson, opening a cut over Tyson's right eye. In the third round, Tyson spat out his mouthpiece, bit a chunk out of Holyfield's right ear and then spat it onto the canvas. Though Holyfield was in obvious pain the fight resumed after a brief stoppage, and then Tyson bit Holyfield's other ear. With 10 seconds left in the third round, he was disqualified. His $30 million purse was withheld while Nevada boxing officials reviewed the fight." END QUOTE
Do you still think all strange news is fake news, KOO?
No; not on your Nelly"! You mean – these things really happened?
They sure did, man!
Fact is stranger than fiction, they say!