Your Registration Card Is Your Passport To Vote—Dr Susana Alo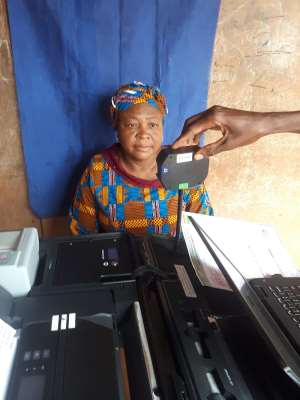 Dr. Susana Alo, a Candidate in the recently held NPP Parliamentary primaries in the Walewale Constituency of the North East Region, has called on electorates in the constituency to endeavour to register to vote on elections day.
Dr. Alo noted that the voter registration card was their passport to make their choices on election day.
Speaking to the Voiceless Media after going through the registration process at the Wulugu L.A. School in the constituency, Dr. Alo appealed to the people to bring the aged, the disabled and pregnant women to come and register to be able to vote on election day.
She explained that such category of people are entitled to quick attention at the registration centres and should be encouraged to register. She also appealed to all those who have turned 18 years and above to also register to exercise their mandate in December.
The aim of elections, she explained, is to bring development to the people and the only way one can have a say in happenings in his or her constituency is to, first of all, be a registered voter.
She also used the occasion to appeal to the Electoral Commission to provide the relevant COVID-19 protection equipment at the registration centres to keep registrants protected.
Dr. Alo also encouraged the registrants to use nose masks and practice social distancing at the registration centres to stay safe.