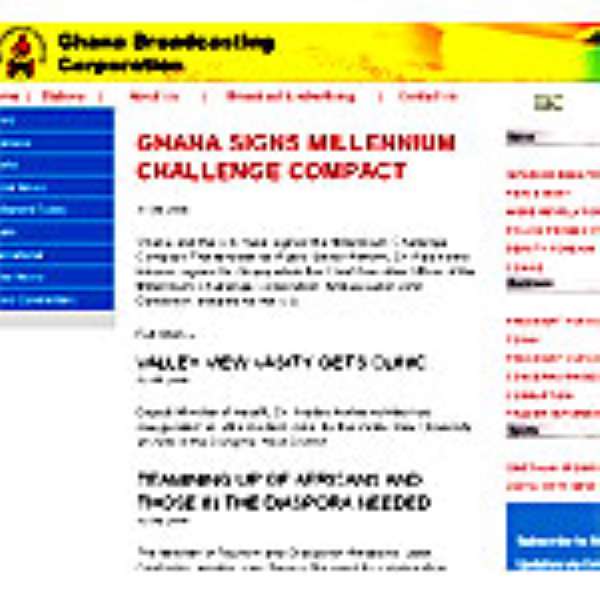 Home Page of GBC Website
Mrs Oboshie Sai-Cofie, Deputy Minster for Information and National Orientation, yesterday launched a new website for the Ghana Broadcasting Corporation (GBC) to help market the institution and to promote its programmes on the Internet.
The website, www.gbcghana.com would enable the general public to have access to programmes and news articles on both Ghana Television and other affiliate radio stations of the GBC.
Mrs Sai Cofie commended GBC for the initiative, saying, it was a sign of being in tune with modern trend of communication to inform, educate and entertain society beyond barriers.
Mr Yaw Owusu-Addo, Acting Director General of GBC, said the launch of the website formed part of ongoing processes to give the Corporation a facelift to remain a pioneer in the media industry.
He said the site would be upgraded to reach its optimum on the Internet to compete with other international media websites and provide the best services to its publics.
Mr Owusu-Addo expressed the hope that the website would open business opportunities for the Corporation through advertisement to enable GBC generate more revenue for internal development.
Nana Nketsia IV, GBC Board Chairman and Paramount Chief of Assikado Traditional Area, said the website was a mark of excellence and responsibility to give a new phase, image and a voice to Ghana as a nation.
Mr Paul Adu-Gyamfi, Chairman of the National Media Commission, commended the Board, Management, and Staff of GBC for the hard work and dedication that had brought the Corporation to its present status.