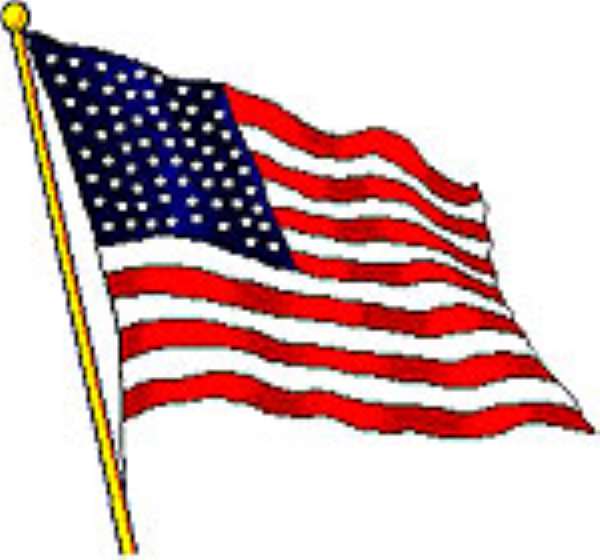 USA Flag
Defence Minister, Dr Kwame Addo-Kufuor yesterday noted that the key to peace in Africa lies in the ability of the developed countries to aid the Continent out of poverty. He said the high level of criminality terrorist activities and banditry in Africa were associated with desperation sometimes born out of severe poverty.
"Severe poverty leads to desperation. conflicts, terrorism, banditry, arms and drug trafficking in Africa are as a result of poverty. It is really the problem of Africa," he said.
He thus called on the US to help countries like Ghana that are making serious efforts to develop and maintain democratic governance in areas where they had relative advantage, in order for the country to attain middle-level income status within a decade or two.
Dr Addo-Kufuor said this while interacting with a visiting 20-man Capstone Military Delegation, led by General Robert Rutherford (rtd), from the United States at Burma Camp in Accra. Capstone is a very elite military education programme. The Joint Chiefs of Staff at the National Defence University of the US organizes it for selected General and Flag officers.
Generally, the Capstone group are interested in economic, political and geographical intelligence, particularly combating global terrorism, drug trafficking and money laundering, which are also viewed as necessary adjuncts to global terrorism.
Dr Addo-Kufuor emphasised that, even though the US had done a lot for Africa it could still help in the areas where they had comparative advantage. He was of the view that Ghana could be assisted to process 80 per cent of its cocoa locally instead of exporting the raw beans.
Dr Addo-Kufuor expressed his appreciation to the US for the support given Ghana over the years and for the country's inclusion in the Millennium Challenge Account programme, which would boost the economy.
He also expressed his gratitude to the US for the support given to the Ghana Armed Forces (GAF) through its Military Education Training programme, joint exercises and pre-operational training programmes before the GAF undertakes peacekeeping operations.
The Minister said the US could assist the Ghana Air Force with trainer jets and transport aircraft to have the capability to monitor the Gulf of Guinea and maintain peace in the Sub-Region.
Gen Rutherford told Dr Addo-Kufuor that the delegation came to Ghana because of the progress the country was making in democracy and its pivotal role in maintaining the Sub-Regional as well as international peace, adding that they looked forward to an educative stay in the country.