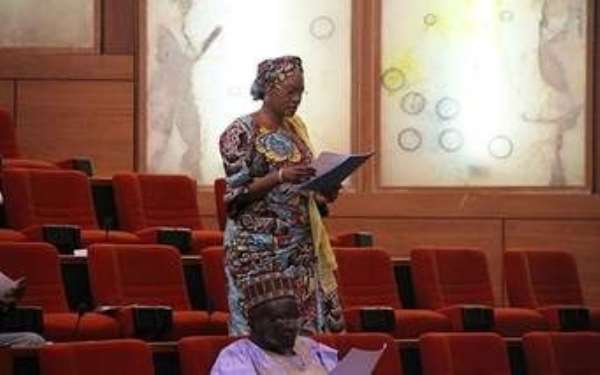 There is something about democracy that is both funny and interesting. It is funny because in a democracy everyone is supposed to be equal before the law and there is supposed to be a level playing ground for all state actors. But that is not exactly the position in Nigeria, even among politicians. And that is what makes it interesting.
The Chapter 5 and article 68 constitutional clauses that stipulate the tenure of legislators in both the Federal House of Representatives and the Senate do not specifically mention the duration a legislator can legally function in office. It vaguely allows that a member of the Senate or House of Representatives shall vacate his seat in the House if he becomes a member of another legislative body or if he becomes the President or Vice President, a governor or deputy governor, a minister or special adviser. Any other circumstances that would cause him to be disqualified for election as a member could also make him vacate his seat.
Two interesting facts come on the heels of this stipulation. First is that at the moment there are parliamentarians who are at the same time special advisers, especially to the President. That appears to run fowl of the constitutional provisions. So, why is that the case?
The second fact is that whereas there appears to be no ceiling to the number of years a legislator can serve, governors and presidents are caged into a maximum of two terms of 8 years. And the question is: since the president or governor and the legislator are all career politicians, can it be fairly said they are playing on level grounds when one's tenure is restricted and the other is not?
I am somewhat worried about this situation because it is what prevails in America particularly, a country whose constitution hugely influences that of Nigeria. And I would consider that rather than follow Americans sheepishly, knowing full well that their culture considerably differs from that of Nigerians, why couldn't the National Assembly modify the constitution to fit into local demands to enable the Nigerian people solve their peculiar socio-political problems their own way?
For example, experience has shown that a governor may perform creditably in his first tenure with a remote eye on a second tenure. And because he "did well" during his first tenure and won the confidence of his constituents, he is elected into office for another last tenure. He then reverses his development gear. He begins to accumulate plenty of money and properties for himself. He begins to enrich his townsmen and a few friends. And there is nothing anyone can do because he is constitutionally covered by his immunity from prosecution while in office. Things like that.
But if there was no ceiling to their tenure, a hard working governor would work steadily in the interest of the entire state in order to enjoy the people's confidence and support. He would not be haunted by the fact that he would leave office after four years. That obviously accounts for why most times they finish eight years as governors and they manipulate their way to the senate and become Senators.
So, Nigerian lawmakers should think about that, if they truly have the interest of the Nigerian people at heart as they have always claimed they do.
And that brings me to an attitude many Nigerians have which shows they don't understand how democracy works. In the Nigerian brand, there seems to be a tendency to change legislators every so often. The truth of the matter, however, is that the longer a legislator stays in office, the more he learns the ropes and the more he is likely to deliver the dividends of democracy to his constituents.
In one video clip that has gone viral recently, the very likeable priest took his sermon from Lazarus being raised from death by his bosom friend, Jesus. The reverend gentleman said that Jesus told the people around to "take the stone away". Jesus did not take the stone away by himself. He told the people around. So, there was a need to take away the stone that was caging the people of Nigeria in the grave of poverty and joblessness.
The stones were the National Assembly, the Presidential Villa and the Local Government authorities. The people should stop simply praying because faith without work is dead. They should do something for themselves. They should take away the stones with their votes. Politicians who are not performing creditably should be voted out immediately.
The man of God meant well for the people. And many Nigerians feel that way too.
But that approach raises some very pertinent questions. For instance, is it more rewarding to keep changing battens from one politician to another or work hand in gloves with one who leads his constituents and who will be allowed by them to stay on as long as his health permits? The question becomes even more poignant when we consider the fact that the longer he stays in office the more he masters the political ropes and the more confident he becomes to deliver the dividends of democracy to his people who voted him to represent them in government.
The first problem to consider here is that Nigeria appears to be a country in a massive hurry to only God knows where. If, for instance, there is a holdup on the highway, it would feel usual to find cars diverting quickly or trying to find short cuts. Only very few are patient enough to queue up in line. You go to the bank or any other public office and you find that everyone is in a hurry. So also is their approach to political circumstances. In countries like America and England, legislators serve decades without being removed because they have constituency offices in their constituency.
In America, John David Dingell Jnr. served as a Democratic Party member of the House of Representatives for 60 years, from 1955 to 2015 when he retired. Representing Michigan, he holds the record as the longest serving politician in American history. Robert Byrd was the Democratic Party Senator for West Virginia and served in both the House of Representatives and the Senate for 51 years from 1959 until his death in 2010. Daniel Ken Unoiye was the Democratic Party member representing Hawaii and served for 49 years from 1963 until his death in 2012. He was the highest-ranking Asian-American politician in American history. Jamie Lloyd Whitten was the Democratic Party representative for Mississippi and served for 54 years from 1941 to 1995. John James Conyers was the Democratic Party representative for Michigan and served for 52 years from 1965 to 2017 when he resigned. Carl Vinson was the Democratic Party representative for Georgia and served for 51 years from 1914 to 1965 and retired. Emmanuel Celler was the Democratic Party representative for New York who served for 50 years from 1923 to 1973 when he lost re-election. He was the first senior representative to ever lose at the primaries in 1972.
Samuel Taliaferro Rayburn was the Democratic Party representative for Texas. He was 43rd Speaker of the House and served for 48 years from 1913 to 1961 when he died after 24 consecutive terms. Sydney Richard Yates was the Democratic Party representative for Illinois who served for 48 years from 1949 to 1963 and from 1965 to 1999 when he retired. He died in 2000. James Strom Thurmond served as the Republican Party Senator for South Carolina for 49 years from 1954 to 2003 when he resigned and retired. Edwin Donald Young was the Republican Party's representative for Alaska and served for 47 years from 1933 to 1980. Wright Patman the Democratic Party representative for Texas and served for 47 years from 1893 to 1976 when he died. He holds the record as the Republican's longest serving legislator in American history.
Others are: Edward Moore Kennedy who was the Democratic Party Senator representing Massachusetts. He served for 47 years from 1962 until his death in 2009. Charles Bernard Rangel was the Democratic Party representative for New York and served for 46 years from 1930 to 1976. He was the second longest serving senior member of the House when he retired. Adolph Joachim Sabath was a Czech-born Democratic Party representative from Chicago, Illinois and served for 45 years from 1907 until he died in 1952. Patrick Leahy was the Democratic Party Senator for Vermont and served for 46 years from 1974. Chuck Ernest Grassley was the Republican Party Senator for Iowa and has served for 40 years since 1980.
Joseph Lister Hill was the Democratic Party Representative and Senator for Alabama and served for more than 45 years from 1923 to 1969 when he retired. He died in 1984. William Thad Cochran was a Republican Party Representative and Senator for Mississippi who served for 45 years from 1973 to 2018 when he resigned. He died in 2019. George Mahon was a Democratic Party Representative of Texas who served for 44 years from 1935 to 1979 when he retired. There are hundreds of American legislators who spent over 40 years in service and they include Warren Magnuson, Charles Edward Bennett, Justin Smith Morrill, Ed Markey , William B. Allison , Charles Melvin Price , Bill Young , Henry M. Jackson , Carter Glass , John W. McCormack , John Sparkman , Jack Brooks , Orrin Hatch , William R. Poage , Robert L. Doughton , Joseph W. Martin Jr., Dave Obey , Richard Shelby , Jim Sensenbrenner , Clarence Cannon , John C. Stennis , Kenneth McKellar , William Natcher , Claude Pepper , William P. Frye , Ted Stevens , Carl Curtis , Peter W. Rodino , Pete Stark , Tom Harkin , George Miller, Henry Waxman , Barbara Mikulski , Eugene Hale , Jennings Randolph , Leslie C. Arends , Daniel A. Reed , George W. Norris , John Taber , William M. Colmer , Ron Wyden , Pat Roberts , Chuck Schumer , Hal Rogers , Chris Smith , Steny Hoyer , Max Baucus , Samuel Smith , John L. McClellan , Morris Sheppard , Fritz Hollings , Richard Russell Jr., John Sherman, Russell B. Long, Frederick H. Gillett, Wilbur Mills and Dante Fascell. Others include: Robert H. Michel, Nick Rahall, Robert Crosser, Bob Sikes, Nathaniel Macon, Henry Cabot Lodge, Dick Durbin, Marcy Kaptur, Alben W. Barkley, Henry B. González, Francis E. Warren, James Eastland, Joe Biden, John Murtha, Henry L. Dawes, F. Edward Hébert, Edward Boland, William Broomfield , Dan Rostenkowski, Neal Edward Smith, Claiborne Pell, Joseph M. McDade, Paul Sarbanes, Pete Domenici, Ralph Regula, Chris Dodd, Jim Oberstar, Richard Lugar, Daniel Akaka, Norm Dicks, Dale Kildee, Carl Levin, Sander Levin, Shelby Moore Cullom. Here in the United Kingdom, we have Sir Peter Bottomley who is the Conservative MP for Worthing West has been there for nearly 45 years. Margaret Beckett who is the Labour MP for Derby South has been in Parliament for 37 years since 1983. Barry Sheerman who is the Labour MP for Huddersfield has been there for 41 years since 1979. Harriet Ruth Harman the Labour MP who represents Camberwell and Peckham has been in Parliament for 38 years since 1982. Sir David Anthony Ames is the Conservative MP for Basildon and for Southend West from 1997 has been there for 37 years since 1983. Jeremy Corbyn, the Labour MP for Islington North for 37 years since 1983. Sir Roger Gale is the Conservative MP for North Thanet, Kent for 37 years since 1983. Sir Edward Leigh is the Conservative MP for Gainsborough and has been there for 37 years since 1983. Nicholas Brown is the Labour MP for Newcastle upon Tyne East for 37 years since 1983. William Cash is the Conservative MP for Stafford and has been there for 36 years since 1984. They hold weekly surgeries where their constituents who have any problems at all, whether they are financial, family, emotional or educational meet them and discuss how he can help them. They are really close to the people who elected them to represent them. Some even take out two days in the week for surgery. But in Nigeria, there are legislator who get paid constituency office allowances but they have no constituency offices, no secretaries and no personal assistants. The National Assembly needs to sit up to some of these more important internal administrative challenges. And there is no better time to effect these reforms than now. In the interest of good leadership, the Senate President and the Speaker of the House of Representatives must make out time to educate the Nigerian people on their rights.
It is their right to ensure that their representative in government has a constituency office in their locality. It is their duty to report to anyone who hasn't got one to the leadership of the National or State Assembly. It is their right to know the days the legislators hold their surgeries. It is their right to meet with the legislator representing them on surgery days and to confide in them with the problems that are eating them up. It is their right to expect that their legislator will be there for them.
It is always sad to note that the feeling of closeness to politicians' constituency members is conspicuously lacking in the Nigerian political system. At the end of the day, politics is about families, Nigerian families and the problems they face. It is with that understanding that government can borrow money – not to share it among people who have no idea whatsoever about the art of governance. While we make a case for the elongation of political tenures, it is necessary also that the politician get it right. That is the something about democracy.
.