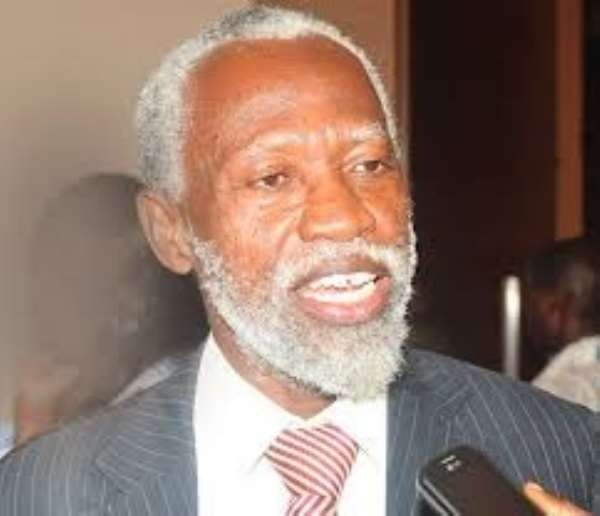 Prof. Adei, in my First Epistle to you, I touched on how you do not think Prof. Jane Naana Opoku Agyemang can be a good Vice President of Ghana, how media cum legal practitioner Egbert Faibille Jr. ridiculed you in Ghana and who qualifies to be President or Vice President of Ghana. I will continue therefrom with Epistle 2. Here we go.
A Former Vice Chancellor is rather well prepared to be President or Vice President of Ghana
Prof. Stephen Adei, you opined that being a former Vice Chancellor of a public university is not sufficient for occupying the position of Vice President of Ghana. I disagree. A public university is a complex organization. It is full of intellectuals of various kinds. It is a community of learned and learning personalities. It might be smaller than a country but managing it is no joke. You managed GIMPA so you are very much aware of this. Naana Opoku Agyemang was an astute Vice Chancellor. A Vice Chancellor even deals with the international community. In order to avoid partisan politics in my disagreement with you, I do not want to touch on her Education Minister role. Let's leave that to the partisan guys. Hon. Okudzeto Ablakwa had already started that debate. I do not intend to be part.
Prof. Adei, most people who become Vice Chancellors and excel tend to be popular in Ghana. One such person is your good self. I think you became more popular in Ghana because of your transformational achievements at GIMPA. The media always refer to you as a former or the former Rector of GIMPA. I therefore think that but for your Rector job at GIMPA, you wouldn't have been this popular. As such, let us not underrate the Vice Chancellor position at all. For me, Prof. Adei who transformed GIMPA is capable of becoming a Vice President of Ghana and so is Prof. Jane Naana Opoku Agyemang was a Vice Chancellor and intended to do so, there should be no qualms.
Prof, it was also your submission that being a Vice Chancellor is not anything difficult because government provides all the resources needed to run the university. Again, I find this argument strange. It is mendacious. Which President or Head of State in the world runs national affairs from his pocket? Not even the rich Donald Trump does so. So even the heads of States use resources provided by the taxpayer. No one uses his or her personal coffers to run public office.
You are an Economist and a leadership expert so I know you know that even the Internally Generated Funds of a public organization in Ghana are considered as part of the Consolidated Fund. That is why the Auditor-General still audits GIMPA that you took off the national budgetary allocations per its new law. Again, that is why most public institutions must seek approval from the government's Chief Accountant (the Controller and Accountant General) before they open and operate institutional accounts.
Evidence of PhD Holders in the offices of President and Vice President
If you cast your mind back to Ghana's democratically elected leaders either as Presidents or as Vice Presidents or Prime Ministers, some were PhD holders like Naana Opoku Agyemang.
Our famous first President, Kwame Nkrumah of the CPP was a PhD holder like Naana Opoku Agyemang. He was not previously a Vice Chancellor yet he had become the most forward thinking leader Africa ever had. Even the legend Nelson Mandela of South Africa doffed his hats to Nkrumah. People even say his dead brain in the grave is thinking more than the living brains of most contemporary leaders of the world. What do you think? To me therefore, being a former Vice Chancellor is rather an added advantage for one to become the Vice President of Ghana.
Prof. Kofi Abrefa Busia (K. A. Busia) of the PP, now the NPP, which you currently serve as the Chairman of the NDPC and Board Chairman of the GRA was a PhD holder par excellence. Would you dare say that he performed poorly as the Prime Minister of Ghana from 1969 to 1972? You cannot do so, Prof. Adei, because you fear that the current Administration in which you hold positions won't be happy with you. Again, under the 1979 Constitution, which represents the Third Republic of Ghana, two PhD holders led us. Dr. Hilla Limann was the President and Dr. Joseph William Swain de-Graft Johnson was his Vice President. Perhaps it would be unfair to assess them fully because the AFRC and the PNDC disrupted and eventually ended their regime even before its full tenure.
In the Fourth Republic, we have had two PhD holder Vice Presidents. They are:
Prof. Atta Mills who later became the 3rd President of the Fourth Republic.
Dr. Mahamudu Bawumia (the current Vice President).
One may submit that it would have been an added advantage for these two people if they were Vice Chancellors of any of the public universities before becoming Vice Presidents. If this assertion is anything to go by, then the candidature and the capabilities of Naana Opoku Agyemang should not be doubted at all. Again, with all these recounted facts in our political history, if not for your masculine disdain for the aspirations of the female gender to that high office of the land, you would have supported the candidature of Naana Opoku Agyemang.
We have capable women in Ghana
Do you know that the first Vice Presidential candidate from any of the two big political parties in Ghana nearly came from your party, the NPP? Or were you part of the people who shot her candidature down? Currently, we have the first female Deputy Majority leader in Parliament and she belongs to the NPP. Some of us admire her debates on the floor of Parliament. I sat at the public gallery of Parliament several times and watched her debate even in the absence of Kyei Mensah Bonsu, the substantive Majority leader of Parliament. So what are you telling us? Does it mean with your GIMPA experience as a Rector you still do not qualify to be Vice President or President?
Prof. Naana Opoku Agyemang was not the only woman you underrated before
It appears that you take incessant delight in attacking women in high positions because you want to see them as women of straw. I remember when Dr. Christiana Amoako-Nuamah was the Chairman of the Governing Council of GIMPA after you left office. You chastised her publicly and cast doubts on her competence and integrity. Now it is the turn of Jane Opoku Agyemang to face your castigating weapon. In criticizing Madam Amoako-Nuamah, you were reported to have said, "For the seven years that the current chair of Council, Dr. Christina Amoako-Nuama has been in charge of the Council, she persistently placed personal interest ahead of the Institute's interest, interfered in day-to-day administrative duties, and engaged in gross dissipation of the Institute's financial resources…"
Paradoxically, some GRA staff have accused you Prof. Adei similarly, only about three (3) years after you accused Dr. Amoako-Nuama.
Given the opportunity to asses your practical leadership style, I would say you are more skewed towards the autocratic style. During your tenure as the GIMPA Rector, you were accused of virtually dividing the lecturers so even when I read for my Master's Degree much later in that school, I noticed the divisions. There were Adei adherent lecturers and opponents.
It is good to assess others and very much so, you did it to Naana Opoku Agyemang. We will soon assess you at the NDPC and the GRA. As noted earlier, some of the GRA workers have already started criticizing your Board chairmanship of that revenue collecting organization.
Thank God you were the very person who famously said, Leadership is Cause, Everything else is Effect. This your famous assertion resonates well with that of John Maxwell that Everything rises and falls on leadership. Leadership will indeed be cause at the GRA and the NDPC and everything else will be effect that will rise and fall on your leadership style. May be you are right. Running affairs at GIMPA might not be sufficient for doing well at the GRA and the NDPC.
Ahaa, I heard you are developing or you have developed a 100-year development plan for Ghana at the NDPC. Any lessons from vision 2020 and the Akosombo accord which Mr Kwadwo Pianim was part of?
Let Naana Opoku Agyemang be. Let the woman become the Veep or attempt to be. Let us assess her as a person and not as a woman. We will surely assess you too.
~Asante Sana ~
Author: Philip Afeti Korto
Email: [email protected]