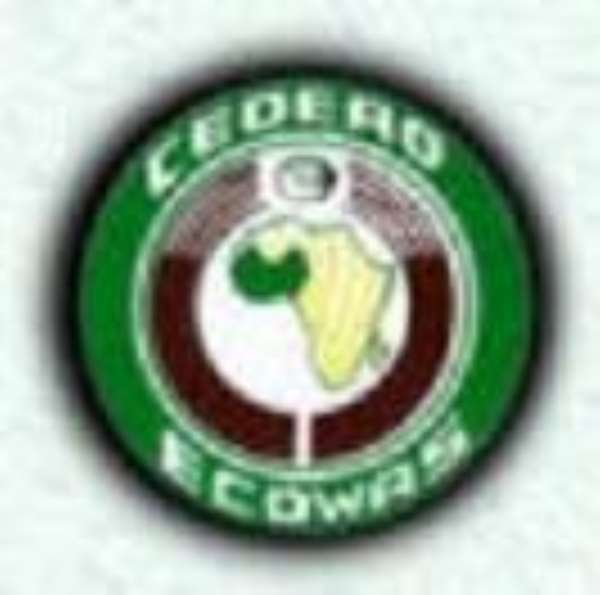 ECOWAS Logo
The Economic Community of West African States (ECOWAS) last Saturday declared that the sub-region detests unconstitutional seizure of political power.
The sub-region is committed to the orderly process of leadership succession and change through free, fair and transparent elections, Dr Mohamed Ibn Chambas, ECOWAS Executive Secretary stated at the on-going West African sub-regional discourse on consolidating multi-party democracy in Accra.
Speaking on "Political Parties and Regional Agreements," Dr Chambas said the regional body had set-up basic tenets and ground norms for the new democratic culture currently evolving in member states.
The tenets mandate member countries to adhere to the principles of Separation of Powers and the guarantee of autonomy of the main branches of government - strengthen parliament to perform its oversight responsibilities and protect the interest of the people and conform to tenets of the African Charter on Human and People's Rights.
Countries were also to ensure freedom of association and the right of the people to meet and organise peaceful demonstration, create the avenue for popular participation in decision making, strict adherence to democratic principles and decentralization of power at all levels of government.
Dr. Chambas whose speech was read on his behalf, said ECOWAS is mandated under the Protocol on Democracy and Good Governance to help actualise these principles through various specific strategies and programmes.
On operations of political parties, the ECOWAS Boss said the sub-regional body had adopted strategies to strengthen the capacity of political parties, "as without strong political parties, there cannot be a strong democratic process...political parties, together with civil society are key actors in actualising the democratic agenda."
He however, noted that political parties being the major institution for enthroning political leadership in a democratic polity, the leadership has a primary responsibility to also ensure accountability and responsiveness. "One of the means of doing so is to ensure that political leaders implement agreements entered into at regional and international levels," Dr Chambas emphasised.
He urged political parties to promote policy dialogue on regional agreements entered by their country, sensitise the public to understand the agreements, encourage parliament to domesticate the agreements through promulgation of the necessary legislation and encourage regional dialogue amongst political parties in the sub-region.
"Regional agreements would remain little or nothing, if there is no domestic buy-in by critical local constituencies. Political Parties are a central institution in ensuring domestic acceptance, awareness and implementation of regional agreements.
"Regional agreements ultimately would benefit political parties because those agreements were to serve as catalysts for achieving democracy, good governance, stability and development for our countries and the sub-region as a whole," Dr Chambas stated.
Mr Roel von Meijienfeldt, Executive Director, Netherlands Institute for Multi-party Democracy (NIMD) said political stability in a multi-party democracy in West Africa needed to be consolidated. He said the Accra Platform would be used to serve as the base for the improvement of the performance of multiparty democracy through inter-party dialogues and support for locally crafted reform agendas.
Mr von Meijiendeldt said advancement of the institutional development of political parties and the establishment of constructive relations between political parties and civil society would also be promoted in the sub-region.
Over 200 delegates from Ghana, Nigeria, Liberia, Sierra Leone, Mali, The Gambia, Benin and Togo are attending the two-day conference, which seeks to promote multiparty democracy in West Africa.
The Institute of Economic Affairs of Ghana (IEA) and the Netherlands Institute for Multi-Party Democracy (NIMD) are the organizers of the conference on the theme: "Political Parties and Democratic Consolidation in West Africa."
Other key issues discussed included "Financing Political Parties," "Improving the Quality of Multi-Party Democracy in West Africa," "Political Parties and Elections," "The Linkage Between Democracy and Development" and "Political Parties and Political Stability in West Africa."