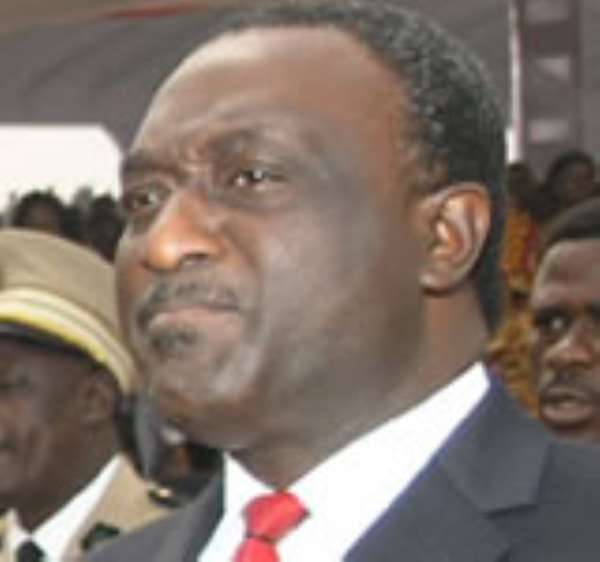 Whilst Kwame Owusu Afriyie, Chairman of Expo Africa, is cooling off the heat in far away London, his lawyer, young and affable Kwame Akuffo of Akuffo Addo, Prempeh & Co. Chambers in Accra, is battling to clean the mess created by his client.
Lawyer Akuffo met probably one of the fiercest opposition since entering into the law profession on Tuesday when he attempted frantically to justify why and how his client has been unable to honour his part of an agreement.
With the expectation of meeting Owusu Afriyie himself, close to 80 of the 300 or more individual representatives of various companies who registered to participate in Owusu Afriyie's organized trade and exhibition fair, which was scheduled to take place in Atlanta, Georgia, sometime last year, stormed the Kama Conference centre where organizers of Expo Africa were billed to explain issues to them.
For them, they were only there to demand their monies running into billions of cedis as earlier promised by Owusu Afriyie.
Flanked by Owusu Afriyie's right hand man, Kofi Duku, the lawyer tried strenuously to cool down tempers, realizing the feeling and frustrations that most of them had had to endure in such trying conditions; one of them having been divorced by her husband because of the money she had invested in the fair.
Another person has also had part of one of his fingers severed in an accident when he traveled from the Eastern region to Accra to demand a refund of his money.
Considering the frustrations and the dodgy nature of Owusu Afriyie with his promise-and-fail attitude, the individuals were not prepared to take any explanation from his lawyer, since according to them they were not there to listen to 'law lectures'.
Intermittently, Lawyer Akuffo was interrupted with stint comments, which at certain times pissed him off, rendering him speechless.
At some point, he realized the people were not prepared to listen to whatever he had to say, deciding there was no need for the meeting considering the behaviour of those gathered, most of whom were not prepared to listen to him.
One of such persons asked the lawyer whether he was ready to assume responsibility of any decision arrived at the meeting since every decision taken there must bind Owusu Afriyie and Expo Africa, whom the lawyer was holding brief for.
However, Lawyer Akuffo did not mince words in saying he cannot be held responsible for implementing any such decision as he was only legal counsel for Owusu Afriyie.
This, he said, was because he could only advise his client on what to do and how to go about the issue at stake, after which he says the final decision rest on the chest of Owusu Afriyie, whom he said can choose to oblige or neglect.
He therefore demanded that the meeting be brought to a close, saying "We are not making any headway; I cannot see the head or tail".
Though they understood he sympathized with their concerns and frustrations, most of the victims said there was no way Lawyer Akuffo could justify his explanation with any excuse as they were only there to take their monies and nothing else.
What seemed to have most annoyed them was the fact that Owusu Afriyie had gone to seek refuge in London when he had not fulfilled an earlier promised he made to all of them.
All this while, Kofi Duku, Owusu Afriyie's right hand man remained silent and glued to his seat without uttering a word, although unofficially he is considered to be the 'man in charge' in the absence of his superior.
As tempers gradually cooled, the individuals resolved to give an ultimatum to Owusu Afriyie and his Expo Africa to settle their indebtedness within a stipulated time frame in two installments or thereafter they would be compelled to use whatever means possible to get their monies.
They therefore demanded that half the amount owed each and every one of them be paid by September 15, 2006, and the other half by December 15, 2006 to make for full payment.
In default, they threatened to use ruthless means, if possible legal action, to get back their monies.
At this point, Lawyer Akuffo assured them he was going to inform his client and serve each of them letters accordingly by next Friday.
Each of the individual representatives of the companies was made to pay 200 dollars as registration fee and another 2,300 for the exhibition stands ostensibly erected for them in far away Georgia.
According to them, they again paid 500 dollars each for their hotel accommodation and 1,000 dollars to participate in a seminar, which was scheduled to take place in the course of the fair.
Days after effecting these huge payments, they were informed by Mr. Owusu Afriyie, Chairman of Expo Africa Limited that they should not present their documents to the United States Embassy in Accra where they were billed to attend separate interviews for their visas.
In spite of the promise to refund them by June 30, 2006, Owusu Afriyie and his company has not fulfilled its obligation.