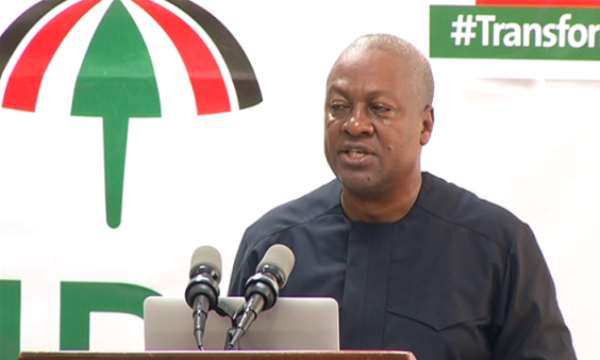 Daniella Mavis Mathias may be the least talented member of the National Democratic Congress' Communications Team. Maybe somebody needs to advise her to take a lesson or two with the much more talented likes of Mr. Kojo Oppong-Nkrumah, the Information Minister, and Mr. Yaw Buaben Asamoa, the Communications Director of the ruling New Patriotic Party (NPP). Ms. Mathias upends all rationality, when she asserts what she terms as the "visionary foresight" of former President John Dramani Mahama in building some hospitals across the country that President Addo Dankwa Akufo-Addo has found to be very useful as major centers for treating COVID-19-infected patients (See "Coronavirus Has Vindicated Mahama as a Leader with Foresight – Daniella Mathias" MyXyzOnline.com / Ghanaweb.com 7/9/20).
She scandalously stands logic on its head because it was former President John Mahama who diverted money meant for the sustainable maintenance of the President John Agyekum-Kufuor-implemented readily accessible National Health Insurance Scheme (NHIS), from what we reliably learn, into his 2016 Presidential-Reelection Campaign. Ms. Mathias ought to also know by now that without access to health insurance, via the issuance of National Health Insurance Cards (NHIC), no cash-strapped hardworking but woefully underpaid Ghanaian civil servant and blue-collar worker afflicted by the COVID-19 Pandemic, as well as other equally deadly diseases, could gain ready access to affordable public healthcare and medical services in the country. So where is the "visionary Mahama" that the NDC's Communications Team Operative is talking about?
I have often said that the National Democratic Congress is chockfull of pretty women with very ugly and insufferably nasty and wicked brains. That is what you get when you truck with bloody butchers like Chairman Jerry John Rawlings and his wife and criminal accomplice, Nana Konadu Agyeman-Rawlings, and the bloody Tsikata clansmen and their relatives and associates of the Sogakope Mafioso. Then also, withdrawing the Nurse-Trainee Allowances only leaves us with empty and woefully understaffed hospitals, to think much less about our already significantly underfunded medical schools and medical stores. You see, a Cash-and-Carry healthcare policy is not one that encourages the hardworking poor to comfortably and readily access the nation's public healthcare system, much less the parallel private healthcare system.
So, one may readily assume Ms. Mathias to be a clinically certified blind woman. Else, she may be in dire need of psychiatric examination. She pretty much reminds me of another "Dumb Peroxide-Haired Blonde," the Mahama first cousin by the name of Joyce Bawa Mogtari, who well appears to have exclusive rights to absurdist political drama a la the Samuel Beckett mode. If, indeed, Candidate Mahama has any worthwhile healthcare policy agenda, the European Airbus SE Payola-Guzzler has yet to showcase it. This is man who could not keep the lights on for all the four-and-half years that the Savannah Region native was Chief Resident of Jubilee House.
The man has also been laying false claim to having constructed the University of Ghana Medical Center. You see, I partly grew up on the campus of Legon, where I attended the Staff-Village Primary School between the late 1960s and the early 1970s. Back then, we had well-trained and superb physicians like the Akufo-Addo-looking lady Chief Physician called Dr. May, to whom I used to go to every Monday, at noon, per an arrangement with my late father, with two of my three sisters, for Malarex Medication to ward off malaria. Dr. May most likely was of British descent. Today, I doubt the existence of any more Dr. Mays in Ghana. Trust me, I do not the least bit miss British colonial rule, but grossly incompetent megalomaniacal kleptocrats like Candidate Mahama and the hoodlum pack of the National Democratic Congress' leadership make one yearn for the return of those hardworking and crackerjack European doctors who once filled up most of the major hospitals and clinics in the country. I am also quite certain that if I had been born post-1980, I probably would be writing to you, My Dear Reader, from Deadland.
*Visit my blog at: KwameOkoampaAhoofeJr
By Kwame Okoampa-Ahoofe, Jr., PhD
English Department, SUNY-Nassau
Garden City, New York
July 13, 2020
E-mail: [email protected]