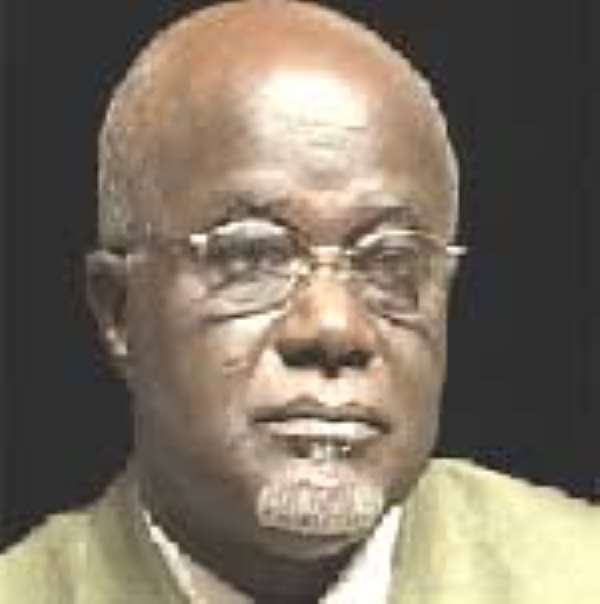 Mr Hackman Owusu-Agyemang, Minister for Water Resources, Works and Housing
Mr Hackman Owusu-Agyemang, Minister for Water Resources, Works and Housing yesterday assured Ghanaians of government's commitment to providing potable water to all communities.
Mr Owusu-Agyemang was speaking at a sod cutting ceremony to mark the beginning of the construction of an 11-million dollar water project for three districts at Sege in the Dangme East District of the Greater Accra Region.
The project, which is to be completed in 2008, would provide potable water to 128 communities and 120,000 inhabitants of the Dangme East, Dangme West and North Tungu districts.
The government of Ghana is supporting the project with 4.3 million dollars while Danish Development Agency (DANIDA) and United Kingdom Overseas Development Agency (DFID) are providing 2.3 and 4.5 million dollars respectively.
Mr Owusu-Agyemang charged the three District Chief Executives and the Members of Parliament in the area to take keen interest in the execution of the project as well as offer the necessary assistance towards the early completion of the project.
He urged the contractors working on the project to engage the services of the local people rather than bring in people from outside the districts. "We don't want a situation where a contractor goes out to engage the services of other people to the detriment of the locals who could equally perform the task," he said.
The Minister also called on the chiefs and the people in the area to flush out anti-social elements in the society who may resort to illegal connections and taping of the main pipelines to the detriment of the communities.
Madam Theresa Ameley Tagoe, Deputy Greater Accra Regional Minister said the commencement of the project should be a welcome relief to hundreds of people in the three districts who have to trek long distances to get to a water resource. She expressed the hope that the completion of the project would contribute significantly to reduce the incidence of water-borne diseases and the man-hours used in search of water. She also tasked the contractors and consultants who would be engaged on the project to be very diligent in their performance and to avoid shoddy work, adding that the Regional Coordinating Council would be monitoring the project with "eagle eyes."
Mr Simon Edem Asimah, Greater Accra Regional Director of the Community Water and Sanitation Agency (CWSA) said the project was designed to contribute to poverty reduction and positively impact on the health and living conditions of the residents in the 120 communities.
He said the three district assemblies would be responsible for monitoring, supervision, general oversight and back-up support. He appealed to the residents of the three districts to continue to demonstrate the unity of purpose for the completion of the project and for the overall development of the area.