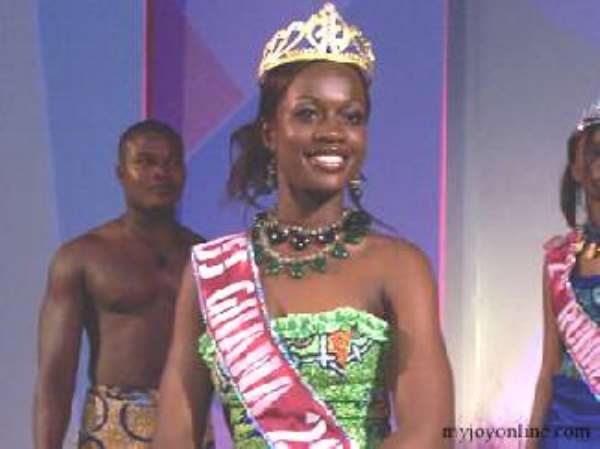 Miss Ghana 2005, Lamisi Mbillah, will this morning file a suit at the Accra Fast Track High Court to restrain the holding of this years Miss Ghana beauty pageant slated for next Saturday.
She will be seeking an order of interim injunction to restrain the organizers, Sparrow Productions, from going ahead with the event.
Joined in the suit are Shirley Frimpong Manso, Chief Executive Officer and Jayne Awoonor-Williams, Deputy Chief Executive Officer both of Sparrow Productions Ltd.
A copy of the suit to be filed by Dr. Raymond Atuguba of the Legal Resource Centre on behalf of Ms. Mbillah, chanced on by the Times indicated that she will also be seeking an order by the court to compel the organizers to honour their contractual obligations to the beauty queen.
Ms. Mbillah will pray the court to declare that the prize car for the Miss Ghana 2005 beauty pageant, a Kia Rio saloon car, is her property and subsequently compel Sparrow Productions to transfer the title of the vehicle to her.
She is also asking the court to compel the organizers to pay her 10,000 dollar with interest to date, representing her prize money as well as "the prize of travel tickets consisting of an Accra-London-Accra air ticket from Astraeus Airline."
Ms. Mbillah is further seeking the court to compel Sparrow Productions to pay her ¢1 million being her monthly stipend for this month.
Ms. Mbillah stated in her supporting affidavit that on July 10, this year, she asked her lawyers to write to Sparrow Productions requesting them "to honour their outstanding obligations as contained in the LG Miss Ghana 2005 event brochure."
It said on July17, lawyers for Sparrow Productions wrote to her lawyers denying any liability to her.
The statement said, the Minister of Tourism and Diasporan Relations, Jake Obetsebi-Lamptey, convened a meeting at the instance of Ms. Mbillah's lawyers, at which all the parties were invited.
At that meeting, the statement said, the organizers "agreed to meet all of their obligations" to the beauty queen.
"However, at a subsequent meeting convened by the Minister, the organizers reneged on their promise and the meeting fell through," the statement said.
Meanwhile, a letter dated July 17, 2006 and signed by Ekow Awoonor, solicitor for the organizers, said following a successful contest on July 9, 2005, Miss Mbilla as Miss Ghana "refused to sign a contract as was required by the organisers."
It argued that because Miss Mbillah refused to sign a contract, "she did not respect the obligations such as making only public appearances as Miss Ghana, which have been sanctioned in advance by the organizers."