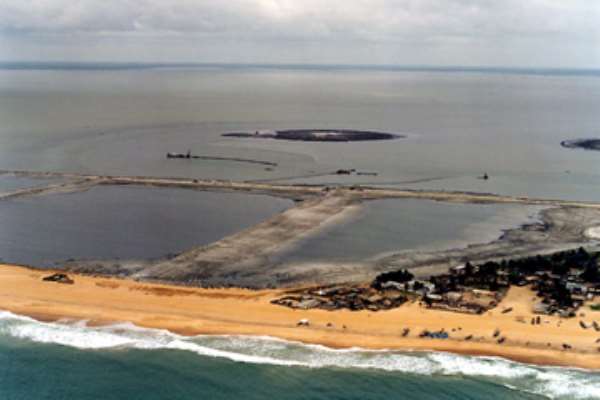 The 83-million-dollar Keta Sea Defence wall completed only about four years ago has come under threat of destruction by some residents of the area.
The defence wall was constructed as a solution to the age-old erosion problem of the ancient coastal town and its neighbouring communities.
Some residents in the area have reportedly started removing the boulders used in protecting the 8.4 kilometers coastline for other purposes.
They allegedly break them into pebbles and use them for their private construction works.
This development took two Deputy Ministers on the directives of Cabinet of State to Keta to ascertain the extent of damage caused and also assess the progress of work on the construction of resettlement housing units.
Deputy Ministers for Works, Housing and Water Resources, Cecilia Dapaah and Christopher Addae learned during the visit that a fortnight ago two people, one of them an assemblyman were arrested by the police and fined 2 million cedis by the Keta Circuit Court.
Mrs. Dapaah and Mr.Addae were also to assess the progress of work on the building of the resettlement housing units on the directives of cabinet.
Mrs. Dapaah said that cabinet became aware of the situation through a radio news report of the sentence handed to the two persons and was of the view that the punishment was not deterrent enough.
She therefore suggested the imposition of stiffer punishment for those found guilty of such nefarious acts.
She said the Keta Sea Defence project; the first of its kind along the west coast was built at great cost to the state and therefore urged the residents of the area to be vigilant to protect it.
"The people of Keta have suffered for a long time at the hands of the ravaging sea and therefore must do everything possible to protect the huge investment made on it".
On the resettlement issue, Mrs. Dapaah called on the District Assembly to impress upon the contractors to expedite work on the housing units and complete them as soon as possible.
District Chief Executive, Edward Ahiabor said the police have started patrolling the coastline to stop people from tampering with t he project.
The Deputy Minister had earlier called on the Regent of Keta, Torgbui James Ocloo, to brief him about government's concern.
Construction of the Keta sea defence project began in 2000, with a loan from Exim Bank of the US. It involved the building of a defence wall to address erosion, reclamation of land from the sea, re-establishing a road-link between Keta and Aflao and the construction of a resettlement housing units.
For years, Keta, which was once a commercial nerve centre in the first half of the 20th century, had been battling with the ravaging effects of the sea and the lagoon.
Tidal waves had continually wreaked havoc on the township and its surrounding communities, submerging buildings and causing damage to property.