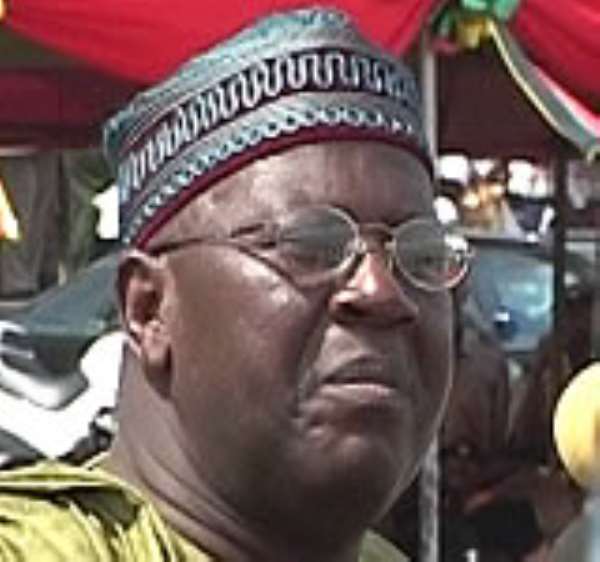 Vice-President Aliu Mahama has called on all stakeholders in education to take the government's educational reforms very seriously.
"As a nation ambitious to change our circumstances for the better, we cannot continue to exalt the acquisition of knowledge in expectation of white colour jobs," he said.
Alhaji Mahama was speaking at the 75th anniversary celebration of Accra Academy at the weekend.
He said: "we must apply ourselves to molding a working Ghanaian, one who is hard-working, respectful, tolerant and above all, patriotic."
He said that in this era of knowledge-based economy, it is not enough to be academically sound, adding that to be useful, academic excellence must go with practical innovation, initiative and application.
"These qualities are built up alongside good character," he said, and expressed regret that too often, brilliant academics have been lost due to flawed characters," he said.
Vice President Mahama commended the founding fathers of Accra Academy for their fortitude, foresight and vision, which had impacted so much on the development of the country in particular, and humanity in general.
He personally donated ў20 million to the school and announced that ў500 million from the GETFUND would be given for the completion of a new dormitory block.
The Chief Executive Officer of Unilever Ghana, Charles Cofie, who was the guest speaker, called on the school's board of governors and the Parent-Teachers Association to ensure that structures and amenities were improved "significantly for the full development of mind and body."
He also called on "all old boys of Accra Academy to be part of the process of repositioning the school for continuing academic leadership in the 21st century," saying "we should not be afraid of going slowly. We should only be afraid of standing still."
Mr. Cofie, a member of the school's 1975 year group, spoke on the topic: "Beyond academic excellence: embedding the foundations for leadership excellence," a subset of the anniversary theme: "Commitment to academic excellence."
He said five basic qualities distinguish "tomorrow's high achievers from average achievers of similar intelligence" and these are personal mastery, mental energy, power of imagination, desire to succeed and a sense of reality.
Mr. Cofie advised the students to know their strengths and weaknesses to enable them to make proper and informed choices in life. "We should be true to ourselves, and our students in particular should be honest with themselves when choosing their subjects."
Quoting from former heavyweight champion Joe Frazier, Mr. Cofie said: "You can map out a fight plan or a life plan. But when the action starts, you are down to your reflexes; that is where your road work shows. If you cheat on that in the dark of the morning, you are getting found out now under the bright lights."
He called on the students to be focused because "great achievers are focused. They are realistic about what is working and what is not. They are always ready to speak up, especially when things are not working.
"I will also add that underlying each of these is a relentless quest for the truth, rooted in the humble recognition that the boundaries of what you do not know."
Both the headmaster, Samuel Ofori-Adjei and the head prefect, Joseph Bossman, said they were happy that the level of discipline had improved considerably in recent times.
Mr. Ofori-Adjei expressed appreciation to all individuals and organizations whose contributions in diverse ways had brought the school so far.