Mahama Rejected Wontumi's Small-Scale Mining Proposal Because Of His Chinese Counterparts—Alfred Mahama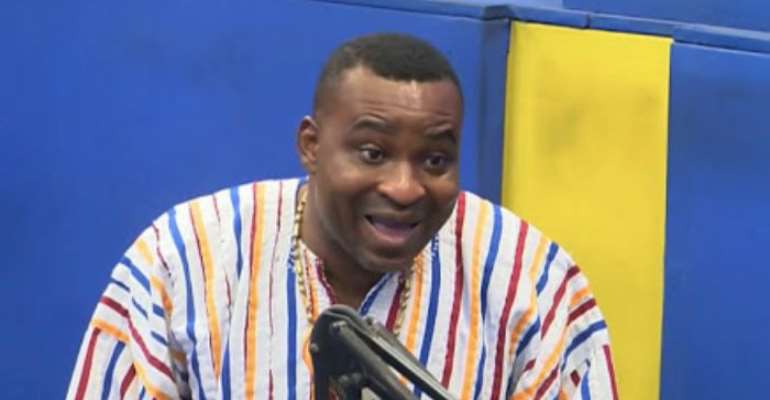 An elder brother of Ex-President Mahama, Mr. Alfred Mahama, has cleared the air that the former president never invited the Ashanti Regional Chairman of the New Patriotic Party (NPP), Bernard Antwi Boasiako, popularly known as Chairman Wontumi to discuss his mining plan, as he goes around bragging on various media platforms.
According to the businessman, humble, calm, and respectable brother of the former president, Wontumi rather pleaded with him for assistance and he led the young man to the Ex-President. He has challenged Wontumi to publicly declare or prove the day and time that the Ex-President invited him to his office.
Speaking to Solomon Owusu, the political host of FireOne Radio in Denver, Colorado, USA, Mr. Alfred Mahama expressed his complete surprise about how Wontumi boastingly talk about a special invitation from the former president, instead of being truthful about how he approached him with humility and in dire need for immediate help on his mining business.
Alfred said, upon listening to the young man, he decided to assist him regardless of his political party affiliation, although he didn't know that Wontumi was a strong NPP member at that time. Regrettably, Ex-President Mahama declined the young man's mining business proposal because of the inclusion of his thousands of Chinese nationals in the small-scale mining operations.
Expressing his disappointments towards Wontumi's behaviour, he recounted that he gave audience to the young miner because he believed that Wontumi could make a significant impact in the mining industry. Although he didn't know about Wontumi's political affiliation, Alfred didn't care about politics but he instead considered the miner's willingness to make impact in the small-scale mining sector to create jobs and also help the economy.
"From where I come from, I am always ready to support anybody who has the potentials to advance the name of Ghana in any field, irrespective of which political party or background of that person", Mr. Mahama said.
In 2012, Alfred travelled with Wontumi on air from Kumasi to Tamale purposely to meet the then President Mahama and the young man had the opportunity to present his mining proposal to him in person. Unfortunately, the small-scale miner couldn't technically and professionally convince the former president so he rejected his plan. Ex-President Mahama then advised that small-scale mining in Ghana is reserved for only Ghanaian citizens so he would rather be pleased with a proposal that would enable only Ghanaians to operate in environmentally friendly manner without any foreign national involvement.
The NDC government in 2013 deported over seven thousand (7,000) Chinese illegal miners to China and according to Mr. Alfred Mahama, most of these foreign nationals were Wontumi's agents so he developed hatred for the Ex-President and decided to publicly attack him unjustly. "Wontumi began to insult my brother publicly, after his thousands of Chinese agents were part of the over 7,000 deported illegal Chinese miners from the country. Wontumi is a galamsey kingpin and his party has no control over him.", Alfred narrated.
During the 2016 campaign period, President Akufo-Addo promised to support small-scale mining activities in Ghana but upon assumption of office, his government is practicing the direct opposite. The current NPP government has rather stopped the legitimate miners with valid mining licenses from the minerals commission to render millions of the youth in the mining areas unemployed. Unfortunately, this NPP government has selfishly made galamsey an exclusive preservation for its party members like Wontumi to make money whereas the majority are wallowing in abject poverty.
Realizing that the NPP is facing threats of rejection by the small-scale miners and the residents in the mining communities in the upcoming presidential and parliamentary elections, President Akufo-Addo and the Natural Resources Minister, Mr. Kwaku Asomah Chremeh have thrown out another juicy promise of creating 230,400 mining jobs through their deceiving community mining scheme, just to win their votes again. As the saying goes, the miners will not sit down for Nana Addo to trample on their genitals twice. During the 2016 campaign period, Nana Akufo-Addo chastised Ex-President Mahama and the NDC party of accusing him of his intention to ban artisanal mining, popularly known as galamsey.
The then candidate Akufo Addo promised to rather support and strengthen galamsey activities in the country, just to win votes from them. Surprisingly, both the galamseyers and the legitimate license miners have been experiencing the toughest times in their work that put food on their tables under the watch of President Akufo Addo.
Some of the miners have been arrested and sentenced to prison while others were shot and killed by the operations vanguard military team. It is time for the miners, their family members and the entire communities to open the exit door for Nana Addo.
Mr. Alfred Mahama has admonished the NPP Ashanti Regional Chairman to be circumspect in his utterances towards former President John Mahama and the appointed Running Mate, Professor Jane Naana Opoku-Agyeman in the public domain. He further cautioned that the vociferous young politician should endeavour to show respect to the elderly in the society, if he wants to progress in his political career and his personal life.
Written by:
Solomon Owusu
Denver, Colorado, USA