Roch Kabore, who embodied Burkina Faso's hopes for change when he became president five years ago, must now overcome growing doubts he can defeat a jihadist insurgency when he runs for another term in the November elections.
Seen as a consensus figure by some and an opportunist by others, the affable and burly Kabore, 63, once governed under ousted strongman Blaise Compaore but turned his back on the old regime before it cracked under the pressure of a massive popular revolt.
In 2015, a year after Compaore was ousted after 27 years in power, Roch Marc Christian Kabore won the presidency with 53.49 percent of the vote in the first round and raised hopes for development and change in Burkina Faso, which means "the country of honest men" in the local language.
On Saturday, when the People's Movement for Progress (MPP) backed Kabore for re-election in an empty field of candidates, those hopes were fading in the west African nation.
Burkina Faso has descended into chaos, with almost daily attacks from jihadist groups that have killed more than 1,100 people in five years.
With whole swathes of the country falling outside the state's authority, the security forces appear unable to quell the spiral of violence.
Fond of wearing traditional clothing, Kabore's speeches verge on the surreal. He announces victories when attacks come one after the other and resorts to lofty patriotic language that appears from another era.
Kabore's MPP likes to showcase achievements in building roads, improving health and providing access to clean water.
But this strikes a discordant note in a nation where one million people have fled their homes because of the jihadist violence and thousands of schools have had to close.
'Lazy king'
Roch Kabore "is a kind of lazy king who holds plenty of meetings and listens from his arm chair without taking decisions," a diplomat said in Abidjan, the main city in the neighbouring Ivory Coast.
Security sources said the Kabore government, fearing a military coup, "has not given the army the means to respond" to the jihadists.
An insider described as "intelligent and consistent," Kabore is praised by his supporters for his wealth of political experience and organisational abilities.
The former banker was appointed minister several times and prime minister in 1994, making him one of the main figures in the Compaore regime, but ultimately he became one of his leading opponents and helped oust him from power.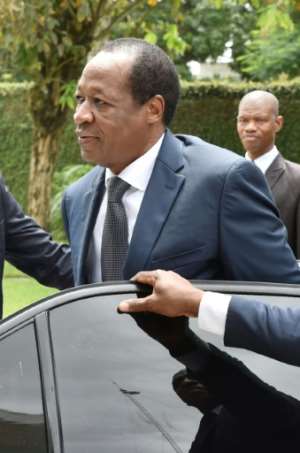 Blaise Compaore was ousted from the presidency in 2014 and now lives in exile in Ivory Coast. By ISSOUF SANOGO (AFP/File)
His win five years ago showed he could bring together supporters of the old leader as well as backers of the October 2014 uprising that saw the end of Campaore.
But his detractors say he lacks a grip on the country and that events have outpaced him.
They also say he was "born with a silver spoon in his mouth" and sources close to the minister's son have described him as a man who enjoys the good life.
A devout Roman Catholic in a majority Muslim country, Kabore served as premier from 1994 to 1996, steering Burkina through hardship caused by the devaluation of the CFA franc currency.
Studied in France
For over a decade he led the ruling Congress for Democracy and Progress (CDP) party and was seen as Compaore's likely heir, even counting himself among the group that in 2010 began amending the constitution to keep the strongman in power.
But Kabore abruptly fell out of favour in 2012 and was thrown out of the leadership to become a mere "political advisor" -- a move that eventually proved to be a blessing in disguise.
Early in 2014, Kabore broke with the CDP to form the opposition Movement of the People of Progress (MPP), catapulting him to power in the vote that was widely seen as sealing the transition to democracy.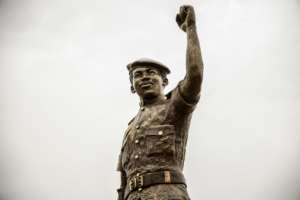 Kabore was a follower of Burkina Faso's former President Thomas Sankara who was killed in 1987. By OLYMPIA DE MAISMONT (AFP/File)
As a student in the French city of Dijon, Kabore was a committed leftist, and when Burkina's revered Marxist leader Thomas Sankara took power, he became the director of the International Bank of Burkina before he had even turned 30.
When Sankara was gunned down in 1987, Compaore took the reins.
In Kabore's first campaign for president, he pledged to fight youth unemployment, improve education and modernise the health system with a promise to make healthcare free for children under six.