PUSAG WOCOM Salutes Prof. Jane Naana Agyemang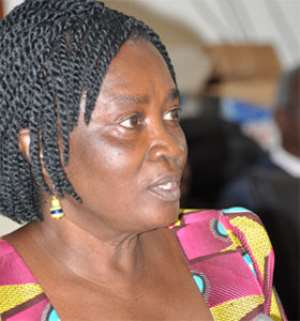 The Women's Commissioner for The Private Universities Students Association of Ghana (PUSAG) has congratulated Prof. Jane Naana Opoku Agyemang on her appointment as the first female running mate of the National Democratic Congress (NDC) for the 2020 general elections.
The Women's Commissioner, Madam Joyce Asumah acknowledges in a press statement issued in Accra, that this is not the first time a female is nominated as running mate in Ghana.
She mentioned Prof. Naa Afarley Sackeyfio who was Kwabena Darko's (NIP) running mate in 1992, Petra Amegashie for Dan Lartey's GCPP in 2000, Patricia Ameku as running mate in 2008 for the DFP presidential candidate, Mr. Emmanuel Ansah Antwi.
Other notable women who were once nominated as running mates included Cherita Sarpong for Dr.Abu Sakara and the CPP in 2012. The Late Eva Lokko as running mate for Dr. Paa Kwesi Nduom in 2012, Helen Matervi run with Dr. Hassan Ayariga in 2012, Brigitte Dzogbenuku also paired Dr. Nduom as running mate in 2016 as well as Her Excellency Nana Konadu Agyemang-Rawlings who was a Presidential Aspirant in the 2016 elections in the feminism fight for equal representation in today's politics in Ghana.
The statement added, "Prof. we celebrate your nomination because you are the first female running mate of one of the leading political parties in Ghana" .
Madam Joyce Asumah described Prof. Jane Naana Agyemang's rise in academia to become the first female Vice-Chancellor of the University of Cape Coast which also doubles as the first female vice-chancellor of a public university in the country continues to inspire many young women in academia to equally aspiring higher.
"You have been an inspiration to young women and we are proud of you. We sincerely wish you well" , the press statement noted.