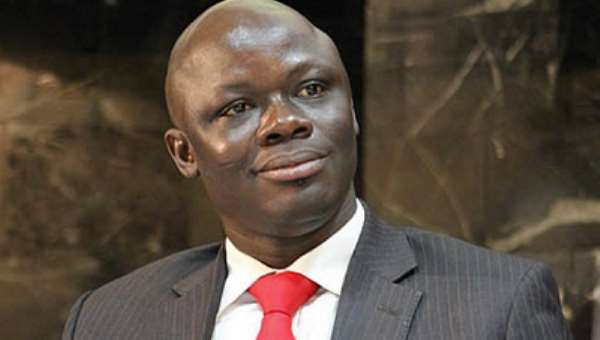 Dear Sampson Lardi Anyenini,
You have openly said on your program, newsfile, that you'll never partake in the ongoing voters' registration exercise until you're hundred percent certain of you not contracting COVID-19 because social distancing and other protocols aren't being adhered to at the centres.
Now, between 9am to 12mid-day every Saturday, you sit in close proximity to at least two other panelists around a kitchen table in a cramp studio under air-conditioned environment to host #bewsfile.
But according to the experts, Covid-19 thrives perfectly in enclosed air-conditioned environment. Again, and much importantly, the virus has been found to be capable of floating in the air for 8 hours before it dies off. This is where the virus is said to have aerosolized.
Aerosolization simply refers to the liquified substance being released into the atmosphere through vaporisation. An example is mosquito sprays and air fresheners. This is why when these substances are sprayed in an enclosure, the effects hangs around for a given period.
For this, if you sit close to someone who might have the virus but asyntomatic and shedding the pathogens, the atmosphere in the enclosure becomes heavily aerosolized.
So if one is wearing a face shield with the chin and mandibular areas exposed, the virus can easily float either directly into the nostrils, or settle anywhere on the face with it's protein hooks.
From the way I see it; Sampson Lardi Anyenini and Multimedia are under the illusion that those they continue to invite into their studio for #newsfile are free from Covid-19.
Admittedly, I don't know if multimedia has any system in place to rapidly test their guests before slowing them entry into the studio for the program.
But whatever it is, the nature of Covid-19 is such that one might be positive today but can catch the virus the next minute. And this is why there should be no room for complacency of being free, or assumption that the next person you encounter is free from Covid-19.
It is for this reason that I'm convinced of the fact that Sampson Lardi Anyenini's declaration on live TV that "I have no intention of going to register because of the risk of contracting Covid-19".
How can one claim to be scared of an exercise being carried out in the open, but will sit jaw-and-cheek with two other people in a small enclosure for three solid hours talking into one-another's faces amidst spewing of millions of Covid-19 pathogens? Is this not conterminous to maliciously misguided effusions of a contracted naysayer?
According to experts, 70% of those infected by Covid-19 globally, are asyntomatic but can potentially shed and spread the virus. In the light of this, I would personally like to admonish NPP communicators to shun going into studios of radio/TV stations, and rather opt for either telephone or video links.
Alternatively, to be best protected from contracting Covid-19 through aerosolization, the nose masks must be worn in addition to the face shields since the risk is greatly enhanced in these airconditioned enclosures, while reverse is always the case in open spaces.
As a matter of fact, three people sitting in a tiny enclosed place for a period of three uninterrupted hours potentially creates an environment akin to that of an Intensive Care Unit holding Covid-19 patients.
As such, strict precautionary protocols like being in full Personal Protection Equipment (PPEs) should have been the option. But of course, that might not be comfortable and ideal, and therefore the face shield must go with the nose mask.
The possibility of contracting Covid-19, to a large extent, dependent on individual attitude in relation to hygiene, physical activity, balanced culinary etiquette, and last but certainly not the least, strict adherence to social distancing protocols at all times.
Sampson, kindly be elucidated that, indeed, sitting in extremely close proximity with two others on TV, wearing only a face shield while spewing billions of Covid-19 pathogens for three solid hours is what rather puts you at risk and not going to an open place, for not more than ten minutes, to have your name captured onto the voters' roll.
At the end of it all, I know you will definitely register and enthusiastically participate in the 7th December, 2020 general elections; so why would you use your platform to sow such venomous seeds of doubt, confusion and fear in the minds of ordinary Ghanaians, when it is your responsibility to rather educate them, Mr Sampson Lardi Anyenini?
Sincerely yours
Newton-Offei Justice Abeeku
email: [email protected]