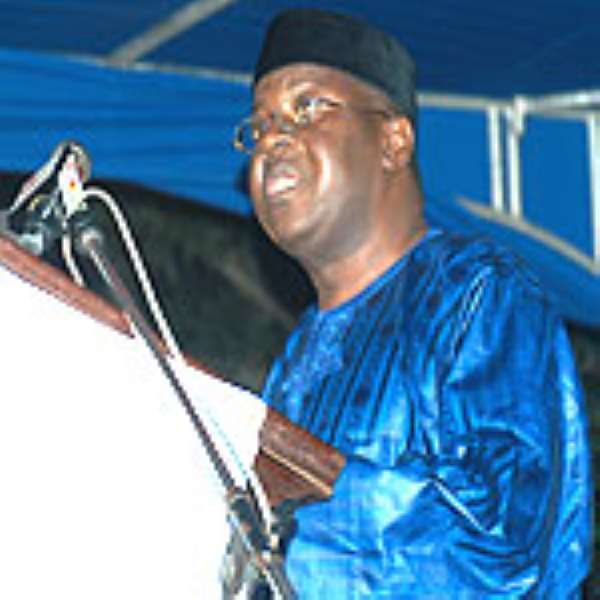 Vice President of Ghana, Alhaji Aliu Mahama
Vice President Aliu Mahama last Thursday tasked journalists to make Ghanaians proud to the outside world by portraying the positive image of the country. "Go out there and show the world what makes us proud. Show through your pictures the stories of our country and also of our continent as a whole," he said when he opened the 2006 World Press Photo Exhibition in Accra.
He said depicting the true story about Ghana was even more important now as the country prepares to celebrate 50 years of Independence from Colonial rule next year.
Vice President Mahama said Ghana abounds in great photographic talents, characterised by a huge passion for photography. He said for the past 50 years, the World Press Photo contest had been the most important press photography competition in the world, which had been held in about 50 countries.
The Vice President, however, expressed dissatisfaction that although a lot of the pictures for the exhibition came from Africa, only a small part of the Continent was exposed to the event.
Mr Arie van der Wiel, Royal Netherlands Ambassador, said last year almost 4,300 people entered the competition and expressed the hope that the interest for the event would grow in Ghana.
Nana Kobena Nketsia IV, Chairman of the Ghana Museums Board that is hosting the exhibition, said photography captured a memory in history. "A history that can only be described and not put in words." He expressed the hope that the exhibition would serve as a guide to the celebration of Ghana's Golden Jubilee.
Mr Elco van der Wilt of the Netherlands-based Gronningen Ghana Photo Foundation, co-organisers of the exhibition in Ghana, lauded the event as the catalyst for an open press, which he said was an ingredient for democracy.
Mr Joroen Visser of the World Press Photo said photography opened "hearts and minds" and a special form of art and a perfect medium to communicate effectively.
The global event is being marked in Ghana alongside the exhibition of pictures dubbed: "Eyes of Ghana," from pupils drawn from Adenta, Korle Bu and Osu in the Greater Accra Region and Tamale in the Northern Region.
There were 83,083 entries for this year's competition, which was won by a Canadian Photographer, Finbarr O'Reilly. His winning entry was a photo of a wrinkled hand of a one year-old famine-stricken baby resting on the mother's mouth.
Other pictures that won the competition ranged from fires from Hurricane Katrina to the Hyena man of Nigeria. The pictures from Ghana covered mothers pounding fufu, revellers on the street and children playing and learning in school.