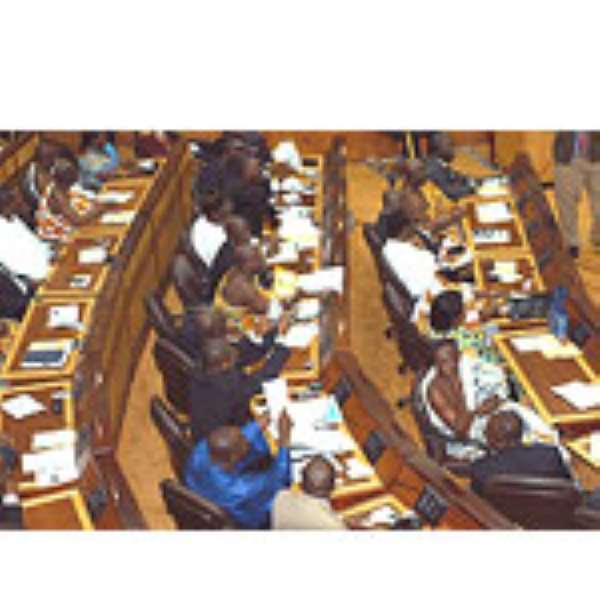 Ghana's Parliament yesterday unanimously approved the 4.3 trillion cedis Supplementary Budget the Government requested from public funds for its operations. The bulk of the money came from debt relief from the World Bank and the International Monetary Fund totalling 224 million dollars.
Debt relief from the African Development Group raked in six million dollars (54.9 billion cedis) while a grant of 20 million dollars (182.9 billion cedis) from Areeba, (Scancom Ghana Limited) fell into the kitty.
The Millennium Challenge Account would also support the budget with 34 million dollars (311.00 billion cedis). The Government is expected to contract short-term and long-term loan amounting to 1.3 billion cedis
Government would also raise 338.4 billion cedis through offloading some of its shareholdings in State Insurance Company, Ghana Oil Company (GOIL) and Produce Buying Company.
Ministries, Departments and Agencies (MDAs), which are going to benefit from the Supplementary Budget, are Office of Government Machinery, Office of Parliament, Ministry of Transportation, Ministry of Harbours and Railways and the Ministry of Energy.
The rest are Ministry of Education, Science and Sports, Ministry of Local Government, Rural Development and Environment, Ministry of Food and Agriculture and Ministry of the Interior.
Mr Kwadwo Baah-Wiredu, Minister for Finance and Economic Planning, summing up said the money would be used as stipulated in the proposals. He had earlier said the budget would strengthen good governance, private sector and human resource development. The 2007 Budget is scheduled to be presented to Parliament in November 2006.