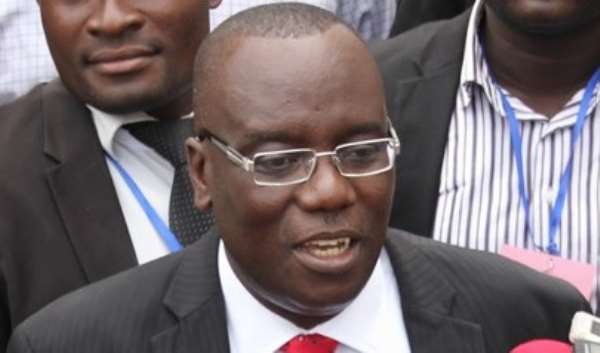 "Sir John is dead", the message read.
In the days since, there have been many tributes focusing on the private Kwadwo Owusu Afriyie-- kind, courteous, devout, funny and patient.
Sir John was a very unique character, full of interesting contradictions.
He was a well-educated, Shakespeare-loving lawyer who worked very hard to hide his enormous intellect. In a nation where many intellectual lightweights toil very hard to amplify their "krakyiness", that was very rare.
He communicated in a unique but seamless mixture of twi proverbs and biblical quotations that were mesmerizing and made him very approachable.
He loved people of all classes especially those of the Danquah-Busia tradition-- and yet he uttered the immortal words, "Fear delegates" which highlighted our corrupted primary process.
He exuded a carefree, laid-back attitude while being a workaholic. During campaigns he seemed to live at radio stations-- he was on so many of them.
And as the accounts by Asiedu Nketia and others made clear, he was a very kind man who had a lot of friendships across the political landscape.
Personally, he was very kind to me. We shared connections to both the Kumasi suburb of Old Tafo and his hometown of Sakora Wonoo, where I spent a year as a schoolboy with my sister who was a teacher. When I mentioned her, he lighted up, "Ah, you were that boy!", he exclaimed. From then on, he always insisted I was a Wonoo native.
One day during the 2008 campaign, when I had to stay in Kumasi longer than planned and needed a change of clothes, he gave me a nice blue shirt, with the comment--" Enfa nkogye me girl de3 oo!"
And he was grateful. When I defended him publicly for his Supreme Court debacle in 2013, he called to thank me, capping the call with the proverb, "Esie ne kagya nni aseda."
But he had a different public side that was a loud, confrontational, partisan "take-no-prisoners" and disturbing.
And I was on the receiving end of the public, political Sir John on a few occasions. Once, in a huff, he, the Shakespeare-loving lawyer described me derisively as too educated" and lacking in "efie nyansa"!
As Shakespeare put it in Julius Caesar, " The evil that men do lives after them and the good is oft interred with their bones". Sir John did a lot of good that should not be lost. We need to ponder why this man who was in private so kind and generous and courteous had such a different public personality and why this approach was mirrored so closely by his friend Asiedu Nketia.
The obvious answer is that we have a political environment that does not celebrate and reward those virtues. Sir John and many others knew that those friendships we are celebrating now would be considered evidence of the disloyalty and punished.
We reward, unfortunately, confrontation and insults and gratuitous attacks.
We should make it easier for people like Sir John to be their normal decent, kind selves in our politics.
May Sir John rest in peace and may the knowledge of his private kindness inspire us all to public kindness and courtesy.
Arthur Kobina Kennedy
(July 7th, 2020.)