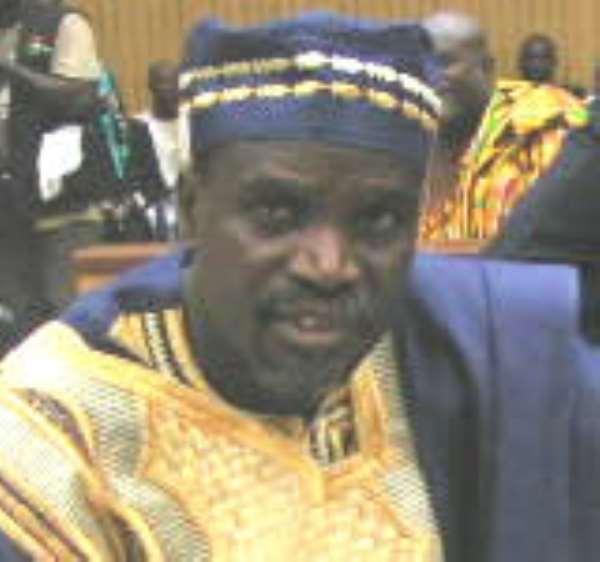 The Minority Spokes man on Finance, Hon. Moses Asaga has reacted sharply to allegations describing it as sad and disappointing but admitted that he did beat up his wife over a matter which he says was purely domestic.
Mr Asaga noted that though the story did not name him, its very contents alluded to him, as a result of which a number of sympathizers had called to express their concern for him.
He said the incident was a domestic one, which should not have been given the prominence it received in the paper.
Hon Asaga expressed these sentiments in a telephone interview during which he expressed dismay that his version of the story was not sought before going to the press.
On the substantive case regarding the alleged assault on his wife, Mrs Felicia Asaga and the subsequent dumping of the woman at the Osu Cemetery, he admitted that the matter had been referred to her uncle.
The MP hinted that what the wife did was simply unacceptable even though he did explain what unacceptable behaviour is.
"Other men could have shot her t death had that experience come their way. Nevertheless the case has been reported to the woman's family and an ideal time would be fixed for settlement," he said.
According to the MP, his wife was living with her parents and not missing as reported by the Daily Guide, stressing that in this modern world, no one could get missing so easily.
He said also that it was not true that he had told his friends that his wife had gone abroad.
The MP was of the opinion that the information was leaked to the Daily Guide by a woman he described as a divorcee. This woman, he said, suspected that it was he who influenced her husband's action in divorcing her.
A family source insisted however that Moses Asaga's action was unacceptable in any civilized setting. Pictures of the woman, depicting the beastly attack by her pugilist husband, are available and Daily Guide will soon publish them.
The Nabdam MP, according to a family source, claimed that he had seen a certain text message on his wife's phone and therefore decided to take the law into his own hands.
According to the source, if Mr Asaga was no longer interested in the marriage, the decent thing to do was to have sought audience with the family, which to date the man has not done, the source added.
Even though Mr Asaga claimed that his battered wife was with the family, the source denied it, challenging the MP to state when the woman moved to the family house.
However, Mrs Felicia Asaga took refuge in an Asylum Down- based hotel, to enable her recuperate from the bruises she suffered from her husband's awful attack.
Moses Asaga has denied the woman access to the children since she was chased out of the house on June 8, 2006.