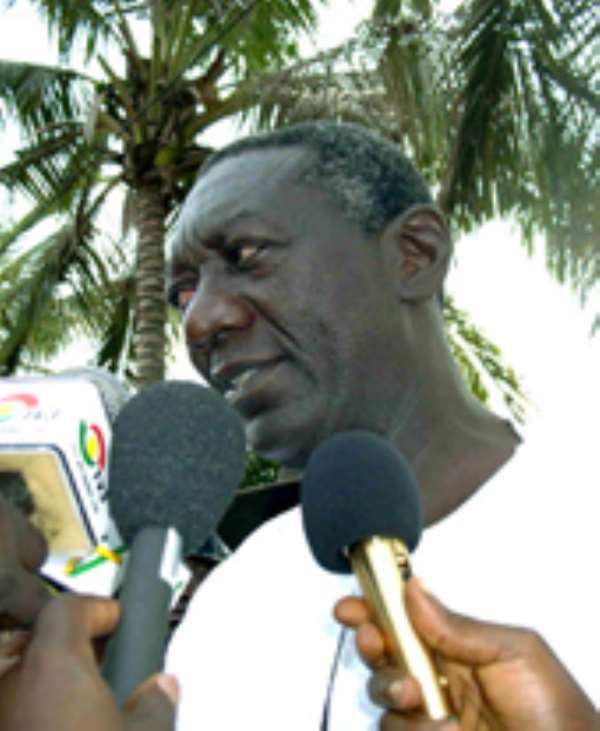 Ghanaian President John Kufuor.
The Supreme Court on Wednesday ruled that the President John Agyekum Kufuor's action in appointing a Committee of Enquiry to look into a petition calling for the removal of the Chief Justice was unconstitutional.
In a unanimous decision, the seven-member panel chaired by Mrs Justice Sophia Akuffo stated that the Chief Justice should have first been given the benefit of a prima facie case before President Kufuor went on to appoint the Committee to consider the petition.
The Court, therefore, ruled that President Kufuor's action of appointing the Committee of Enquiry to precede the establishment of a prima facie case against the Chief Justice before his removal, naturally, was contrary to the tenets of the Constitution, thus rendering the petition incompetent.
The Panel explained that the petition was incompetent because it was merely an allegation, which in its view could have been a rumour picked up by anybody.
Therefore, granting the relief sought by Mr Frank Agyei-Twum, News Editor of "Statesman", the Court ruled that a prima facie case ought to have first been established before President Kufuor acted under the powers of the Constitution to appoint the five-member Committee of Enquiry to look into the petition.
The Court explained that the duty of determining a prima facie case was vested in the Council of State.
The Court further ruled that the decision of the petitioner, Mr Bright Akwetey, Legal Practitioner, to communicate the contents of his petition to others other than the President was in direct breach of Article 146 (8) of the Constitution, which explicitly states that all proceedings for the removal of a judge of the superior courts, must be held in camera.
On January 13 2006, Mr Akwetey petitioned President Kufuor calling for the removal of the Chief Justice for alleged corruption and the arbitrary use of his powers.
Consequently, President Kufuor appointed the Committee of Enquiry to get to the bottom of the matter.
On April 13, Mr Agyei-Twum challenged the petition at the Supreme Court, seeking a declaration that Article 146 (6) required a prima facie finding before the appointment of a Presidential Committee to enquire into the petition.
The other members of the Panel were Mrs Justice Georgina Wood; Dr Justice Tawiah Modibo Ocran;, Dr Justice Samuel Date-Bah; Mr Justice Julius Ansah; Mrs Sophia Adinyira and Mr Justice S.K. Asiamah. Justice Date-Bah delivered the ruling.