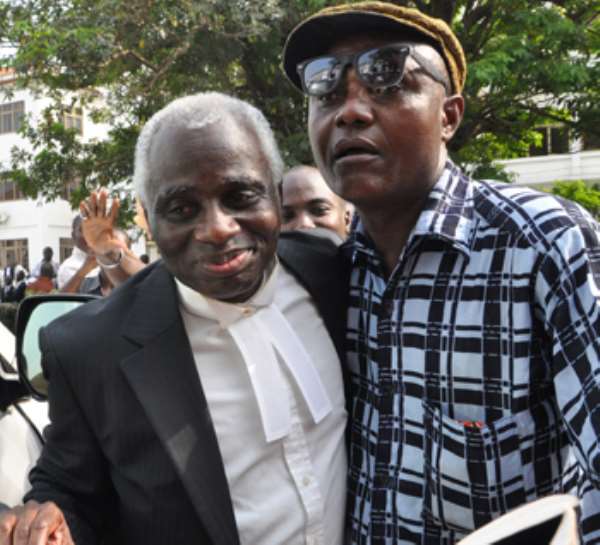 It has become part of my practice to either read books or watch interviews that feature some of Ghana's sagacious figures who have contributed to shaping the socio-political landscape of our country. I am currently reading the biography of Kofi Abrefa Busia.
Today, I decided to watch an interview session that featured one of our legal luminaries, Mr. Tsatsu Tsikata. I look forward to reading either his autobiography and/or biography someday. His life inspires lots of hopes and also reflects the challenges that have come to burden our legal regime.
This interview that was hosted by Alfred Ocansey is important to me for two main reasons: First, Mr. Tsikata reinterprets history. He retells his history to reflect the need to push on in life, regardless of any obstacles. God always offers us the chance to retell our history. While we cannot re-order historical events or recapture the past in ways that will be liveable in the present, we have the power to reinterpret history.
As young men and women and as Ghanaians, we must always reinterpret the past to give glory to God. We have had difficult times in our history. Some injustices have been committed against some people. But as we celebrate sixty years of our republican status today, let us retell our stories to engender unity.
Second, Mr. Tsikata's faith in the Lord deepened when he was in prison. While he has been Christian since childhood, including the active role he played in the Scripture Union at Mfantsipim School, his stint with prison revitalised the importance he attaches to the Christian message. Certainly, his prison experience synchronises with another high profile in America's political history, Charles Colson, who served as special counsel to President Richard Nixon from 1969-1970. Charles Colson spent seven months in the federal Maxwell Prison in Alabama, as the first member of the Nixon administration to be incarcerated for Watergate-related charges. Out of the prison experience, he pioneered the Christian prison ministry. I have benefited from reading some of his insightful publications.
Christianity is a religion that inspires hope in the face of life's vicissitudes. All religions give promises of hope, but it is only Christianity whose Saviour went through life like any normal human being, experienced death like any human being, but resurrected to live forever that no human being has ever experienced.
But through Mr. Tsikata's narrative, I am encouraged to stand for the truth of my faith and conviction. Personally, I have come to realise that many of us live with a split identity. We serve two masters in ways that we may not be conscious of. Whether in our writings or speech, we write and say things that are incompatible with our Christian convictions.
We publish papers just to win human applauds and get earthly glories. Sometimes we are aware that what we are publishing does not resonate with our faith. We also alter our conscience in ways that support ideologies that we vehemently deny in our private space. We pay homage to Satan in public only to turn to saints at church on Sunday.
Certainly, Christianity is not a joke. It is not an easy journey. It is a journey that is full of challenges and difficulties. It is a journey that we often have to make choices to either make Jesus popular in public or pretend to worship Him in secret. There is no equivocation that the system of the world is against our Lord. There is also no denying that Christians who stand for their conviction may never be popular. They will rather suffer defamation and covert and/or overt persecution.
Christians who stand for their conviction may hardly be employed in some institutions or have their works published with some journals. But we are not to lose hope. The Lord promised us that when we stand for and with Him, our end is glorious. Charles Spurgeon was right that there are no crown bearers in heaven who were not cross-bearers on earth.
Jesus invites every one of us to carry our cross. We are invited to carry the old, shameful rugged cross. The cross is countercultural. The cross is counterintuitive. But we are invited to carry it. It is difficult. It is hard. But the Saviour is always with us. The Holy Spirit is called the Comforter, precisely because, as Christians, the challenges we face daily require the ultimate Comforter to help us sail through.
As Mr Tsatsu Tsikata finally received justice, all of us Christians look forward to the day when justice will be done to us by our Lord Jesus Christ. We look forward to the end when Jesus will welcome us home. We look forward to the day when we will exchange the old rugged cross with crowns.
Until then, let us be courageous and spread the Truth of Jesus Christ. Let us be bold in declaring the majesty of the Lord in a hostile world. Let us aspire for greatness. But let our greatness be in the service of Jesus Christ.
I end with one of the inspiring quotes of Charles Colson, "I know the resurrection is a fact, and Watergate proved it to me."
Satyagraha
Charles Prempeh ([email protected]), African University of Communications, Accra