An Open Letter To His Excellency Dr. Mahamudu Bawumia About The Fundamentals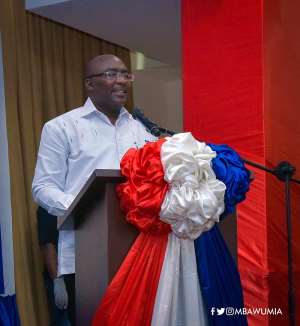 Dear Sir,
I have tried harder, over the past three years, to keep my thoughts mute. But my heart is growing heavier, while my mind is getting more saturated. I just wish you could take a few minutes of your time to read through this piece, so you could appreciate the frustration I go through any time you set our profession in the spotlight.
Sir, I have learned that data analysis is a complex science that defies self-styled approaches without theoretical anchors. You can't choose to calculate currency depreciation using rates of change. There is a standard formula. In fact, data analysis is a factual exercise, explaining why it is so easy to identify and dispute spurious inferences. I have encountered many researchers with unique talents but your bravery is second to none. Dr. Mahamudu Bawumia, you feel so comfortable speaking to data, at the least opportunity. You dont care if you are using rates of change to calculate cedi depreciation. So, it is only natural that your speeches will attract the greatest controversies.
I have been analysing your recent speech about the efficient management of the economy under your watch. I have been thinking about the structural changes that have occurred since you took over as the head of the economic management team. I have been wondering about the strong fundamentals you keep touting. I have been struggling to appreciate what it takes for an economy to pass the tests of robustness and resilience.
In the short speech, you sought to suggest that you have delivered unprecedented macro-economic outcomes. I have a few questions regarding this claim. But before I do, let me underscore the fact that the economy has indeed witnessed strong growth over the last three years. But I will also prove that you have done very little to contribute to that. I admit that the overall economic growth rate (measured as percentage change in real GDP) increased from 3.4 per cent in 2016 to 8.1 per cent in 2017 (using rebased series), later reducing to 6.3 per cent in 2018. The 2019 growth rate was reported at 6.5 per cent. Dr., you can see that the growth rate itself has been volatile in the reference period (2017-2019), suggesting that you have not been able to sustain the 8.1 per cent growth that was recorded in 2017.
Besides, if the growth rate is decomposed into oil and non-oil, you find that the non-oil growth rates for 2016 and 2018 are 4.6 and 6.5, respectively, which are higher than the overall growth rates of 3.4 and 6.3, respectively. Clearly, the data show that overall growth reduces anytime oil sector growth dips. This suggests increased susceptibility of the economy (whether under Amissah or Bawumia) to real exogenous shocks. Besides, the high real non-oil GDP growth relative to overall GDP growth (for some of the years) also suggests limited diversification opportunities in the economy. It does seem to suggest that the same structural bottlenecks that prevailed in the 1980s still persist. So, what significant changes have accompanied the "strong" growth?
The other argument that arises is that the so-called "strong" growth is neither sustainable nor inclusive. In fact, the economic growth is largely driven by the oil sector, which is an enclave. This explains the inability of the high growth to deliver decent and secure jobs, leaving over 90 per cent of the population engaged in low paid jobs in the informal sector. Of what consequence is "strong" economic growth if it does not translate into real jobs?
At the heart of these arguments is the increasing risk of the resource-curse phenomenon. As recent as this evening, my checks revealed that Ghana still falls under the category of resource-rich countries. In fact, available data shows that the share of natural resource rents in total merchandise export receipts is about 70 per cent per annum. In 2019, Ghana leapfrogged South Africa as the leading producer of gold in the world, due to supply driven shocks in the latter, accounting for nearly 37 per cent of the total gold produced in the world. We are still the second largest producer of cocoa in the world, only behind Ivory Coast. Petroleum revenue, on the average, accounts for 6-8 per cent of total public revenue. Given the vast natural resource capital, the statement "we are sitting on money" is as relevant today as it was when the then flag bearer of the NPP, now predident Nana Akufo Addo, said it.
Indeed, Ghana has received unprecedented levels of natural resource revenues over the past three years. Besides, Ghana has never borrowed as much funds as we have over the past three years. Yet, you never talk about the resources you have received relative to the improved social and economic indicators that you tout. How do we measure efficiency in terms of utilisation of the resources that you have received?
Despite the large resource revenues, one thing that is clear is that inequalities and regional imbalances have widened, undermining poverty alleviation and social justice. To be precise, over 20 per cent of the population still lives below the poverty line. Moreover, education and health inequalities have deepened. This is evident in the recent challenges imposed by COVID-19. While urban kids have had the benefit to partake in virtual learning platforms, rural kids don't even have electricity let alone owning computers, TV sets or other gadgets that can support virtual learning. I pray this deadly virus never visits the rural folks because, they lack the requisite health infrastructure and personnel to help contain the illness. So Dr., what unprecedented economic management are you referring to?
As for the exchange rate and economic resilience, the least reference made to them the better. The so-called resilient economy could not even sustain a three-week lockdown. So, please, when you speak, be mindful of the audience. You may think nobody analyses your lines, but people really do. The unlettered are even beginning to ask questions now.
Cheers.
Yours Sincerely,
Mohammed Alhassan Abango
(Research Economist)