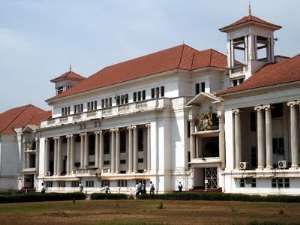 One of the 19th century American Presidents and Founding Father, James Madison, said the job of a Supreme Court is to act as "an impenetrable bulwark against every assumption of power in the legislative or executive." This he meant they should hardly be a handmaiden to political branches. On the contrary, the justices do not see their position in the same light. Citizens expect the Supreme Court to decide cases that have a widespread social and political impact, striking down tyrannical laws, upholding cherished institutions, protecting individual liberties. Instead, Ghana Supreme Court justice rulings nowadays are like anger and vengeful having a day out.
The Sefwi people in the Western North Region of Ghana will say "sℇ ϽpofoϽ Ͻkyℇ nan a, Ͻma wo bowie", literally means, if your enemy is sharing the meat, you should not expect a share of meat, but the bones. Bones are usually are waste and thrown to the dogs. This is exactly what Ghana Supreme Court has exhibited in their ruling on who is a Ghanaian in suit NDC and another versus the Attorney General and the Electoral Commission. The Supreme Court ruling is comparable to 1857 US Supreme Court ruling on Dred Scott versus Sanford in which it was held that African Americans, whether free men or slaves, could not be considered American citizens. A slap in the face of justice, which will go down in the history of Ghana politics.
National Democratic Congress of Ghana, the largest opposition party, and others, went to the apex court to seek an interpretation of the true meaning of Ghanaian identity. To most people, the suit is about NDC stopping Electoral Commission from compiling a new voter register. It is not wholly true, rather, they sought the interpretation of what criteria used to determine who a Ghanaian is. Under the Ghanaian law, from the 1st to the 4th Republic, nationality is determined by the date and year the person was born All persons born before 6th March 1957 and in the confinement of British Gold Coast were citizens by virtue of birth. Those born after independence are also Ghanaians. Anyone who has one of the parents or grandparents born in Ghana is also a Ghanaian. Unfortunately, instead of expecting Solomonic judgement, our Supreme Court returned with a horrendous opinion, a display of incompetency and biasness. Such a constructive interpretation designed to show the law in the best moral light was missed out. I am therefore wondering if there are any universal benefits playing politics and juggling with the true nature of law, if not for their narrow parochial interests.
Yes, NDC should not have expected anything good when their enemy is at the helms of the affairs. A legal luminary, Lawyer Tsatsu Tsikata, the lead counsel of NDC in 2013 singled out and criticised Justice Anin Yeboah, one of the 9 Supreme Court Judges who sat on the election petition, accusing him of allowing his political affiliations to cloud his judgment. Mr Tsikata said Justice Anin Yeboah was among the few who sided with the petitioners and consistently took an opposing view against the NDC's arguments and positions, right from the onset. According to Mr Tsikata the Justice of the apex court, now the Chief Justice, displayed his partisanism throughout court proceedings. Mr Tsatsu tagged the learned Judge as NPP judge because he was appointed to the Supreme Court by former President John Agyekum Kufuor. He further claimed to have observed that Justice Anin Yeboah was consistently against even the NDC being joined as a party and consistently was against any position NDC side put forward. Lawyer Tsatsu was with the opinion that a Judge's political affiliation should not matter when making decisions on issues before the court. However, to him, it was the opposite considering the erudite Judge's previous works right from the Court of Appeal.
The then opposing view, including myself, were of the opinion that Mr Tsatsu had a personal grudge with the Honourable Judge hence his criticism against him. Today Mr Tsatsu has been vindicated considering the Supreme Court ruling on 25 June 2020, in the case NDC & Other versus Attorney General & Electoral Commission. The 7-member panel chaired by Justice Anin Yeboah, the Chief Justice, tend to parrot an official line about the judicial process, which I think does not describe Judges actual practices. Checks at the credentials of the panel reviewed that, only one out of the seven was appointed by the NDC government. And the difficulty you and I have is the fact that the judges deliberate in secrets where their behaviour could not be monitored. The consequences one will ask whether there is ground for confidence in how Judges are appointed and incompetence and integrity of how they operate. Judges try to convince us that they use esoteric materials and techniques to build selflessly an edifice of doctrine unmarred by wilfulness, politics, or ignorance. But I doubt if this is true. Indeed, there is an amount of dissatisfaction with our legal system, but the question is whom to blame. If our judge's duty is to apply the rules made by legislatures or the framers of our constitution, then the blame is with the framers of our constitution. The fault of the framers in how judges are selected will continue to create enormous legal uncertainty.
One would have thought the lifetime terms of the judges allow them to go against the wishes of the regime who appointed them. Judges are not always supposed to vote in favour of the President or his/her political beliefs. In considering the most difficult legal questions the justices must use their own moral and ethical judgment, which is all that has been granted to them to make an educated decision. Certainly, the opposite, because we have seen some ruling at the US Federal Court, where most voted along the party lines. One has urged that judges are not moral or intellectual giants, but rather workers, as they also feed their families. Certainly, they are also politicians in robes, and the Supreme Court by itself is a political court, where judges are strongly influenced by political preferences when considering constitutional cases. Their opinions are ultimately informed by their political belief. A recent ruling of NIA injunction and the landmark case against EC has thrown the judiciary neutrality to the gutters. The absurdity is the fact that anyone who tries voicing out an opinion is in "contempt of the court". Just like in military training where "do before complaint" applied.
Ghana since independence and because of various military distortions has not strengthened its institutions like birth & death registry, statistical services, and passport office. Our passport office has burned many times for dubious reasons. It is also true that lots of Ghanaians have double passports with different biodata, not to mention millions who use Accra or Kumasi as birthplaces which are not true. Therefore, the true identity of a Ghanaian cannot be established with a mere holding of a Ghana Passport or the newly created Ghana Card. One cannot just say he is a Ghanaian by mere displaying his passport. Is it not an insult to parents who have not been to Accra before but their son has a passport with the place of birth in Accra, to vouch for them to be Ghanaians? One should ask the sort of identity used to vote on the 1992 Referendum that usher Ghana to this 4th Republic constitutional rule. The same identity is what has metamorphized to the recent biometric register in 2012. And if today the Supreme Court supports the ill-conceived and diabolic plans of the ruling party under President Nana Addo Dankwa Akufo-Addo, then it is so wrong and unjust. A Court encounters with a fast-growing storm of highly politicized controversies in election administration in which efforts to prevent fraud clash with efforts to protect voters from disenfranchisement. Therefore, balancing the right to vote against preventing fraud and safeguarding voter confidence, must not disenfranchise people who are older than the law referred.
Ghana like any developing country has challenges in identity but Article 6(1-4) of our 1992 Constitution defines who a Ghanaian is. It defines Ghana as a nation which existed prior to our independence. A nation defined by Aristotle is 'a collection of people having some kind of corporate identity recognized by themselves and others, history of association and name. "Nation" stands for a set of ideas defining this collection of people, as well as for the people themselves". We can distinguish between legal citizens and political citizens. All those whose theory of citizenship confers in the title of passport or Ghana Card, regardless of their possession of legal status are mischievous. The political theory cannot help to explain the preferential treatment given to these people in the distribution of voting right. Citizenship is a concept with ancient roots. Citizenship as s status to be passed on from parents to children, but not from children to parents.
I think that the Supreme Court will go down in history books as being profoundly wrong. The ideological conclusion that allows NPP backed Electoral Commission to continue on suppressing Ghanaian eligibility to vote free, fair and transparent, while simultaneously stating that the only remedy is voting that occurs in a corrupted system is contemptible. There are certain principles of true morality or justices, discoverable by human reason without the aid of revelation coercion but with divine origin. However, these man-made laws which conflict with our citizenship principles are not a valid law. I am certain that the Supreme Court ruling on 25 June 2020 will not be a living law.
Written by:
Lewis Kwame Addo
Communication Officer
NDC Holland Chapter
Amsterdam