Covid-19: Safety Protocols Not Observed At Registration Centres In Zebilla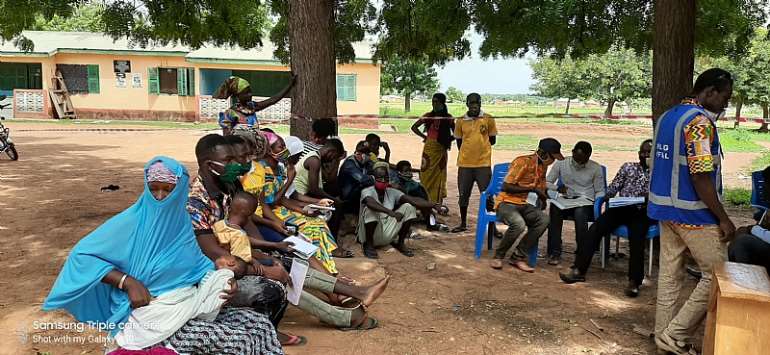 The Covid-19 safety protocols put in place at the various voter registration centres in some parts of the Upper East Region are not being observed.
A visit to some polling stations in the Bawku West District by ModernGhana News reveals how some registrants were seen moving around the registration centres without observing the necessary protocols put in place by the Electoral Commission.
At Galaka primary school in Sapelliga, a suburb of Zebilla social distancing was ignored as large crowd gathered to register for their cards.
As of the time of filing this report at 12:01pm only 29 cards were issued with no challenges in Galaka.
At Sapelliga market square A, the story was no different as registrants were seen in long congested queues. Only 38 cards were issued as of 12:21pm.
At Sapelliga Area Council, only 43 registrants received their cards as of 12:35pm with large numbers in the queue.
At the Sapelliga Primary School, 61 registrants received their cards as of 1:00pm.
At Googo Primary School, the story was no different regarding the covid-19 safety protocols however, 45 registrants received their ID cards as of 1:31PM.
Other places visited were Sakpare, Agatuse primary and Guzongo.
The registrants complain of go-slow indicating that the process takes more than 10minutes per person to receive his ID card. They fear is that a lot of people may be disenfranchised as the snail pace registration process may not cover all the eligible voters in the various polling stations.
Health officers were on duty at the registration centres to check the temperature of registrants. After which, the person is allowed to proceed for handwashing and finally to the queue to begin the process.