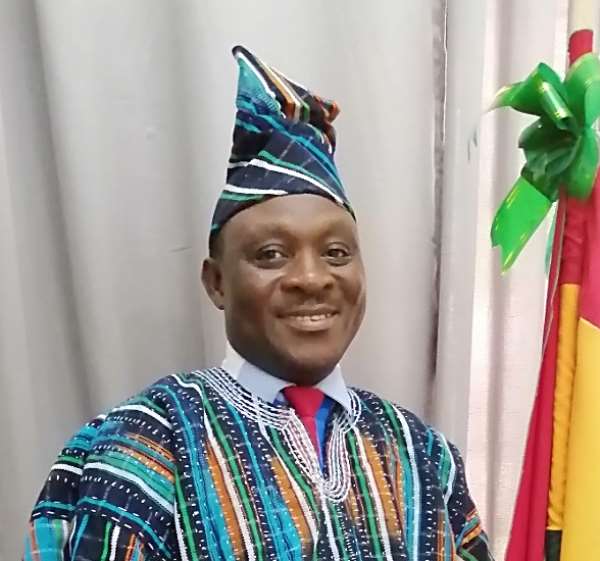 Just like the two previous episodes, this episode (Episode 3) is equally dedicated to Nana Tabono Bonsu III, Asantehene's Brempon of Asante Akyem Achiase in the Ashanti Region. It was a conversation with him that brought the topic to mind.
Religion in the form of the church and Mosque on one hand and politics in the form of government or politicians have collaborated in diverse ways in Ghana over the years. Society has ultimately benefited from that collaboration's good results in the area of social service delivery.
Religious bodies have established many schools and health facilities across the nation. These educational and health institutions augment government's developmental and social service delivery efforts. There are numerous Christian and Islamic schools and health facilities in Ghana. The religious bodies equally contribute meaningfully to moral upbringing of the people. Such result-oriented collaborations are commendable. Incessant prayers for political leadership is another way in which religion supports politics in Ghana.
However, some untoward exceptions abound in this collaboration. Some clergymen use the pulpit to preach partisan politics. Clergymen are revered because they occupy priestly offices and exercise authority therefrom. Advisedly therefore, they should eschew unnecessary partisan politics that has the tendency of disrupting the church.
In Ghana, there are times that some segments of society are not happy about the results of collaboration between government and religious leaders. One such example is the divided societal opinion regarding the building of the National Cathedral by government. Many discerning Ghanaians objected vehemently to the idea.
They think it is not a priority at the moment. They think the nation needs some physical solutions at the moment. They think government should rather use the funds to provide social amenities. They think that some communities lack good roads, potable water, electricity, hospitals and there are still some schools under trees so government should satisfy those needs. They think that there are homeless people on the streets who need help.
They also think that God would prefer the saving of the lives of cancer and other patients to building a physical cathedral. Some people think that a national cathedral in a nation that is not fighting corruption with the desired commitment is not necessary. They equally think that the national cathedral cannot solve the galamsey problem that destroys our waters. They think that God is omnipresent so He does not reside only in a cathedral. They think that our hearts constitute the best cathedral for God. They think that the top notch clergy such as Archbishops Duncan-Wiiliams, Palmer-Buckle and other Rt. Reverends like Asante-Antwi are not giving the right religious counsels to the political leadership. I agree with those thoughts.
Daniel, Joseph and Nehemiah Politicians in Ghana
The Bible has vivid accounts of how Daniel, Joseph and Nehemiah occupied both religious and political positions and how they used those positions for the benefit of the people. They did not use their positions as men of God to divide the people just because they walked on the corridors of political power.
For example, we can learn the following lessons from Daniel's occupancy of political office.
One must not compromise on acceptable moral values.
God hears prayers from political offices, including the Osu Castle and the Jubilee House.
He was a politician without a scandal
Character is the determination to do things right and to do the right things
He was a courageous and consistent politician. His political character was not influenced by vote-winning thoughts or to please his earthly master.
Joseph also used his political office to store enough food that was used to feed the people in ancient Egypt and beyond during a famine. He acted with remarkable integrity, stayed positive and he was foresighted.
Regarding Nehemiah, he was a transformational leader and development-centric. He exhibited humility, perseverance, sacrifice and was concerned about the plights of his Jewish people. He was a servant -leader with commendable communal spirit. He was also politically correct.
In our Ghanaian society, Daniels and Josephs may be found in political positions but most people dislike them because they (Daniels and Josephs) do not condone corrupt practices. They are therefore removed from office or they are frustrated on the job. In some cases, they may be denied promotions and certain genuine benefits they are entitled to. Paradoxically, they become targets of victimization and vilification even within their own political parties.
Apart from Daniel and Joseph politicians, Nehemiah politicians can also be found in Ghana. They build and do not destroy. They think proactively about the people's welfare. They are focused, humble and act as unifiers. Societal transformation becomes their thirst to quench. The Nehemiah politicians make the communal needs more of a priority than their personal needs. Nehemiah Members of Parliament tend to develop their constituencies. They receive the skirt and blouse votes. The constituency may be the stronghold of the NPP or the NDC and they belong to the opposition party but they still win the election because of their communal and developmental personality and attitudes.
Indeed, there are adequate political lessons to learn from Daniel, Joseph and Nehemiah. If it is so, why must some priestly officials in contemporary times rather act to divide the people from behind the pulpit just to please their political tradition of affiliation? Must the Glory be to God in priestly duties or to the pastor's political master? Why are those pastors more concerned with a national cathedral project than human lives, which God expects us to save.
Both the clergy and the politician wield power that influences society in so many ways. The pastor wields power from the pulpit and the politician derives power from the ballot box. Politics and religion influence each other. However, the pastor's pulpit is sacred and must therefore be a unifier rather than a divider that preaches animosity and not peace. The pulpit must cohere various segments of society. Partisan politics must not be given way to classically condition the pulpit to speak divisive voices. The pulpit must support political governments in Ghana irrespective of the party that forms government.
Politicians must be wary of the prophets who are into political prophetic war of predicting who wins election and who loses or who dies.
It should not be lost on us however, that sometimes, politicians wear cassocks and control the pulpits. At other times, the non-ordained persons who are rather pastors by birth put on the political suits and run governmental affairs more positively. Anytime they do, they preach peace like the late Asomdweehene who did not victimize his political opponents. Even after Mills' death, his political opponents admitted that he was tolerant to criticism. May the Lord God continue to comfort and reward his gentle soul. Stay alert for the final episode (Episode 4).
~Asante Sana ~
Author: Philip Afeti Korto
Email: [email protected]