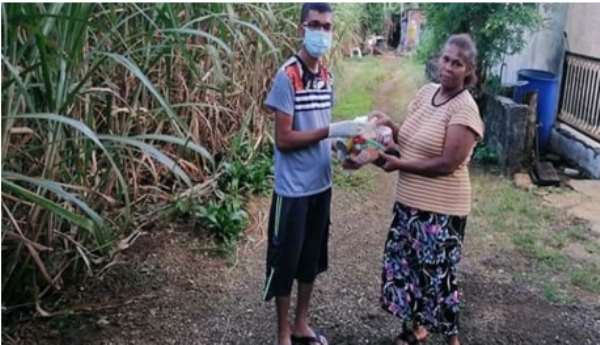 My name is Chelvin Ramsamy and I was born in 1994 in the southern rural village of L'Escalier on the African island of Mauritius.
I was raised in a very modest family of four. As a nurse, my father worked long hours, including on public holidays, to enable us to have a decent living.
Since I was a young child, my parents, who failed to get the opportunity to attend university, would always emphasize: "We are making so many sacrifices for you to become a proud university graduate one day."
I heeded their words and saw education as the most powerful weapon to change the world. In primary school, while many of my classmates came from well-off families, contrary to my meagre possessions and small change for pocket money, I always stood either first or second in class.
I was among the top students in the Mauritius Certificate of Primary Education exams in 2005, and subsequently one of the best performing students at the Saint Aubin State Secondary School. When the time came for me to begin the Cambridge Higher School Certificate, I joined the Royal College Curepipe with the reputation of "Star Student".
Nothing is unachievable once someone puts their mind to it.
After graduating from Middlesex University London in 2017 with a first-class Bachelor of Laws (Honours) degree, I received the Most Outstanding Student Award and a postgraduate alumni scholarship. I then enrolled in the LLM International Business Law programme in 2018, and in 2019 secured a second consecutive bursary to study a Master of Business Administration.
In the same year, I was awarded a fully funded fellowship by the US Department of State through President Obama's Young African Leaders Initiative (YALI) to pursue a public management and governance course at the University of South Africa, and subsequently represented Mauritius at the African Union Youth Volunteer Corps programme in Egypt.
Both experiences were a true eye-opener, exposure and impetus, challenging me to think more strategically and believe in my potential as a young African leader. I do not boast magical skills or abilities, but I simply aim higher, work tirelessly and never give up so that what initially appears impossible became inevitable.
Joining the AU
In May 2020 I was appointed as a Special Assistant Advisor on Regional Integration for the African Union at the African Union Commission Bureau of the Chairperson in Addis Ababa, Ethiopia. I was chosen based on my work as a youth activist, working with grassroots mobilization at the national, continental and global levels.
This role provides me with the unique opportunity to contribute to continental development and support the implementation of the African Continental Free Trade Agreement (AfCFTA).
Indeed, my success has been catalysed by my extensive involvement in voluntary activities and an unconditional passion to champion African youth empowerment, pan-Africanism and continental integration.
I spearheaded the International Executive Board as Southern African Regional Associate for the Youth Alliance for Leadership and Development in Africa (YALDA), a non-profit set up by Harvard University students from Africa that provides a forum for university youth and those abroad with a commitment to the welfare of the continent.
I also serve as continent director for the Africa-Asia Youth Foundation, a dynamic platform for young people that seeks to promote cross-continental cooperation. In addition, I am the country representative for the African Youth for Development Commission.
At the national level, I founded Let's Glow Organisation, an NGO engaging youth in environmental, educational and empowerment initiatives.
While giving back to the community demands time and dedication, it nurtures the essential skills that are part and parcel of any career in the contemporary world. The biggest takeaway lies perhaps in the connections made with people from different backgrounds
My advice to my fellow youth is to develop a passion for your work, build an undying commitment to succeed, use your time effectively, embrace constructive criticism, act upon your mistakes to improve, keep going despite feeling defeated and celebrate even the smallest milestones.
My achievements would never have been possible without self-belief, discipline, perseverance, prayers and the unflinching support of my whole family, particularly my parents, who continuously pushed me to become a better version of myself every single day.
Inspired by former US President Obama's life-changing journey to the White House, I now believe that regardless of your background, you can always make it to the top, insofar as you work hard and leverage all opportunities.
My message to African youth
My message to African youth is that we are a generation with the potential to change the course of history for the betterment of humanity. We should no longer be mere consumers, but creators and innovators driving global development.
Africa missed the first, second and third industrial revolutions but is now well-positioned to take advantage of the fourth technology and innovation-driven industrial revolution.
African youth are paramount to realizing Agenda 2063: The Africa We Want, which seeks to transform the continent into the global powerhouse of the future and deliver on its goal for inclusive and sustainable development.
There is no better time for us as young people to start than NOW to build a new world by striving towards the attainment of the pan-African vision of an integrated, prosperous and peaceful Africa, driven by its own citizens and representing a dynamic force in the international arena.
Better education for African youth and investment in intergenerational leadership will be instrumental to help establish lasting peace and prosperity and achieve the AU's "Silencing the Guns by 2020" initiative in Africa.