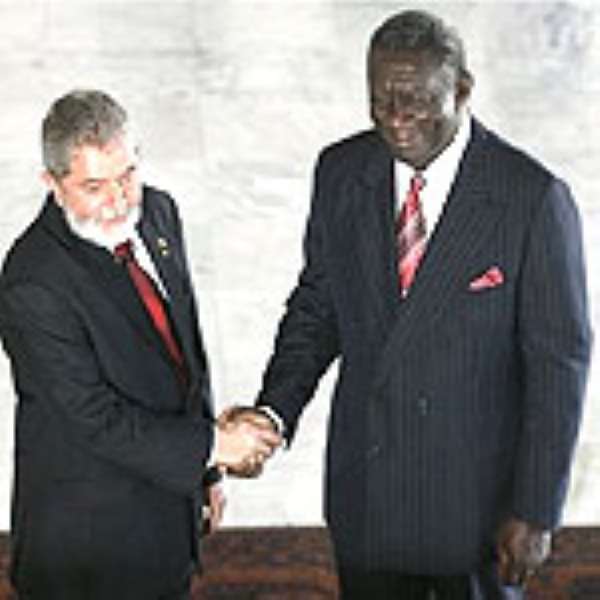 President Kufuor (right) in a handshake with the Brazilian President
Ghana and Brazil yesterday signed two agreements to further strengthen their technical and bilateral co-operation. These were in the areas of agricultural research and sports development.
Nana Addo Dankwa Akufo-Addo, Ghana´s Foreign Minister and Mr Celso Amorim, Brazil´s External Affairs Minister, initialled the agreement for their respective countries. It followed bilateral talks held by President John Agyekum.
Kufuor, who is on a three-day State visit to Brazil and his counterpart, President Luiz Inacio Lula da Silva witnessed the signing ceremony. With this, EMBRAPA, the giant Brazilian Agricultural Institute would now open its Africa Regional Office in Accra, Ghana, a development likely to provide the needed impetus to the country's drive to modernise its agriculture.
Nana Akufo-Addo hailed the agreements, saying, they were important links in the relationship between the two nations. President Kufuor had earlier in the day arrived in the Brazilian Capital City, Brasilia to a rousing welcome.
His host President Lula da Silva was at the Airport to receive him and his delegation, which included, Nana Akufo Addo, Ambassador D.K. Osei, Secretary to the President, Mrs Mercy Bampoe-Addo, Deputy Minister at the Presidency and other senior Aides.
President Kufuor later inspected a Guard of Honour after which, he went into bilateral talks with the Brazilian Leader. The President also met with Ambassadors from Africa serving in Brazil where he asked them to take up the challenge of ensuring that Africa was understood and appreciated, looking at the large numbers of Africans in that country. "You are in the frontline and should help daughters and sons of Africa in the Diaspora to appreciate the reality of the Continent."
He told them to re-assure those in the Diaspora in their self-identification. The world, he said was now opening up to the fact that humanity was the same and for that matter historical disadvantages should not make anybody suffer.
President Kufuor said Africa was making a headway, although not as fast as it might be expected. It was something all should be proud of.