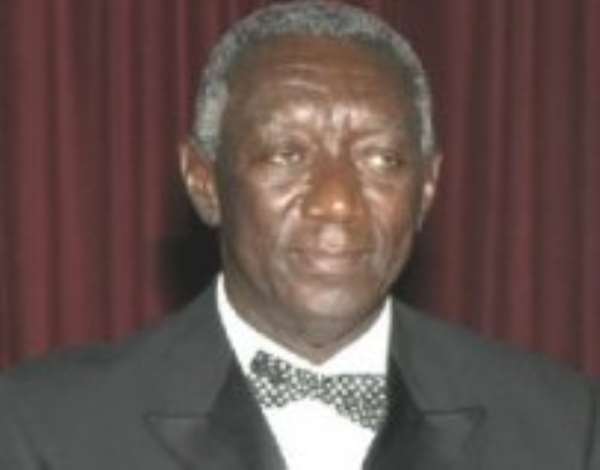 Exeter College at Oxford has honoured President John Agyekum Kufuor by instituting a scholarship scheme in his name.
The John Agyekum Kufuor Scholarship will be offered to Ghanaian post-graduate students up to the doctorate level.
This was announced by the Rector of Exeter College, Ms Frances Cairncross last Wednesday, July 5 when President Kufuor honoured an invitation to visit his alma mater.
Kufuor walked back into 1961 and stood in the very room where he was interviewed for admission.
The elated Rector, whose father was one of his lecturers, took the President through the drill of a mock interview.
"Young man," she said in a booming voice, "if you are accepted into this college, which subject would you pursue and how would you apply it in the future?" The then young Kufuor studied philosophy, Prof. Christopher Kirween, who said "I congratulate you not only for what you have become, but for what you are doing."
The President was then taken to his bedroom, where he recalled that, unlike today where there is central heating, it used to be bitter cold in the winter in his days, that it took the rector himself to bring more blankets to the shivering African, to prevent him from freezing to death.
Together with Rector Cairncross and other dignitaries, including Sir Sam Jonah, they shared a three-course meal in the dining hall with students.
The gated Exeter College, established in the 17th Century, had not changed much as former student Kufuor sat with others at the same oak tables. A Latin prayer as usual preceded dinner and President Kufuor pointed at the table where he used to sit during meals.
Close by Exeter are the famous All Souls College and Jesus College, both universities in Oxford, dominated by centuries-old churches.
Rector Cairncross, a former journalist who specialized in reporting on Climate Change, said admission to the Oxford universities such as Exeter, is highly competitive, but good grades in mathematics are very essential.
Mawuli, a young Ghanaian lad, is also a student of Exeter College, pursuing a course in journalism.


Source: Daily Guide