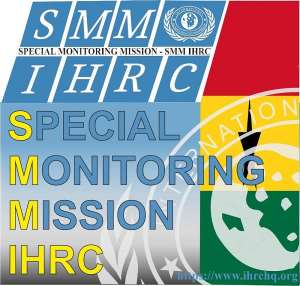 The Special Monitoring Mission of the International Human Rights Commission in Ghana duly add it's voice to condemn the last Friday's unlawful demolition of the Nigerian Consulate staff bungalow with armed men and Buldozer's.
The move is in serious violation of the Vienna convention of diplomacy which requires swift attention and responsive collaboration from both country heads to bring the perpetrators to book.
The mission believes that Ghana and Nigeria have shared a lot in common and a very good relationship over the years and such an act must not be swept under the political carpet hence will bring future diplomatic discrepancies between the two neighboring countries.
The IHRC mission in Ghana would want to use these medium to applaud the Ministry of Foreign Affairs and Regional Integration for the press release on the matter and the security beef up at the said premises as they have tasked the security agencies to initiate investigations and bring those involved in the unlawful demolition to book.
The Regional Volunteers Coordinator for the Special Monitoring Mission in Ghana Ambassador Bernard Kofi Bonaparte and Ambassador Dr Friday Sani country head international human rights commission and coordinator ihrc volunteers for West African countries do hereby call on the Nigerian community in Ghana to stay calm and desist from any form of unlawful demonstration as the matter is being dealt with by the Ghanaian authorities.
Author :
Amb. Bernard Kofi Bonarparte
RVC SMM IHRC GH