Former President Mahama Baited At Last?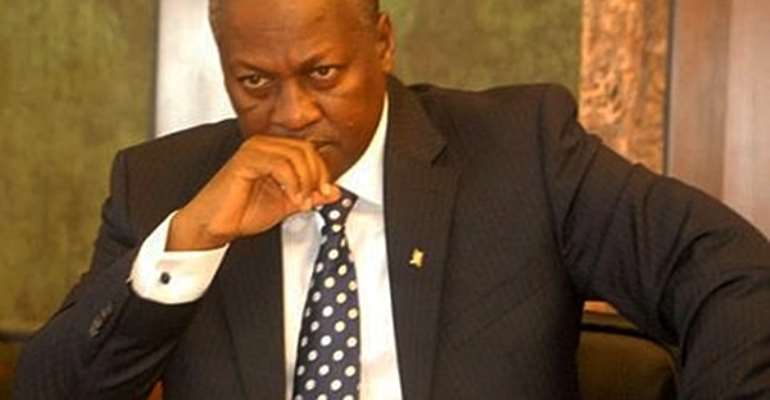 The Airbus bribery scandal is back!
But whose account must we believe?
She could have passed for a mole but for her ratish tail. The long tail betrayed her. Can apple fall far from the tree? No. Be reminded though, such element of misrepresentation or disguise pervades not only in the animal kingdom, but also in the human race---where supposedly enlightenment is abound.
Perhaps, we all have once in our life time done it either for a good or bad reason. Sometimes we misjudge, miscalculate or misconstrue the impact of an issue until we're hit by it.
Former President John Mahama couldn't stay quiet longer despite the intense bidding his political strategists launched awhile back. Indeed, it seems that wasn't enough or couldn't control the damage caused thus far.
Question is: Why now? If you aren't Gov't 1 why worry or why respond to something you might term as preposterous or baseless accusation? I'm pretty sure it points to one direction and one doesn't need to
wonder whether the political spinners failed to do their work properly, culminating the sudden u-turn.
That considerable long pause, in my view, tend to suggest that the ex-president cared less about what I will call the emotional outbursts, or sarcastic comments like-- 'here we go," by his political opponents-- the NPP.
Was he buying time to guage the political ramifications? No doubt the December election is a huge factor and could tilt the scales anyhow.
Certainly, taking time to formulate an appropriate response has been proven to be one of the best strategies in dealing with accusations.
And it seems that necessitated his 'delayed response'. Yes,, after more than four months of remaining silent over his alleged involvement in the Airbus bribery scandal the assumption was that Mr. Mahama would forever keep his mouth shut and let his bidders and accusers play the ping-pong game. But that never was.
Why did he choose this route?
Did he think he'd taken enough pause and formulated an appropriate response to deal with the allegations?
If so, did he respond objectively and succinctly?
Keep in my mind,, when we're falsely accused of wrongdoing our emotions kick in and our natural instinct tells us to respond spontaneously. That wasn't the case here. Would the response put matters to rest? That remains to be seen.
It's also worth noting that sometimes taking a pause before resorting to counteract or abrasive words can pay off. And it can backfire too, if one's strategists or counselors misjudge the situation.
I guess the inevitable question is: Does Mr. Mahama's response now make him the Government Official 1 (GO1) or Individual 1 tag in the explosive Airbus SE bribery scandal?
Some analysts hold that view. They believe his response makes it look like a 'tacit admission' that he's indeed GO1 or Individual 1 as referred to in separate investigations in the United Kingdom and the United States, as having received at least five million Euros in
kickbacks from Airbus officials.
That said, he has unequivocally denied, he took bribes during the transaction to procure aircraft for the Ghana Armed Forces (GAF) during his tenure in spite of mounting forensic evidence against him.
"Let me state without any equivocation that no financial benefit accrued to me. Neither was there any form of inducement in the purchase of the aircraft," he told Daily Graphic, a local newspaper.
He maintained that he'd only one objective-- to retool GAF: "My singular motivation was to equip and retool the Ghana Armed Forces in a manner that would make the discharge of their national and international roles efficient and less burdensome and for all the sacrifices that our men and women in uniform make; they do not deserve less."
"I'm happy that the said aircraft have become the backbone of the Ghana Air Force and its operations. They used for troop transportation, logistics deployment and medical evacuation (Sic)," he said.
The history
In February this year (2020) the global aeroplane manufacturing giant, Airbus SE, was fined a record three billion pounds in penalties by the UK Crown Court of Southwark, London, after admitting it had paid huge bribes on an "endemic" basis to land contracts in 20 countries, including Ghana and in the Unites States. The damages against Airbus SE with Case No.: 1:20-cr-00021 (TFH) was being assessed after the historic judgement at the District of Columbia Court.
UK's Serious Fraud Office (SFO), in documents sent to court, quoted at least five million Euros as payment of kickbacks to a top Ghanaian official through an intermediary who is a close relative of "a high-ranking elected Ghanaian government official" during the Mahama administration.
In the UK Crown Court documents, the SFO named the elected NDC kingpin as 'GO1' and that powerful official was the same person being referred to as 'Individual 1' in the US court documents.
Also, as captured in the UK court documents 'Intermediary 5' (I5), who has been described as the brother of the powerful elected official in Ghana, was the same person being referred to as 'Consultant 4' by the US authorities.
Per the two documents, GO1 or Individual 1 was not just content with having I5 (his brother) handle his alleged bribe-collection arrangements. The documents further revealed that GO1 was in "direct repeated contact with senior Airbus SE executives."
Referral
A few weeks after the news broke President Akufo-Addo referred the matter to the Office of the Special Prosecutor headed by Martin Amidu to investigate. Has he has made any head way?
It's understood Mr. Amidu has sent notice to some of the individuals mentioned to appear before the office.
There are six key actors involved in the corruption-infested case regarding Ghana and the UK investigators from the SFO who have lined them up as GO1 (high ranking and elected), I5 (British national and close relative of Government Official 1), Company D (corporate vehicle for I5 – shareholder), Intermediary 6 (British national and associate of I5), Intermediary 7 (British national and associate of I5), as well as Intermediary 8 (Spanish company and front for I5).
As reported abroad
Elsewhere in the UK the 'Scottish Sun' newspaper, the Coronation Street's Des Barnes actor, Phil Middlemiss, is being sought for questioning over the alleged five million Euros bribery scandal in the sale of three Airbus C-295 military planes to Ghana.
Former President Mahama was accused of having links to a corrupt network, which received kickbacks during the contract process, the newspaper reported.
It said Middlemiss, 56, moved to Ghana after leaving the ITV soap to make a film but ran out of funding before it was finished.
"Middlemiss lives in a smart £400,000 detached property in Greater Manchester, despite being declared bankrupt in 2012 over unpaid taxes," the paper reported.
According to the newspaper two other Britons and a UK/Ghanaian citizen are wanted for questioning, adding that in January, Airbus agreed to pay a three billion Euros fine after the UK, US and French authorities launched a joint investigation into the use of middlemen to sell planes.
The paper reported that in March this year, Mr. Amidu revealed Middlemiss was suspected of working as a project manager for Airbus.
The paper quoted the Office of the Special Prosecutor as having issued a public notice, saying "the four are hereby invited to assist the ongoing investigation of bribery and corruption totalling more than five million Euros."
President Mahama baited at last?
If so what would happen from now to December?
It's true, one man's poison is another's meat. It didn't come as surprise when the ruling New Patriotic Party (NPP) before Mr. Mahama's response made bold claim that the ex-President was the person that investigations in the UK and the US revealed took the five million Euros bribe in respect of the sale of aircraft to Ghana by Airbus SE and even dared him to come out and clear the air. However, Mr. Mahama didn't take the bait. Instead he went silent. But would he take it later.
With passage of time that long silence lost its grip. Amid claim by the ex-president that the only motive was: "the overarching desire to ensure that our men and women in uniform were provided with the tools and equipment they needed to fulfil their constitutional mandate of ensuring public safety, security and protecting the territorial integrity of our nation and was reasonably met," and said there was nothing untoward.
"I am proud that under my tenure as Chairman of the Armed Forces Council and as Commander-in-Chief, the security services saw the biggest retooling and equipping in the history of Ghana," he claimed.
And here comes the Elephant: "Airbus SE, in seeking to sell Ghana three military transport planes from 2009 to 2015, actively engaged GO1, further described as the "key decision maker" in the purchase of aircraft by the then Government of Ghana. Though the first deal for two planes was concluded in 2011, the elected government official could not have been the late President Mills (RIP) because the evidence identifies a 'Go-Between', who is said to be a close relative of GO1."
"The 'Go-Between' referred to as Intermediary 5 (I5) in the court papers, is further identified as a UK national born in Ghana. I5 is said to have migrated to the United Kingdom as a young child and thereafter lost touch with his Ghanaian family until the late 1990s."
Another jab from Mr. Mahama
"Dwanfunu nsuro Sikan ampa.'. And determined to 'set the records straight' in his own words, Mr. Mahama again submitted this: "All the processes and negotiations by the government in the acquisition of the aircraft were conducted directly with Airbus and my administration, without any untoward influence either directly or indirectly through any agents it may have appointed. Indeed, nowhere in the available UK Court Documents has it been said that Airbus paid any public or government official on the side for the purchase of the aircraft."
Candidate with huge political garbage
Perhaps painting the ex-president as corrupt individual might sell big. And the Elephant wouldn't hesitate:
"in the face of these facts, it's very necessary for candidate Mahama to come out and be heard publicly. He cannot continue to hide behind others. Of course, we are all aware that he hates answering questions about corruption. He would like to find out if the question is being asked as a former President, or as a candidate of the NDC, or as a human being. But answer he must, because allegedly, all fingers point to him and one of his brothers," NPP alleged.
With regard to due diligence
Mr. Mahama argued the NPP and appeared to say that there was due diligence in all the transactions leading to the acquisition of the aircraft from Airbus.
"Some of our gallant and highly efficient officers who composed the technical team are still in active service in the military and I reject any idea that they have arrived at their decisions through inducement or coercion by any person," he said.
He also said, "It involved the acquisition of naval ships, aircraft, vehicles, arms and ammunition, safety equipment, field equipment and expanding accommodation units," adding "eventually, the military settled on two C295 aircraft at a cost of about US$24 million each, bringing the cost of the two aircraft to about US$48 million."
Is he really being misrepresented?
This is what Mr. Mahama said:
"This is clearly and unambiguously stated in all the available documents of the UK SFO. It has nothing to do with the Government of Ghana or with any official of government. To state otherwise is to misrepresent the conclusions of the SFO report and spread deliberate falsehood."
Again, would ex-president Mahama's response put the Airbus saga to rest? Did what he said now different from what his surrogates said then?
In appropos, both the protagonist and his strategists strongly have denied the allegations. Nonetheless, what stands out though is the fact for the first in several months we've heard it from the horses own mouth. Mr. Mahama has spoken!
But doesn't that defeat the object of remaining silent and allow the bidders do the bidding?
By Gordon Offin-Amaniampong