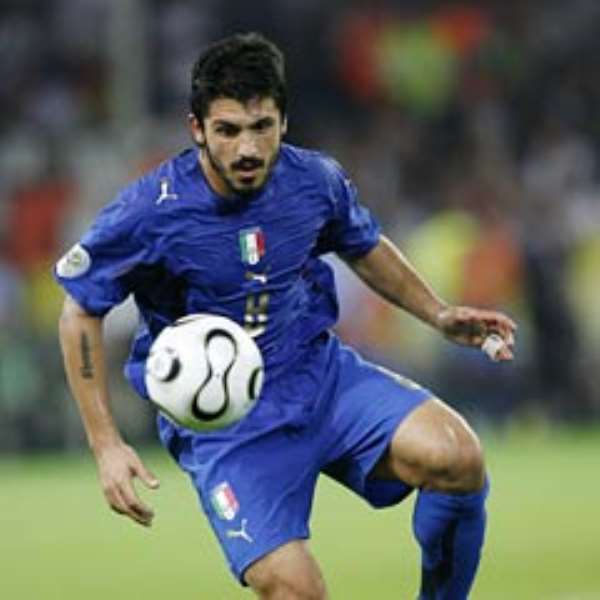 Strange as it may seem, should Italy beat France and lift the World Cup on Sunday, many of their players could still find themselves crying tears of sadness come Monday evening.
The Azzuri's run to the World Cup final has been all the more remarkable given that it comes on the back of a match fixing scandal that has enveloped the whole county
Top Serie A sides, Juventus, AC Milan, Fiorentina and Lazio are all involved, with the state prosecutor demanding this week that Juventus be relegated two divisions, and AC Milan, Fiorentina and Lazio all demoted to Serie B.
A decision is expected on their fate on Monday.
\Gianluigi Buffon of Juventus, Italy's incredible goalkeeper, Fabio Cannavaro of Juventus, Italy's star central defender, Gennaro Gattuso of Milan, Italy's midfield general, these are just a few players at the forefront of Italy's World Cup campaign who could find themselves in the Italian lower leagues next season, or searching for another club.
Yet in the face of adversity, Italy have found a unity that has driven them all the way to Berlin.
No one can dispute Italy's worth of a place in the final, even if they were midldly fortuitous to get a last minute penalty in their last 16 clash with Australia.
In the quarterfinal against Ukraine, and especially the semifinal against Germany, Italy found their imperious best when it really mattered.
Coach Marcello Lippi has moulded together a side that is a break away from the defensive norm of Italian sides of the past.
This Italy flies forwards, illustrated nowhere mores so than in their wing backs, Fabio Gross and Giuanluca Zambrotta.
It is no coincidence that Zambrotta scored the opning goal against the Ukraine, and Grosso the vital opener, in the final minute of extra time against Germany.
In that Germany clash, Italy showed ado or die desire to avoid penalties that has endeared them to most neutrals.
Italy have not lost any of their defensive quality either, conceding just one goal all the way to the final, and that was an own goal!
Lippi is still without AC Milan's Alessandro Nesta for the final, but Marco Materazzi has proved a capable replacement.
The Italian coach msut also decide whether to start with Francesco Totti or Alessandro Del Piero against France.
Both have shown glimpses of their class in this tournament, without it ever coming to full fruition.
Make no mistake, and whatever their troubles back home, Italy start this final as favourites to bring home the World Cup.
24 years is far too long for a side of their class to wait for another World Cup victory ... and that wait could well end on Sunday against France.