The Impact Of COVID-19 On The Usage Of Electronic Banking In Ghana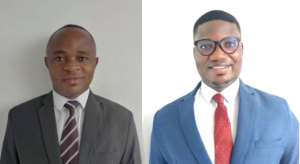 The role of financial sector development and increased financial inclusion in Ghana is to improve the lives of Ghanaians. The premise is that access to financial services will better enable the poor to build financial security, manage financial shocks, and invest in education, health, housing, and income-generating opportunities – the cumulative effect being poverty reduction through greater participation in economic activities.
Technology has been one of the greatest developmental tools in the global business environment in this 21st century. The influence of globalization and technology has redefined the traditional parameters of assessing activities of market and businesses such that there are increased tendencies to improve efficiency in response to creating consumer value. Although advancement in technology innovation has been witnessed in every industry, its revolution and impact in the service sector have been tremendously alarming especially in the banking industry in Ghana.
There has been a paradigm shift in banking from the traditional banking system to an improved platform anchored on the electronic system. This has made it easy for people to manage their finances, have easy access to their account without visiting the bank hall and has seamlessly spark digital finance management, thereby trying to create what has been called a cashless society in Ghana.
In order to leverage on this opportunity during this COVID-19 pandemic, banks have responded with the deployments of e-banking platforms secured on information and communication technology such as automated teller machines (ATM), point of sales (POS) machines, mobile banking, internet banking, electronic web acquiring and transfer, etc.
According to the WHO guidelines for fighting COVID-19 pandemic, the most effective way to contain the current situation is to avoid personal contact. Banks in Ghana have instituted policies in order to abide by the guidelines put forward by the WHO. These banks have reduced the opening hours of their branches while encouraging their customers to use the electronic channels for their banking services. Many banks have taken the opportunity to send out positive messages to remind their clients of the benefits of online banking.
Benefits and Challenges of E-banking in Ghana
These benefits include the ease of carrying out any transaction 24/7 and enjoying permanent access to all financial information in real-time. Some banks have also tried to promote online banking by sharing tutorials and expanding the types of transactions customers can carry out remotely.
Even though the benefits of e-banking are enormous, there have been some challenges of e-banking adoption in Ghana which include unreliable electronic communication infrastructure, poor public perception, inadequate facilities, poor internet security, the incidence of fraud, low telecommunication penetration, poor knowledge in technology and infrastructure. These challenges are partly responsible for the exclusion of bankable adults in Ghana from using e-banking services.
Is this a passing trend or a turning point for E-banking in Ghana?
There has been many questions about the current situation in Ghana as to whether the increase in the use of E-banking will be a passing trend while the confinement and social-distancing measures are in place or whether it will mark a turning point in E-banking
Figure 1, Transaction Volume chart from January 2020 – May 2020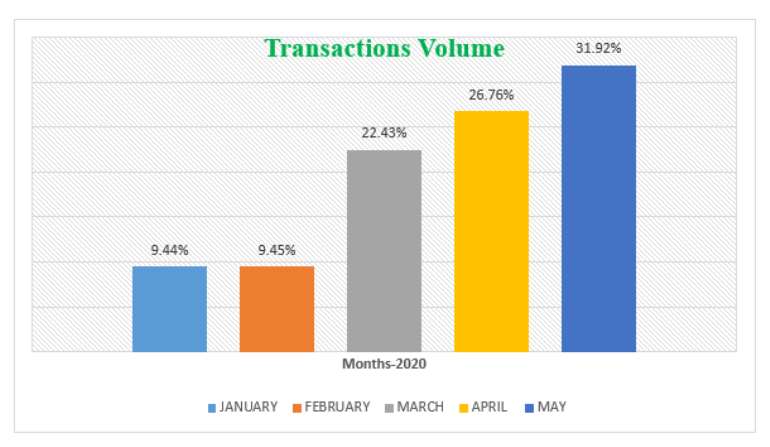 Data from the selected banks on Ghana's E-banking sector from January 2020 to May 2020 revealed that the average E-banking transaction volumes were 20 percent with a minimum of 9.44 percent in January and a maximum of 31.92 percent in May.
Transaction volumes are the total number of transactions processed through the E-banking channels by these banks from the period of January to May 2020. Although, we still have to wait and see the data on the true increase and if such trend will continue.
From the diagram above, one can say that customers are responding to the use of E-banking channels in recent months due to the COVID-19. During the lookdown period in March, the average transaction volumes of some selected banks increased to 22.43% by customers who used E-banking services as compared to the previous months with 9.44% and 9.45% respectively. Furthermore, April and May also experienced a rise in customer's usage of E-banking, which was far from that of March with an average transaction volume of 26.76% and 31.92% respectively, even though we await the full year data on E-banking transactions to see the real impact of the change.
For users themselves in Ghana, there are also a number of factors driving the increased use of online banking, such as the fear that cash could spread coronavirus. The psychological factor of people thinking of cash been "unclean" could prompt more adoption of payment methods like Fidelity Mobile App, Prudential Mobiwise, Ecobank Mobile App and SC Mobile in this current situation. However, it is clear that people will still require traditional banking services, because not all customers will immediately transition to the digital channels. For example, elderly customers, who are among the most vulnerable to COVID-19, are the least likely to increase their use of E-banking channels in Ghana.
The Way Forward
A high quality and robust E-banking platforms as well as other systems support services should be provide by these banks since financial technology is part of our daily business activities.
Similarly, E-banking channels should be user friendly, save time and convenient to use by customers because most of the Ghanaian populates are not technologically incline. Because of this, banks should strategize and create awareness of E-banking products and services to increase customer's knowledge and usage since most of the E-banking products and services are new in Ghana and particularly to its customers. For example, there should be an improved security feature and usability of digital channels to facilitate access to banking services for certain user segments.
Banks should reconsider the charges on the usage of E-banking service in order to motivate more customers to patronize the usage of their electronic platforms.
Authors;
Edmund Obeng Amaning is a researcher and holds a Master's degree in Economics. Currently a student at the Chartered Institute of Bankers. His research interest includes Finance and Monetary Economics, Public finance and Energy. Contact: [email protected]
Justice Ohemeng-Boakye is a banker with a strong knowledge in Clients and E-banking services. He is a researcher and holds a Master's degree in Economics. Contact:[email protected]