Will Registering Ghanaians For A New Voters Register Lead To A Spike In Positive COVID-19 Test Cases Nationwide?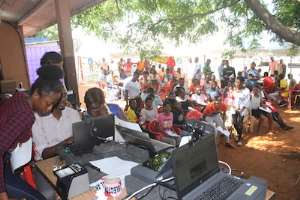 As a people, are we playing with fire, and sleepwalking to a catastrophe of apocalyptic proportions, with our insouciance, in the face of a highly infectious and deadly global COVID-19 pandemic?
To quote an old wag I know: "Kofi the New Patriotic Party (NPP) primaries held today, to select the party's parliamentary candidates, has exposed the fact that neither the Electoral Commission of Ghana (EC), nor our nation's political class, care a hoot about the threat posed by COlVID-19, to ordinary people."
According to him, all the absurd and inane claims about the strict enforcement of COVID-19 containment protocols, have been shown to be just that - absurdities and inanities: "Shame on all of them, Kofi!" I concur. Wholeheartedly. Case closed.
He went on to say: "You can bet your last worthless Ghana cedi, that the same foolishness will be exposed, when students in second cycle institutions and at the tertiary level, go back to their schools and universities. Furthermore, Kofi, were bedbug-infestations not a regular feature of life in today's boarding schools, only yesterday, before we carelessly allowed COVID-19 to sneak into our country? In the same vein, they will become hotspots of coronavirus infections, too, as sure as day follows night, oooo, Massa." True, alas, in one's humble view.
He is absolutely right of course - for all the good work of President Akufo-Addo's government will be undone: and COVID-19 positive-cases will spike, as the many careless people who ignored social distancing protocols, and also failed to wear nose masks, when they went to vote in the NPP parliamentary primaries, today, begin to fall ill in droves.
The question is: Were the outrageous disregard for the sodden COVID-19 containment protocols, shown during the NPP primaries to select the party's parliamentary candidates for this year, not proof positive that registering Ghanaians for a new voters register, is sheer madness - and that it will lead to a spike in COVID-19 positive tests, nationwide? Yooooo...