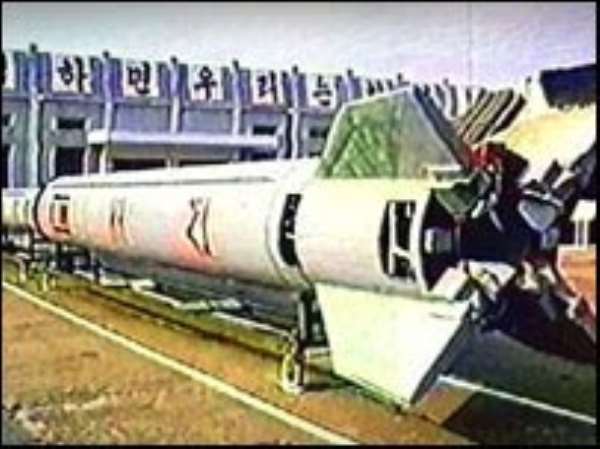 The Taepodong-2 test-firing failed shortly after take-off
North Korea has confirmed that it has test-fired a series of missiles and said it would continue launching them.It also warned of "stronger physical actions" if the international community tried to put pressure on Pyongyang.
The North launched seven missiles, one of which was a failed test of a long-range Taepodong-2, believed to be capable of hitting Alaska.
US President George W Bush has been rallying Asian support for a unified response to the launches.
But differences are already emerging. Japan is reportedly pushing for economic sanctions while South Korea is anxious to continue engaging with the North.
China and Russia - more sympathetic to the North - also oppose any punitive measures.
The UN Security Council is currently considering a draft resolution in response to the launches, and US envoy Christopher Hill is travelling to the region to discuss the next steps.
China said it would send its chief nuclear negotiator, Vice-Foreign Minister Wu Dawei, to Pyongyang next week to try to restart stalled negotiations on North Korea's nuclear programme.
'Our legal right'
In a statement reported by South Korean media, the North made its first public acknowledgement on Thursday that it had recently test-fired missiles.
It described the tests as successful - despite the fact that the flight of the long-range Taepodong-2 failed shortly after take-off. The missiles all landed in the Sea of Japan.
The launches were part of "regular military drills to strengthen self-defence," the North's foreign ministry said in a statement carried by the state-run Korean Central News Agency.
"Our military will continue with missile launch drills in the future," it added, insisting such action was "our legal right".
South Korean media reported on Thursday that there were three or four more missiles waiting on North Korean launch pads, and intelligence sources reported activity in the area around the test sites.
But these missiles are not thought to be long-range. Japanese Chief Cabinet Secretary Shinzo Abe said an imminent launch of another Taeopodong-2 was unlikely.
International divide
President Bush has been spearheading efforts to push for joint action against North Korea.
He has already spoken to Japanese Prime Minister Junichiro Koizumi and South Korean leader Roh Moo-hyun in an effort to reach a consensus on the way forward.
But there are obvious differences between the parties involved.
Tokyo - one of North Korea's harshest critics, and in easy reach of its missiles - has led regional condemnation at the launches.
Japanese officials said Tokyo and Washington had together agreed to push for sanctions against Pyongyang, and Japan has already said it will ban the entry of North Korean officials, chartered flights and a ferry.
But South Korean officials have only agreed to co-operate in diplomacy, with no mention of punitive measures.
Unification Minister Lee Jong-seok called for "patient dialogue" rather than sanctions.
Other regional nations, such as the North's closest allies China and Russia, will also have an important part to play in deciding any international action, and are extremely unlikely to back sanctions.
Speaking after a UN Security Council emergency session to discuss the issue on Wednesday, the Chinese UN Ambassador, Wang Guangya, said that while Beijing was concerned about the launches, a response should be "constructive to maintaining peace in that part of the world."
Security Council talks are set to resume later on Thursday.
The last time North Korea tested a long-range missile was in 1998, when it launched a Taepodong-1 over northern Japan.
Foreign analysts say Pyongyang may have chosen to test its weaponry again now because it has been feeling ignored with Washington.
Ongoing discussions over the secretive state's nuclear ambitions have reached a stalemate, with neither the US nor North Korea backing down.