NPP Primaries: Eric Amofa Pledges Support For MP Asante Boateng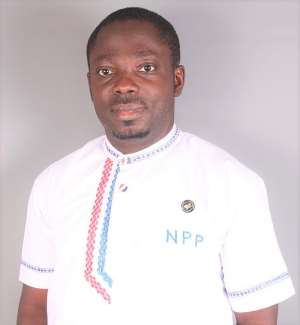 One of the contestants in the Asante Akyem South NPP Parliamentary Primaries, Mr. Eric Amofa has pledged to rally his supporters and every resource at his disposal to support the winner in the primaries, Hon. Lawyer Kwaku Asante Boateng.
He also sent a congratulatory message to Hon. Asante Boateng for Winning primaries. Hon. Asante Boateng won the polls with 360 votes, followed by Bice Obour Osei Kuffuor who polled 296, William Yamoah 34, Edmund Oppong Peprah 09 and Eric Amofa 12 votes.
Unlike Mr. Bice Obour Osei Kuffuor who has allegedly moved his machomen to launch attacks on some of the delegates demanding a refund of the monies he paid to them, Mr. Amofa said he and his campaign team wholeheartedly accept the outcome of the election and would not do anything to jeopardize the chances of the party.
In a statement issued on 20th June, 2020, Mr. Amofa said, "I write to officially Congratulate Hon. Kwaku Asante Boateng, MP and newly elected Parliamentary Candidate for the Asante Akyem South Constituency. Your Victory is a Victory for the New Patriotic Party (NPP) family and all the other four contenders who competed fervently in the contest. The Delegates of our great Elephant party have spoken and I therefore bear no resentments whatsoever about that".
He pledged to solidly rally his support behind Hon. Asante Boateng in the interest of party unity and NPP's envisaged 2020 victory.
Mr. Eric Amofa who is an International Financial Analyst, Certified Social Worker and Deputy Organiser of NPP in the UK, entreated all his supporters and the entire campaign Team to support Hon. Kwaku Asante Boateng between now and December general elections.
He specially acknowledged his Campaign Team and entreat them to remain calm even in the midst of any provocation.
Mr. Amofa thanked the Regional and Constituency Executives of NPP for organizing a successful and generally peaceful parliamentary primaries in the Asante Akyem South Constituency.