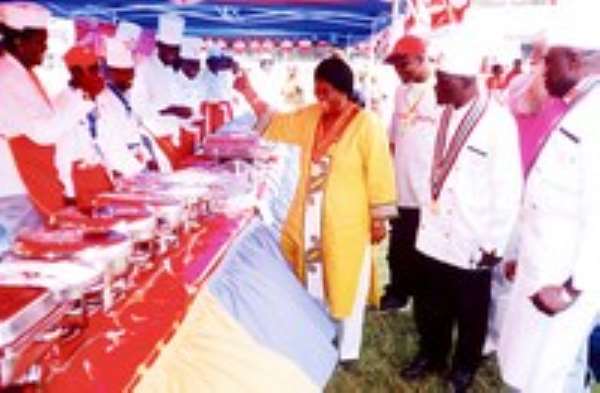 Mrs Gladys Asmah, Minister of Fisheries, responding to cheers from members of the Ghana Chefs Association (GHACA) as she went round to inspect some dishes on display at the third Tilapia Fair held in Accra yesterday.
Those accompanying her are Mr. Stephen Dzilah (second from right), president of GHACA, and Mr. Nutepe Attipoe, (right), General Secretary of the association.
The Fair which saw the preparation of over 200 different recipes of Tilapia dishes, sought to promote nutritional values of tilapia and at the same time prompt its sale and consumption.
Mrs. Asmah called on businessmen and entrepreneurs to invest in fish farming to help create wealth for themselves and generate foreign exchange for the country.
The fair sponsored by the Ministry of Fisheries, will also be held in Kumasi, Takoradi and Keta.
Picture: Alhaji Dan Collison