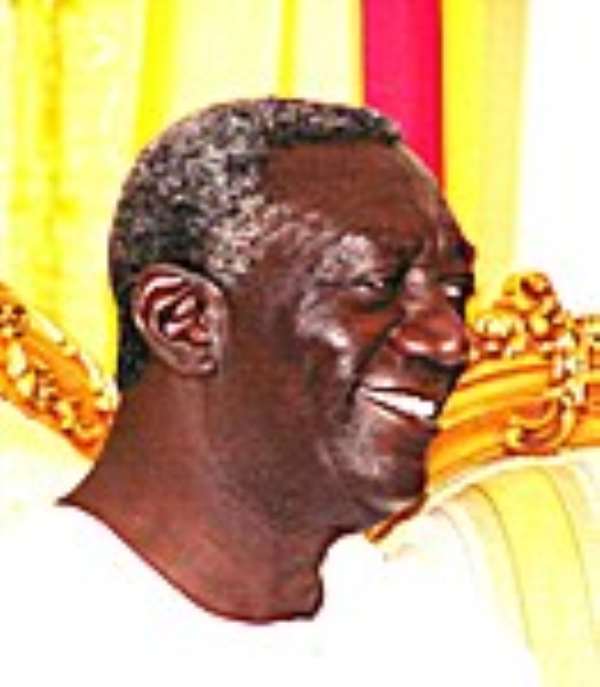 President John Agyekum Kufuor left Accra on Monday for the UK en route to Brazil for a three-day official visit at the invitation of President Luis Inacio Lula da Silva.
While in London, President Kufuor will perform the opening ceremony of the Wilberforce Institute for the Study of slavery and emancipation.
In Brazil, President Kufuor will hold talks with his Brazilian counterpart and visit the Brazilian Congress, as well as the Federal Supreme Tribunal.
President Kufuor will also attend the plenary session of the Second conference of Intellectuals from Africa and the Diaspora to be held in Salvador.
The conference is under the theme "The Diaspora and Africa Renaissance" and is a follow up to the first conference held in Dakar in October 2004.
Mr Nelson Mandela, the former South African President, Archbishop Desmond Tutu, Nigerian Playwright Wole Soyinka and the heads of many international organisations will attend the conference.
The conference aims at reviving and harnessing the contribution of African intellectuals and in the Diaspora and broadens mutual understanding, as well as foster greater cooperation for development between Africa and Diaspora countries.
Nana Akuffo-Addo, the Foreign Minister and some senior government officials are accompanying the President.
At the airport to see him off were the Vice President Aliu Mahama, some Ministers of State, the Chief of Defence Staff, the Inspector General of Police and other service commanders.