PPP General Secretary Writes...A Tweet To President John Dramani Mahama '1'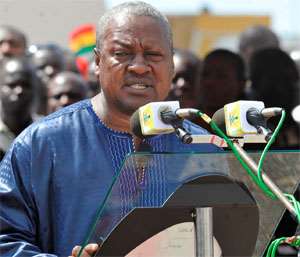 Dear Sir,
SPEAK TO YOUR MEN MR. PRESIDENT
The laws of Ghana provide for you an avenue for redress in case of a flawed election. Anyway, I am not tweeting to teach you the constitution of Ghana. You know it better than I do. My pain today is the irresponsible and unguarded statements by party executives and loyal supporters of your party regarding the compilation of a new voters register by the Electoral Commission.
The NDC, over the years have labeled Nana Addo as a violent man capable of plunging this country into chaos. All sorts of malicious name-calling and statements were made against him; including killing his own wife. Yet, for all the 8 years he'd been in opposition (as opposition leader), not even a cockroach had been proven to have died of his course.
Ironically, the infamous 'all-die-bi die' 'kume preko' statement frenziedly inferred by your party as an abhorring statement by Nana Addo as the then opposition leader did not plunge this country into chaos. I don't expect the so-called humble and gentle Mahama to send us into an abyss of no return due to selfish desire to become President yet again.
Mr. President, you are in a more privileged position to know better than I do, that it's within the purview of the electoral commission to compile a new register when they deem it fit. In fact, you have said this publicly in the past. Why should this be the cause for civil war or uprising in Ghana? Why are your National Executives and party faithful threatening violence and mayhem just because you disagree with the compilation of the register? Doesn't our constitution offer remedy for your Party to peruse and pursue?
Mr. President, unlike your predecessor opposition leader, you have been President before. Indeed, your contest should not be a do-or-die affair if you honestly mean well for this country. No single soul should die because you want to be President. I mean again Mr. President. It will be nauseatingly absurd for this to happen in your quest to lead Ghana again. It's in view of this that I say "SPEAK OUT". Tell the "lunatic fringes" of your party and supporters to use legal process to drum home their demands. Take note Sir, that most of the loud politicos around your campaign are "ruthless dogs" that will do everything to project themselves as courageous party apparatchiks for their future ambition. Indeed, they don't care if their actions or inactions will affect your Presidential pursuit or not. You know more than I do; that politics is a game of ambition.
Mr. President, What is more dangerous is the fact that, all these cowards cannot stand a simple pilot of what they are calling for. A typical example is this your staunch supporter, Apostle Kwabena Owusu Adjei (a.k.a the most high) who was recently smoked out of a so called "coded location" like a confused rat without any tactical resistance to commensurate his ranting. Another noisy rubble rouser is your director of election, Elvis Ankra. We grew up together in the same hood (Abossey Okai). That guy is a 'Dadaba' with no balls. Nobody knows him in Abossey Okai Zongo. The biggest coward of all, with all due respect is Kelvin Taylor. Trust me, these and other desperate attention seekers in your party will run and leave you to carry the burden of casualties alone. Don't be deceived.
Finally, I sincerely believe your party's strategy of communicating to your grassroots not to participate in the new voters' register will not only make you lose election 2020 but will see Dr. Bawumia become President in 2024. Elections are won at the polling station; your campaign needs to focus on the day of election and police the process from beginning to end. Maybe Mr. President, just maybe you may win the election. I implore you to "SPEAK OUT!"
Thank you
Yours Faithful
MURTALA MOHAMMED