Saham Ghana Supports COVID-19 Response With GHC280,000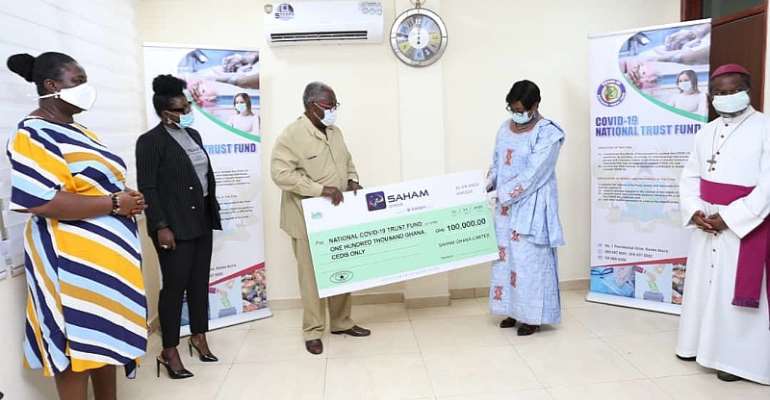 Saham Ghana, comprising leading insurance companies, Saham Insurance and Saham Life Insurance, and subsidiaries of Sanlam Group - a leading diversified Pan-African financial services Group, listed on the Johannesburg with presence in 34 countries in Africa and Europe, Asia, and America - has donated a total amount of GHC 280,000.00 to various institutions and bodies as part of the organization's effort to support the country in its effort manage the spread of the Covid19 virus.
A cash donation of GHC 100,000.00 was made to the National COVID-19 Fund to support the national program for managing the virus. Speaking at the donation at the Fund Secretariat at the Jubilee House and supported by the Chairman and Board members of both companies, Mr. Michael Hamenoo, the Board Chairman of Saham Life Insurance indicated that, "The Sanlam Group, and therefore the Saham Insurance and Saham Life Insurance, is in the business of protecting life and property, and we believe in supporting our businesses' communities across Africa.
...We understand that the nature of this pandemic requires everyone to lend a helping hand to ensure we gain some form of normalcy". Also present were Mabel Porbley, Managing Director, Saham Insurance Ghana, Gifty Fiagbe-Alabi, CEO- Saham Life, and Joyce Adjei, Chief Finance Officer, Saham Life.
Saham Insurance and Saham Life together also donated Personal Protective Equipment (PPEs) to the Greater Accra Regional Hospital, the Ridge Hospital. Receiving the items, Dr. Emmanuel Srofenyoh the Medical Director of The Ridge Hospital, expressed the hospital's appreciation and said "Though we do receive donations from other companies and Government, due to heavy usage and the disposable nature of these items, the supplies are never enough. We are therefore very happy and grateful for this gesture of the Saham Group".
The two Saham Companies in addition, donated food items to some selected vulnerable groups including the Dzorwulu Special School, Beacon Homes Orphanage, Get up for Success Care Center Orphanage, Genesis Chapter 25 Orphanage, Every Child Ministry (Haven of Hope) Orphanage and Mathew Chapter 25 Orphanage. Expressing their gratitude, the orphanages acknowledged the timely intervention of Saham Group of Companies.
At these donations, Mr. Fred Apaloo, the Board Chairman of Saham Insurance further added that "Our contribution towards fighting COVID-19 goes beyond Corporate Social Responsibility. We consider this as part of our purpose, and it is in our DNA to show support whenever it is needed."
With a Group Purpose to build a world of Wealthsmiths™, supporting people in living their best possible lives through financial resilience and prosperity at the individual, organizational and societal levels, the Group has over the years carved a niche for itself in financial services through a deep understanding of its communities emotionally to create innovative and life meaning products for both individual and corporate markets.