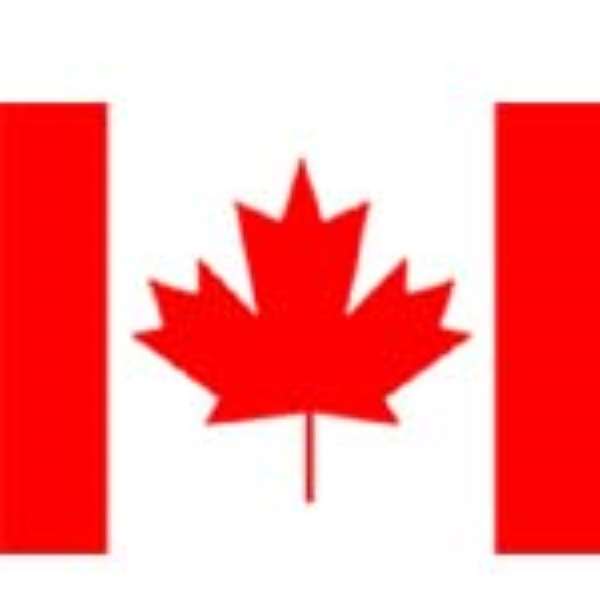 Canadian flag
The Minister for Water Resources, Works and Housing, Mr Hackman Owusu Agyeman, has reassured the diplomatic community of the government's continued commitment to the ideas of democratic accountability, respect for human rights and the rule of law.
He said "we view these as the requisite building blocks for a sustained and accelerated growth, which will help us realize our ultimate goal of attaining better living standards for our people."
Mr Owusu-Agyeman said this in response to a toast on the celebration of Canada Day in Accra at the weekend. The day was also to celebrate the 100th anniversary of the relationship between Ghana and Canada.
It was attended by a large number of people including the chairman and some members of the Council of State, Ministers of State, Members of the Diplomatic Corps and a cross-section of the general public.
Referring to the efforts made by the government to improve the living standards of the people, Mr Owusu- Agyeman said, "We trust we can count on our friends and partners like Canada, in this regard." He said Ghana and for that matter the government, looked forward to co-operating with Canada not only at the bilateral levels but the multilateral sphere, towards fostering paece and security in the world.
Earlier when he proposed the toast, Dr Donald J. Bobiash said, "this is a special year for Canada-Ghana relations as it is the 100th anniversary of a significant Canadian presence in Ghana." He said since Ghana's independence, Canada had been a partner in development adding "Canada recognises Ghana as an African success story and I am proud to say that we have more than quadrupled our development assistance to Ghana during the last four years, going from $12.5million in 2001 to $55.8 million this year.
Dr Bobiash said Canada remained committed to the development of the continent of Africa and was resolved to double its international development assistance from 2001-2002 levels by 2010-2011 with Africa remaining a key focus of its international assistance efforts.
He extended the good wishes of the Queen and the people of Canada to the government and the people of Ghana and expressed the hope that Ghana would continue to grow from strength to strength in all her endeavours.